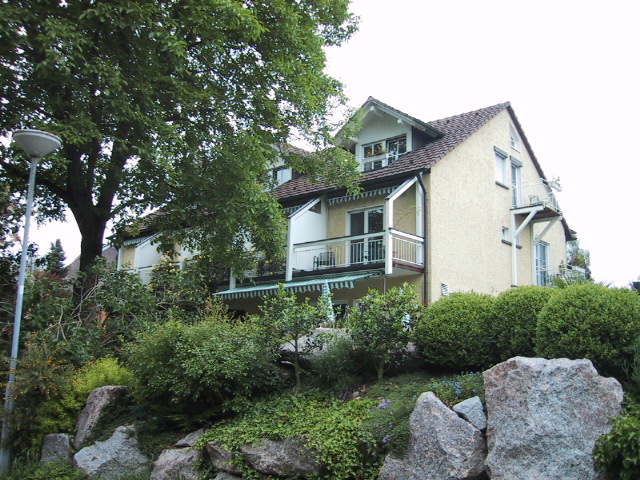 We start our day off with a usual European breakfast of granola, fruit with yogurt and breads with jams. After breakfast we load our gear on our bikes and are on our way by 9am, which has pretty much become our starting time each morning. We bike around one end of Lake Konstanz and stop in a bike shop. Aaron buys a few necessities for our bikes-like tubes and a patch kit.
We thought we were in Switzerland, but we are still in Germany. However, we cross into Switzerland shortly thereafter. We have to pose for a picture on Lake Konstanz under the Swiss flag since this is our only chance to be in Switzerland. We eat lunch at a supermarket, where we buy a box of coffee hard candies, which prove to be quite a hit later on in our trek. Over the next few days these coffee drops will perk us up when we are beginning to tire. After they are gone, we keep looking for more to buy, but we never run across them again.
It starts to sprinkle in the early afternoon so Aaron decides that we should take a break for lunch. His plan is that it will rain while we eat and it will be sunshiny for the remainder of our ride for today. WRONG! While we eat a delicious lunch of egg salad and layered strawberry dessert it does not rain. But just as soon as we go to get back on our bikes, a gentle rain begins to fall!
This was a breath-taking day for scenery though-the lake and the mountains! This is also a most confusing day to try to figure out which country we are in. We are in Germany, Austria, Switzerland and Liechtenstein. Luckily the rain is not too hard, but the temperature keeps dropping. Just as we are about to enter into Liechtenstein, the sky clears over the mountains for an awesome view.
We have high hopes that the weather is going to clear, but it just does not happen. Even though we are getting cold, we have to stop to take a picture of each of us with the sign of Liechtenstein in the background to prove that we actually made it here. We had sort of planned to stay in the capital, but due to the cold we stop a couple of miles short of it. The plan is to bike there in the morning when the weather will have cleared. We find a room for the night and are directed to a quaint restaurant up the hill for a meal fit for a queen. We have a restful night in the land of Liechtenstein.