Brand New Day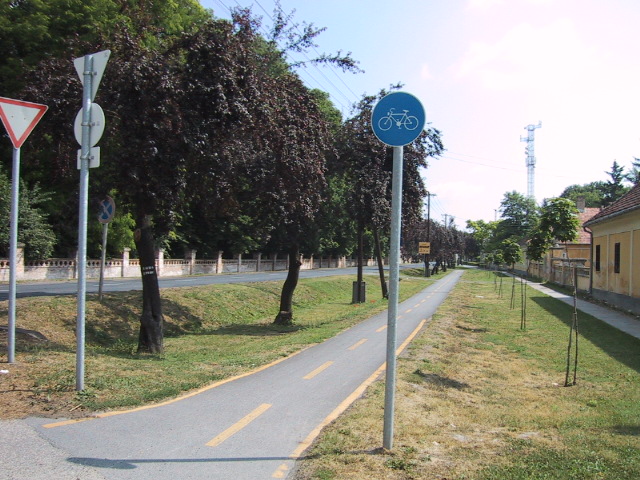 The hotel had a late breakfast start of 8:30 according to the girl at the desk, so I used this as an excuse to sleep in a bit. Sure enough, the breakfast room was full of retired Austrians and other random tourists who were all a bit confused by my appearance. I was the only one who didn't head for the outdoor medicinal bath immediately after breakfast. I headed out into an already warming sunny day.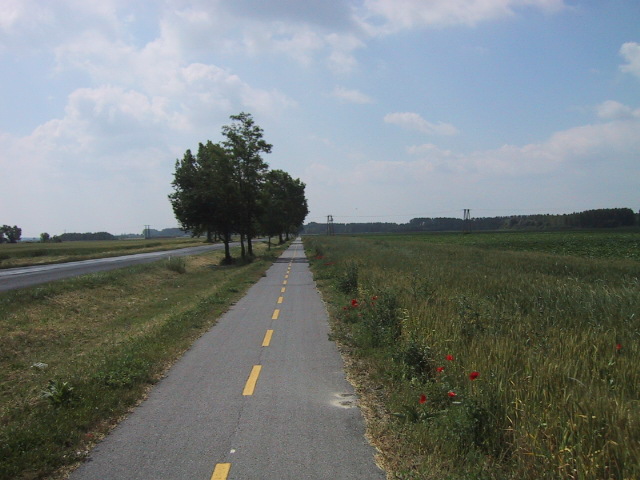 I found my way out of town along a comfortable secondary road. Off to the right, a construction crew was working on a bike path for the few people wanting to continue down the Danube to Budapest. Later in the morning, I road on a bike path for long stretches of the route into Gyor. Mostly a rather new paved asphalt trail with a center line and all. I only saw local bikers, though, headed to the market or doctor or whatever.
Gyor

Again I didn't realize, but Gyor is one of those towns marked on the map as having cultural interest. This means that the trail, or some bike signs, pointed me right into a town square bustling with shoppers, a couple churches, a McDonalds and a Pizza Hut down the way. I even saw a bus tour of Chinese wonder through the village at like 11am. Odd. Here I discovered the latest chain breadshop to hit the area- pogis. These are little finger rolls, like croissants with flavors such as cheese, chocolate, apple, etc. I bought eight of these and paid about 0.30USD by weight. Good stuff.
Getting Out of Dodge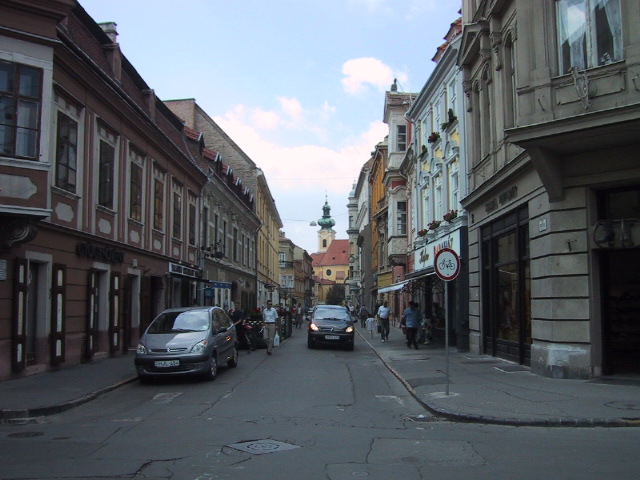 Gyor being a big town, it was some kind of a trick getting out of town. All of the roads had the standard sign forbidding bikes, tractors, and horse-drawn carts. While studying a information map at the edge of town, a guy comes up asking where I want to go. Camping? he asks. Speaking in German, he informs me to follow him across the way and the go ahead and veer right somewhere. This seemed easy enough, but I got worried at some point and came back into town again. The same guy whistles at me from a roadside drink stand and scolds me for doubting him. Just up the way, he says, the bike trail begins again and you will be homefree. Sure enough, there is the bike trail following along the highway on the Danube. Not bad, until the trail makes a turn somewhere and I end up on the forbidden highway. Nonetheless, this was the most direct way out of town and out of Hungary.
Komaron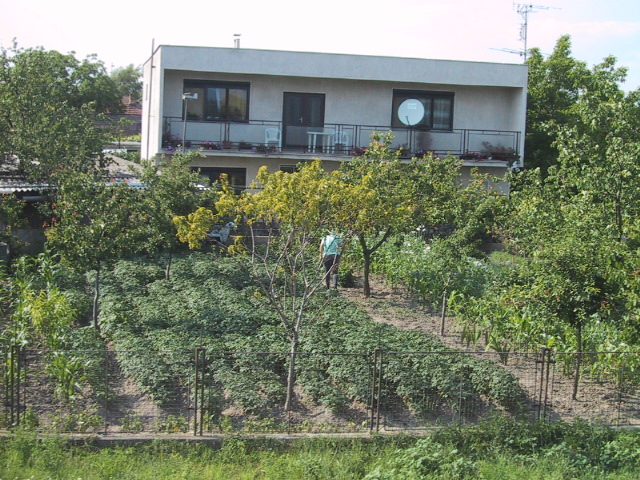 I make it to the sister cities of Komaron and Komarno a little after noon, ready for a good lunch. I lock-up at some kind of gazebo cafe and wonder down to the one place serving meals out on the main street. They offer me the German menu and I order-up a hot fish soup and a couple huge Cokes. I am glad that today is not as gloomy as yesterday, and my cold/flu has subsided again, but the sun is really beating down here. I share the table with a college couple from Budapest who refuse to put up the umbrella even though they are both frying. Very fair-skinned people.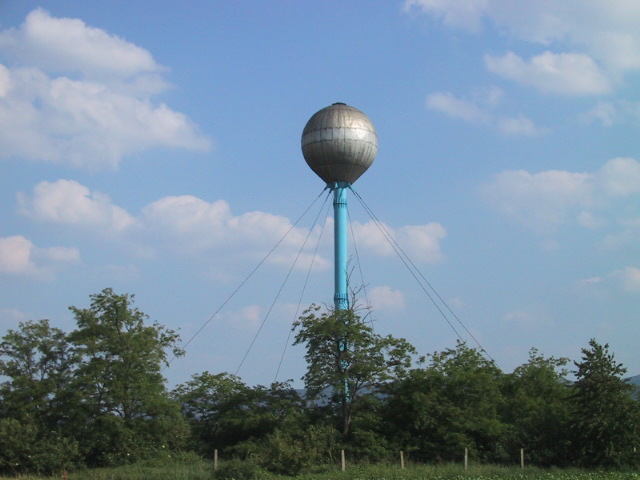 Komaron is definitely not as distinguished as Gyor, but it is worth a look for the random main street leading up to the bridge to Slovakia. I see a few cars from Germany and Austria, but mostly there is local business traffic with basically no trucks. After 2pm or so, I head up over the bridge and get absolutely no hassle from the Slovak officials. A little orientation to Slovak signage, and I am off down the road, following the north shore of the Danube.
Successful Day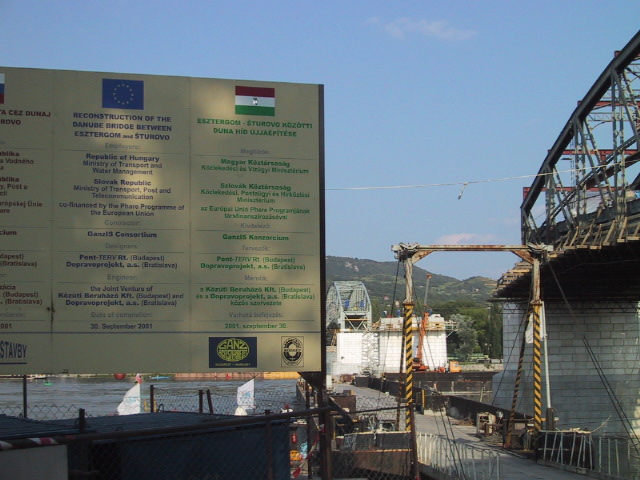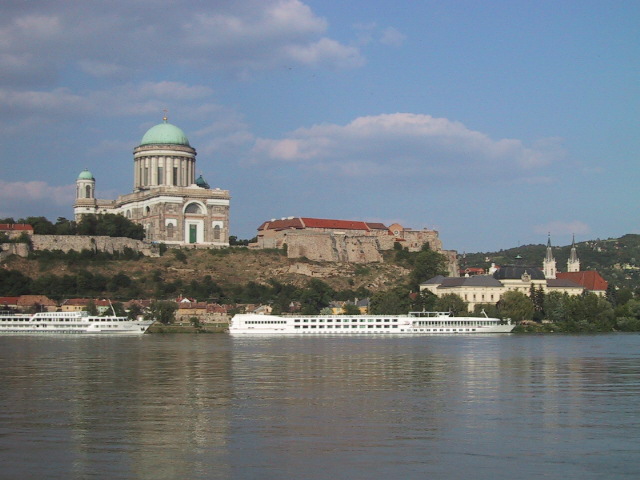 Honestly, I had my doubts about whether I could make this trip across Slovakia in only five days. I planned it out in detail for the first time last night, coming up with a daily ride of 150km. Since I am in shape now, this is possible assuming that the weather, my health, and the roads, all cooperate. Today was the first look at Slovakia roads, and everything looks good. I cruised all afternoon and arrived in Sturovo before 6pm. I even started to continue on for a bit more, but decided that I should stick with a place where I know there is a hotel.
Sturovo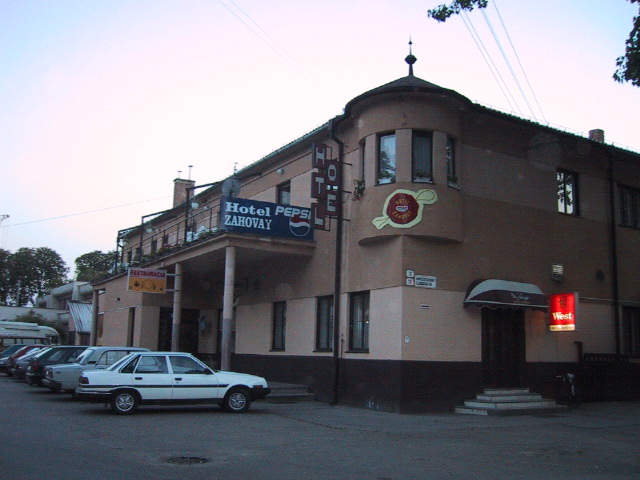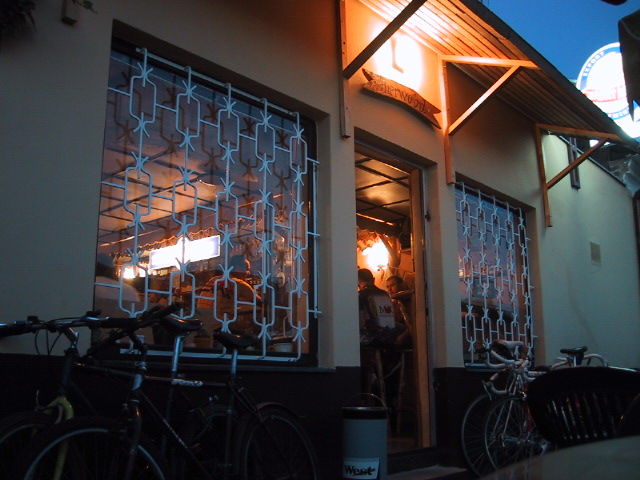 This town was wholly unremarkable, but I managed to enjoy myself for the night. The main happening around town is that crews are rebuilding the bridge to Hungary that was destroyed in some prior war (forgive my ignorance of which was) and many of the workers are staying at the hotel where I settled in for the night. I am sure that this hotelkeeper does not see many foreign cyclist come through town, but we made our way through the check-in procedures and he even suggested that I put my bike on balcony which was a good idea. I went for a walk around town and had a beer at what seemed like a biker bar, if there is one in Sturovo. Nice town.