Final Day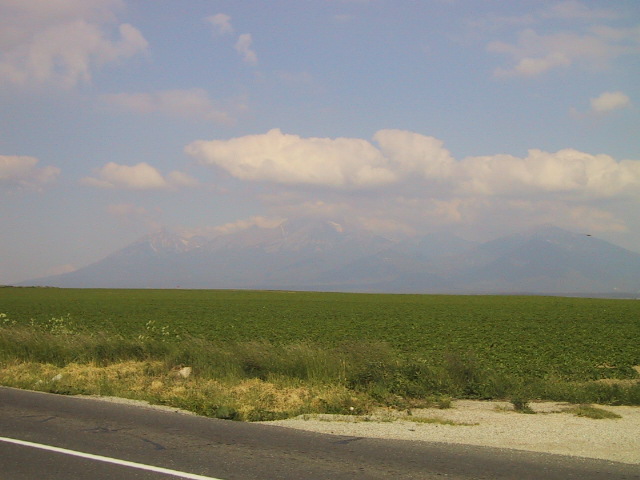 After riding a few extra kilometers the last couple nights, I thought I was sitting rather pretty to make my 5pm arrival in Poland today. But I had two unforeseen setbacks. The first one came the night before when I was talking to the owner about the flatest and quietest route to cross into Poland. My choices were 1) the flat but really busy road leading into the Polish tourist area of Zakopane, 2) the flatter and quieter route to the east that was only allowed for local (ie Slovak or Polish) people, or 3) a route even further to the east which should be quiet but a bit hillier. Despite the added distance, I had to go with the third option.
Second Setback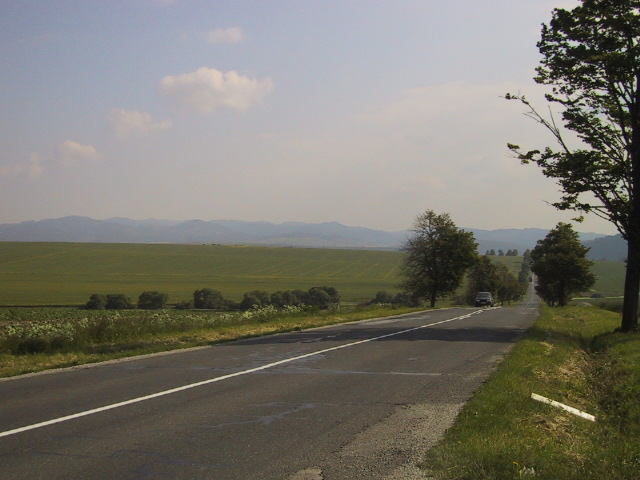 The road out of Spisska Bela followed yet another river and affored some nice views of the High Tatras which really tower over the surrounding flatland, but seem to often be hidden in clouds. The traffic was not so friendly on the road, so I just hunched down and peddled, passing the kilometers until I would turn toward the border. After making it about 25km up the road and nearly reaching my first major break point, I had the sudden sinking feeling that I had forgotten something in the hotel. I stopped to check my baggage, and sure enough, I had left my passport and some money in my standard hiding place, under the TV at the hotel. Not good.
Pushing On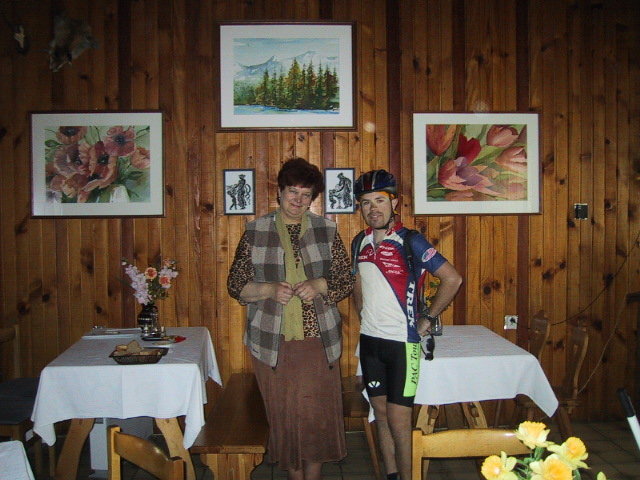 Luckily I had gained strength over the last three weeks of riding, so I was able to make up the time all right. Everyone at the hotel had a good laugh over the story, and I took a picture with the woman to memorialize the moment. Back on the road at 10am. After getting off that busy road and heading toward the hills and the border land, there was a nice scenic overlook spot where I ran into a couple other bikers. It looked like they had camped up here off the road somewhere. Anyway, they took off ahead of me as I stopped to take a 360 degree photo. Just over the pass there I came up to a rather nondescript border crossing. If it weren't for the cars lined up along the road, I wouldn't have known that this was a border checkpoint. Since there was no village or anything, there was only one store on the Slovak side. However, this one store was packed. I went in to get some water and found the place swarming with Polish bargain hunters who apparently cross the border solely to shop at this little store. The border folks seemed a bit surprised to see me at their station, but I was evidently well advised about this being the international crossing. I road on into Poland.
Polish Impression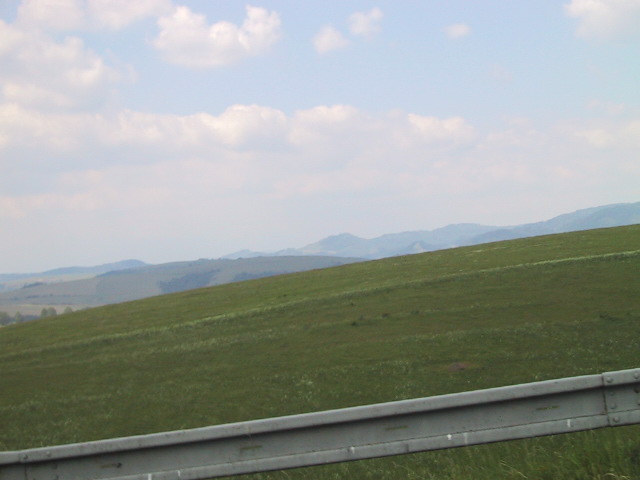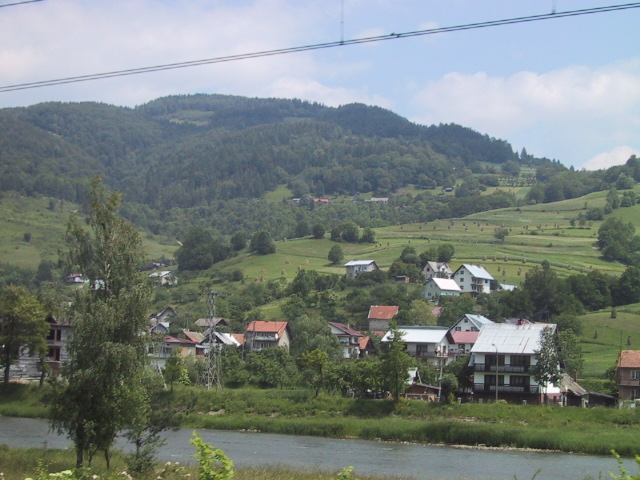 The next installment of my biking adventure should take me from Poland into Ukraine, Moldova, Romania, and Bulgaria, so I wanted to get a general impression of the roads here. The most obvious thing is that there are more people and more cars. And more cars means that the roads were not so smooth in some places. I don't know what it is about Slovakia, but all of their roads are in perfect condition. That country is made for cycling. Poland, on the other hand, could be a challenge. I had a pretty good route comprised of backroads, but inevitably I had to take at least one big road in order to get in and out of the city of Stary Sacz. I tried to stay out of the way of cars and buses, but it was not the most enjoyable stretch of riding.
Stary Sacz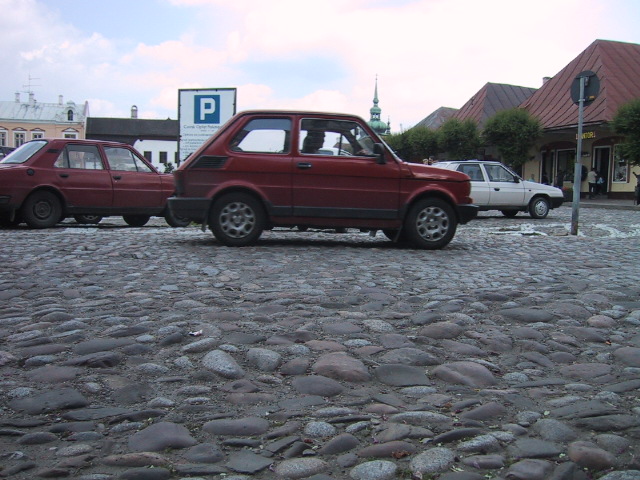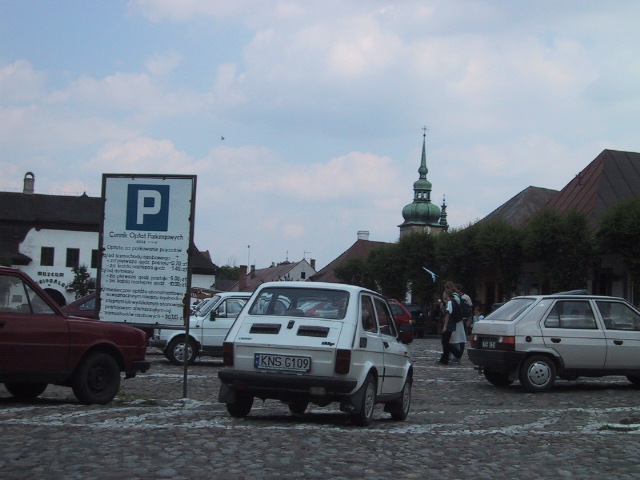 This is the only city of any size that I visited by bicycle. I was happy to find that the city had a cute little square just like other cities in Europe. There was even a small outdoor fruit market and tons of people milling around. Moreso than elsewhere, people in this city tended to look at me like I was really alien. I understand that biking around in lycra clothes is not popular, but people were much more accustomed to bikers in other countries. Plus, I found it very odd that I could not exchange my remaining Slovak currency at any of the banks, even though I was only a few kilometers from the border. This was definitely not a tourist town. The highlight of my time was watching the classic Polskie Fiat mini cars circle around the cobblestone square. They looked like they would botto
out for sure.

Mission Accomplished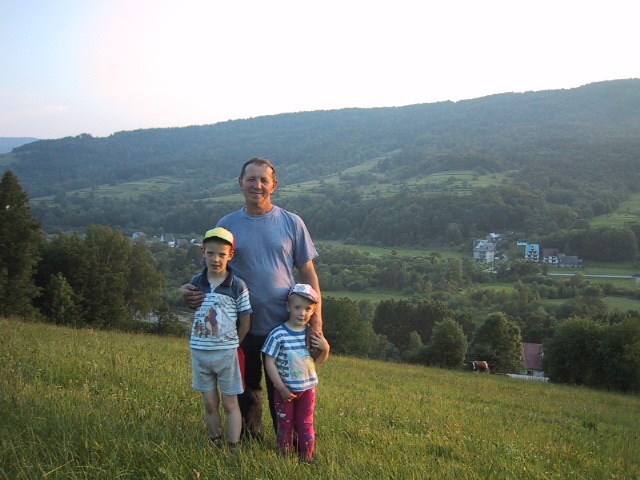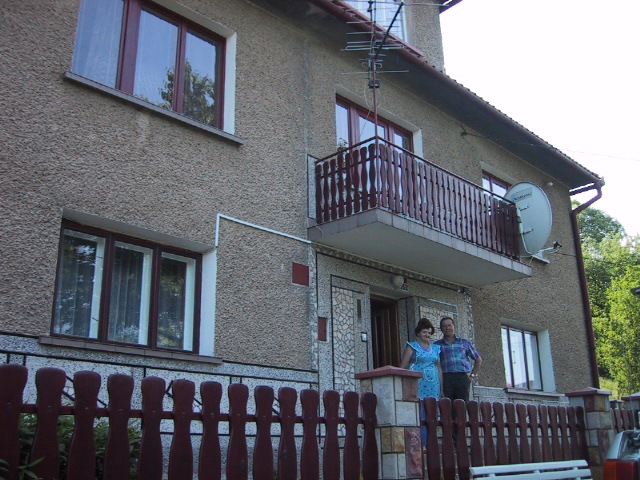 Time was getting short, so I headed out of town toward my friend's parent's house for the appointed rendezvous. The remainder of the route took me along yet another little river as I passed through some beautiful farm country. Hay farming was popular in the area, and I could see many haystacks piled up on poles and waiting to dry. When I pulled into my friend's little village along the main Krakow-Zakopane road, I had quite a sense of accomplishment. About 2100km and eight countries and about 400 photos in total. Quite an adventure. My plan was still a bit agressive overall, but unlike my original trip through Spain, France and Germany which stopped short of the goal, I was able to make the distance this time. I left my bike there near Krakow for my next adventure three or four years from now. Anyone want to come along?