A Change in Weather
Watched the news at Gene's house last night. They were saying that it would rain all weekend-Memorial Weekend. It was also supposed to be a little chilly in the morn, so I took the opportunity to sleep in. It was drizzling a little when I took off at eight. I wore my jacket and tried to buck the wind which was out of the north. Still heading up highway 23.

Alone
The original plan was for me to go ahead to Madison and visit my brother while Gene had his graduation party at home. Then we would meet back up again. However, Gene decided to change his route a bit, so it looks like I am on my own for all of Wisconsin. I had originally planned to do the whole trip alone, so it was no big deal, I guess. To entertain myself, I sang songs and waved at all of the cows that I saw, which was a lot.

Since I was alone, I could also take a break whenever I wanted. I stopped in Freeport for a couple hours. Just dozed off in some park while nibbling on some raisin bread from the Bakery Thrift Shop. Sort of a cold nap, though.

Monroe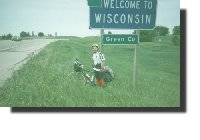 I crossed the border into Wisconsin and found the nicest little town. The town square of Monroe is unlike any other I have seen. If it weren't for all of the cars parked around, one might almost think he is in Switzerland. The original settlers of the area were from Switzerland, so I spent some time in the town soaking up the atmosphere. I also got a cool tourist map/guide thing that told about the area.

Hills
As I went out of town on County highway N, I could see why the Swiss liked this area. The green hills are like I would imagine Switzerland to be. These were the worst hills that I had seen yet, so I had to use some of those lower gears. Slowly I made my way up to New Glarus Woods.

State Park
I pulled in to the park around seven. The ranger was smiling and me. "You want a place to stay, right. But we are full." He then proceeded to tell me how he does some bicycle touring too. He said I am lucky that Wisconsin has this rule about giving a spot to bikers who show up within one hour of dark. He then proceeded to give me the best spot in the park: a wooded meadow right next to the bathrooms and a grill. I was asleep in no time and hardly noticed the little bit of rain that fell.