Lime Ridge
Everything worked out great at the Lime Ridge village park. Didn't get much more rain that night. It did rain enough to screw up my bicycle computer, but mph is not exactly a necessity. Anyway, I got up bright and early and was on the road before seven. That was a new record for me. I put in about twenty miles riding up County Highway G to Wonewoc.

Wonewoc
This is a cool little town. I must have rolled in there around eight, but the town was already bustling. I stopped in at the bakery on main street. Everybody walking by made some comment about the construction on the street downtown there. You see, the whole road is torn out for sewer work, so you fall down about 3-4 feet when you step off the sidewalk. Nobody seemed too happy about it, but I assume that it will be better in the long run.

Trail Day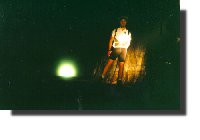 I ended up spending the rest of the day on four of Wisconsin's best bike trails. I started with the State "400" trail which took me up to Elroy. From there it was the famous Sparta-Elroy Trail. Rumor has it that this was the first rail-to-trail completed. The idea is pretty genius really. Railroad tracks were always pretty flat and straight, and all of the bridges are already there. However, since many of the rails have been abandoned, it doesn't take much to make them into good bike trails (which double as ski trails in the winter here). The Sparta -Elroy trail is especially cool because you get to ride through three tunnels, which were constructed in the 1870's. The longest tunnel is about one kilometer long and gets pretty dark. I stopped in the middle to take a few pictures and sing a few songs (great acoustics.)

Sparta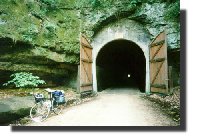 I put in about sixty miles before my lunch break at 1:30. Spent a few hours in the "Bicycling Capital of America" writing letters and reading the news in the library (an old Carnegie library constructed in 1867).

La Crosse River and Great River Trails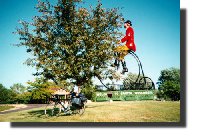 From there I flew down two more trails in the evening. There were not a lot of people out, especially for a friday. I did see tons of animals. Spotted three turtles today, two of them were pretty big. I must have seen more than thirty rabbits in the evening as I whisked down the trail. Unfortunately, there were also more bugs as it got darker and I got closer to the Mississippi.

The Great River Trail is almost swampy in some areas. I was just hoping I could make it to the Perrot State Park because at some places the trail was totally surrounded by water-no room to camp. I think I caught a splinter on one of the wooden bridges and got a slow leak in my rear tire. I had to stop a couple times to pump it up, getting eaten by mosquitoes both times.

Perrot State Park
I was really lucky that there was still room at the campground when I rolled in. It was after nine. I set up my tent in record time, took a nice warm shower and went to sleep.