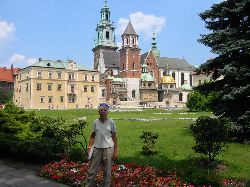 It is hard to believe I am awakening in Krakow, Poland. Aaron and I are staying in a spacious apartment on the third floor in the middle of this city, therefore, I didn't get much sleep due to our open window and people partying in the streets below. Our breakfast is delivered outside our room consisting of a couple delicious rolls, coffee and more.

We walk to Wawel Hill where rulers live for over 500 years in this castle. The cathedral is quite dark inside and appears to be a hodgepodge of architecture on the outside. The grounds are very picturesque so we decide to take a beverage break and cool off.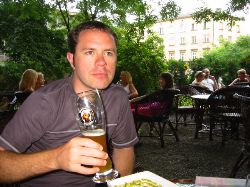 We then wind our way thru the Jewish community, many of whom perished in nearby Auschwitz. We decide to eat in an outdoor cafˇ in the area, where we had far too much food and good beer. Our last stop is walking around the huge town square once again and walking up the tall tower of the former Town Hall. The stairs are quite narrow, but it is well worth the panoramic views we get of the city from atop.
Due to our huge lunch, we opt to have "gourmet" desserts and coffee for supper. My kind of meal, and it is quite nourishing as we begin our bicycling trip tomorrow! Internet use is less than $1/per hour; you won't find deals like that back in the good ole USA!

---

Previous | Equipment | Top | Photos | Next
World Wide Shoes

This page created on a Macintosh using PhotoPage by John A. Vink.