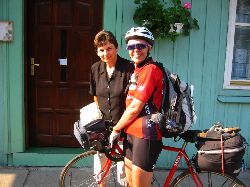 After our first day of bicycling yesterday, I'm not sure I will be able to endure for another 25 days. However, today went much smoother-getting lost fewer times and choices of motels at our destination town.

The nice lady who housed us last night prepared a hot breakfast of scrambled eggs and all for us and fed us in her beautiful dining room. After getting a picture taken with her, I am on my way to new Polish adventures.



I am noticing that they love Mary, Jesus' mother. We see signs of Radio Mary and many shrines and statues of her along the roadsides. Stopped into a large church that is quite bright and ornate. Pope John Paul visited this church-his pictures are seen everywhere. You know they loved him. These people seem very religious-you can feel it. The cemeteries are so decorated with flowers that they look like flower gardens. They even have recycle bins for the dead flowers at the cemetery entrances.
The houses are made of concrete blocks. Some have stucco on the front, some on the front and sides and some have none. It reminds me of our houses in the US that have siding, and bricks are added to make them look nicer. They have fences that are made of concrete in various designs. The utility poles are also made of concrete. The small stores we stop in for chips and drinks are called "delikatesy."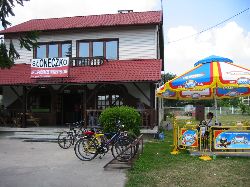 We arrive at Tarnobrzeg early only to spend the next hour riding around to decide which hotel to stay at. We end up back at the first one we went to but had decided we should look around for a cheaper one. Hotel Polski is quite nice for a 3-Star hotel-free internet access! We take in a movie, Memoirs of a Geisha, in English and buy our own snacks since they don't have a snack bar. (What's a movie without popcorn?!?) After a stop for a beer on the way back to the hotel, I am ready to call it a day.