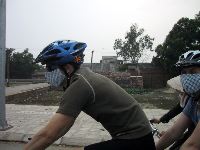 Today was the last day of major cycling. It was a smooth ride along route 18 all the way into Ha Long. We kept thinking the wide smooth road with clean shoulder would deteriorate into some bumpy narrow affair, but the road held out. The only real challenge was a steady headwind straight out of the east. Scott and Merry just kept cruising along and I did my best to draft right behind them. My achilles tendon was still hurting me quite a bit despite my efforts to remedy the situation. I don't think I will ever know what caused that pain.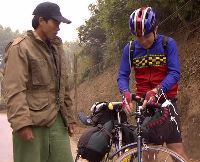 The real news of the day is that my Hanoi Special survived 500km of cycling on some very unforgiving roads. We had no flat tires and no major mechanical failures aside from the shifter mishap in day 3. I am pretty sure that my headset and bottom bracket are both shot because they were already loose when I started. I just did my best to keep them tightened but the constant grinding probably destroyed the bearings in both. But the bike held up well, and I would consider buying a local bike for future trips.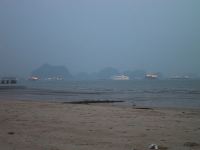 Our arrival into Bai Chay was smooth. A guy on a scooter road up a few kilometers from town and passed his business card across to Scott as he road. We agreed to look at his hotel and continued riding in. There are tourist facilities in various stages of completion all along the road as you approach Bai Chay, but our guide delivered us to the old standard road of mini hotels. The Peace Hotel looks less remarkable than some of the other skinny five-storey buildings along this strip, but inside, I think they all look the same. We took the top two floors with the rooms facing out toward the town so we could get the sweet balconies. Although it is dark now, I turned on the outside light and am typing this entry while looking out at the skyline of the town.

While making smalltalk at the hotel, a boat-for-hire agent just happened to walk up. He laid our itinerary for the next few days and quoted us boat prices right out of the Lonely Planet. We were disappointed to find that nobody has managed to set-up a rock climbing business here, so without our own equipment the most we can do is some spelunking and random island hopping. After having a look around, we took this guy up on his deal.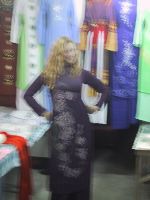 The town is a bit like any other seaside town trying to combine a bit of industry and tourism. There is no sandy beach, but there is a nice boardwalk with shops hawking wooden carvings and random garments. The view of the karst hump-shaped islands is blocked by the haze and the ships anchored over at neighboring Hong Gai. But there is just enough here to kill one afternoon and satisfy a pent-up urge to buy some souvenirs.

We all agreed that the cycling was a very cool part of this adventure. The first two days were clearly the best, but I really enjoyed yesterday too, when we got lost in the lowlands. The afternoon of the third day definitely was un-fun in some ways, and so overall, we are all happy to have a day off tomorrow. Although there are a number of options for our return to Hanoi, we will probably take one that only involves minimum cycling between boats and trains as we pass through Cat Ba, Haiphong, and then into Hanoi. For now, it is Saturday night, and we are headed out to sample the nightlife.