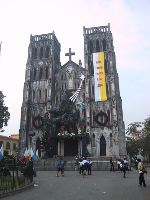 We had talked about sleeping in, but I woke up at 7am after having a silly dream about missing a plane home from Shanghai and not knowing the proper phone number to call to fix the situation. I picked up the Vietnam News and headed down to the lobby. I love reading the local newspaper on vacation. Top Stories: China approved loans to Vietnam to improve railroad signals along the routes headed for China including tracks in Hanoi and leading up to Lao Cai. Traffic accidents were down 32% in December, but still 10,000 people have died from accidents this year, mostly involving scooters. The communist party identified the elimination of corruption as a key goal for the new year. 40,000 people dead in an earthquake in Bam, Iran with over 80% of buildings constructed of local clay bricks crumbling down.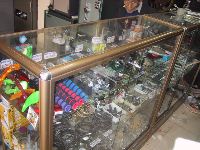 Merry and Scott came down around eight and we had breakfast. We asked for a late checkout and headed for Uncle Ho's Mausoleum, house and museum. Along the walk, we stopped in to look at all kinds of shops including one selling bike parts of all shapes and sizes.

The approach to the mausoleum was quite odd. The whole area including the grand lawn, had been mostly deserted when we came through last week, but now streets were blocked, the lawn was off limits, and there was a line a mile long, literally. We got in the special gaijin line where they charge you a few dong and pass you through a metal detector. After a bit of a wait, we were
allowed to file into the building and into the highly air-conditioned room where Ho Chi Minh lies. It is as if the funeral still goes on. People walk past and pay their respects for this man who spent 30 years outside of Vietnam formulating his ideology before returning to found the nationalist movement. He lived a long life and presumably died of natural causes just before his dream became a reality. Now the people won't let him die. Out back you can peer in on the house from which he directed most of the American War. My understanding is that the house was transported from the mountains, but it was so classy that it fit in fine in Hanoi.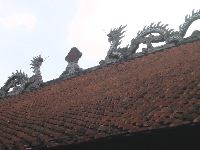 Everything closes up at 11am, so we headed out for some shopping. On the way, we happened upon the Cultural Palace, which was formerly a school for monks and rich kids. It was another nice example of a classy place that is stuck in the middle of this city overrun with scooters. Actually, there are parts of Hanoi which seem a lot quieter and more civilized than other places in Asia. The line of souvenir shops northwest of Hoan Kiem Lake is another place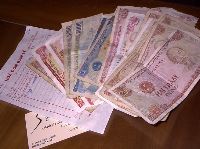 which fits the foreign taste just fine. After spending every last dong and dollar we had, we headed over to the lake itself and sat on a bench for an hour or so. This would seem like a calm place, but the image of scooters circling the lake is dizzying, and the irritation of being asked to buy postcards, donuts, and fruit every few minutes is still there. We talked about the trip past and resolutions for the year to come. After dark, we wondered a bit about town until we found a restaurant that took credit cards. We sat down for one final meal.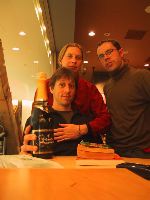 From this point, things are a bit of a blur. We scraped together 1USD and some more dong to buy a bottle of Russian champagne at the shop across from the hotel. This was our last chance to use both our language and bargaining skills, but we could not seem to talk the woman down from 70,000VND. One last look at the crazy roads of Vietnam, this time from the back of our airport-bound mini bus. Then airport formalities and more chances to use our credit cards. On to the plane. Due to a small hiccup in headcount (some military dude and the head stewardess re-counted the aircraft three times each) our departed was delayed just beyond the stroke of midnight. We did a mini-countdown and threw our hands up in the air at midnight, but none of the Japanese passengers around seemed to care much. After a sleepless four-hour flight, we were back in Tokyo. Another successful escape from life.