Long Flights
It is unfortunate that every travelogue has to start with a comment on the long flight, but such is the plight of the international traveler. I took the longest commercial flight in operation directly from Chicago to Hong Kong departing on Saturday at noon and arriving today. One of the flight attendants told me that they have to stop to refuel if there is much of a headwind. I sat next to a kid from Hong Kong who is returning from spring semester at college in New York. He was surprised at how far north the flight pattern took us. The pilot said that we literally passed over the north pole before descending through Siberia, over Mongolia, and then past Beijing into Hong Kong. I tried to take a photo as we passed over a large lake in Irkutz, that stronghold of Risk-game strategies. A bunch of us were looking out for the Great Wall as we entered China, but nobody could spot it. They say you can see that thing from space?
Changing planes at Hong Kong turned out to be pretty easy. Actually it was quite an event to explain the whole situation to the staff at the Dragon Air counter. There was an Australian man next to me stranded on a trip to Seoul, so I thought my situation was pretty ideal compared to his. I put my bag through to Guilin and hopped on the next flight. Jet lag was really starting to set-in at this point.
Rendezvous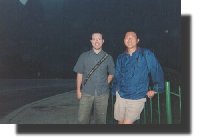 Email has definitely made the random overseas meeting much easier than the old days. Euge had sent me a message about his arrive into Guilin at about 9:30pm so I just checked the flight monitor for planes arriving from Kunming at that time. Luckily there is only one door that all domestic passengers come out of at Guilin, so I recognized Euge right away. Or rather, he was shouting across the arrivals lounge, the first one off of his flight. We made for a mini bus which would take us into the city. So far no problems.
Hotel Search
It is nice to meet up with someone who has already learned his way around the place. Euge came today from Kunming and Chengdu before that. He whipped out his trusty Lonely Planet and picked out a hotel right around the corner. South Stream Hotel. The price negotiation was pretty easy and we checked the room for clean beds and working hot water. The building reminded me of an old place I stayed at in Romania once. I found it strange that there was a woman attendant sitting on each floor, but Euge explained that they were to keep unwanted visitors out of the hotels, and women were more likely to report other women, or prostitutes, the biggest unwanted visitors. Later we found out that neither the hot water or the TV actually worked in our room, but we had a pleasant stay nonetheless