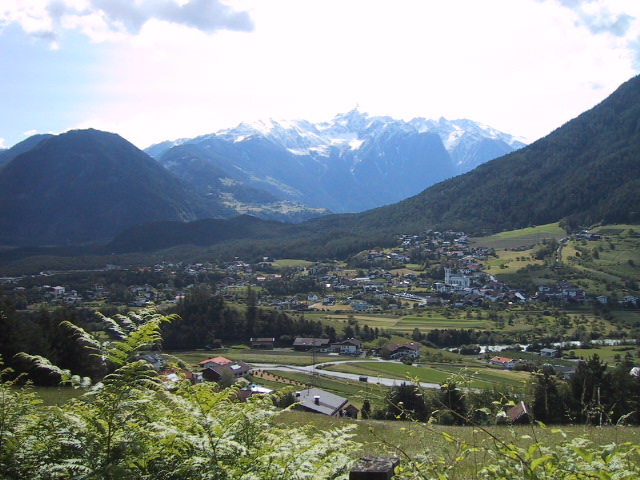 We have a good nights sleep at Haus Linder in Imst in our small room. We have breakfast with a Russian couple who are also guests here. My bike computer died due to the rain the last couple of days so Aaron has to install the new one he purchased the day we arrived at Bodensee. It is much more fun to come down from this hill that we struggled to get up last night.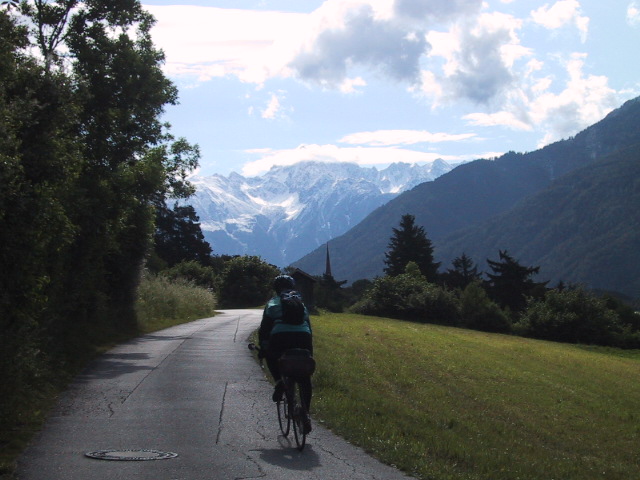 As we hit the bike path along the Inn River headed toward Innsbruck, we come upon the same couple that was biking with us yesterday. They are also headed for Innsbruck. The mountains are covered with snow all the way to the bottom from the snowstorm yesterday. It is a good thing we did not attempt to ride over the mountain pass yesterday; we would have frozen to death!
Now I know what they mean by, gthe hills are alive with the sound of music!h We are rolling through the foothills of the mountains in what is called the Tirol area. We are in the middle of nowhere when we can hear what sounds like music. Aaron asks me where I think it is coming from. I finally decide it is the sound of the bells on the cows that are roaming these hills. Aaron says that it canft be, but after a few more miles, he decides that I am right.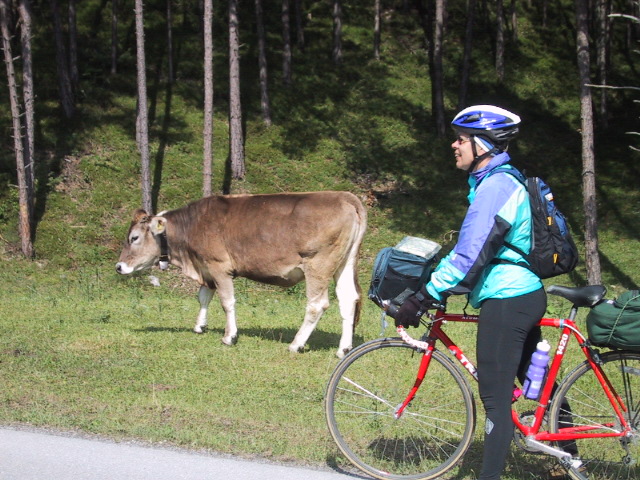 The sound of thousand of cow bells echoing throughout the hills turns into music. If I had not heard it with my own two ears, I would not have believed it. All throughout our ride I have been singing, gThe Sound of Music!h and today it is quite appropriate. This is such fun riding compared to what we had been biking-sunshine, wind at back and gorgeous scenery! As we are flying over hill after hill, I yell at Aaron to stop. He asked me if I have lost my mind, to want to stop when we are moving at such great speed--a bicyclist hates to stop when he is speeding along. But I just couldnft pass up this gKodakh moment. I wanted to have my picture taken with a cow that has a bell on him. I thought if I passed him up, I might not see another one so closely. Aaron comes to a stop and gives in to his motherfs wishes. The sheep also have bells on them, but they are smaller than the cowsf.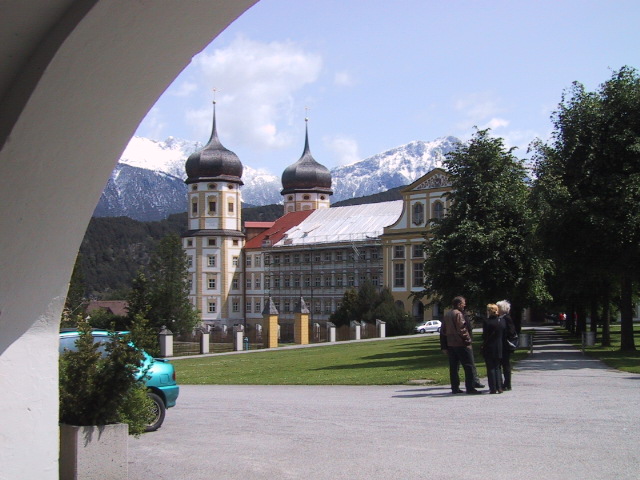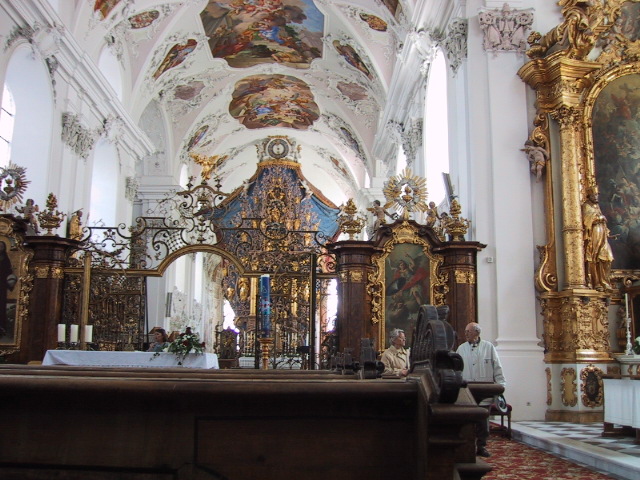 We stop in to visit a cloistered Basilica at Stams. We are lucky to be able to get into the church because Sunday Mass has just gotten over. We walk around the massive grounds. Across from the basilica is a cafe that is serving apple strudel and coffee (what a treat!) There are two huge ski jumps and a waterfall here also. Maybe this is where their Olympians practice! Along the Inn we cross over the river and enjoy watching several rafters enjoying the river.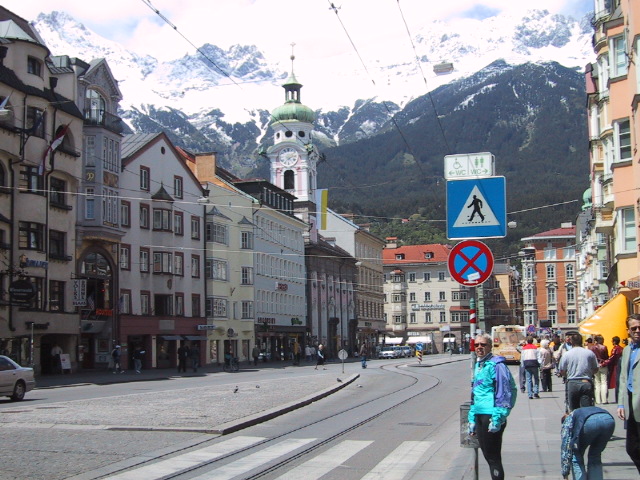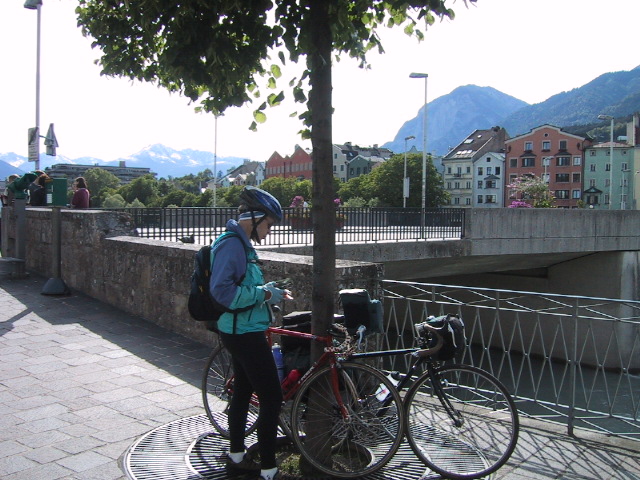 We arrive at Innsbruck (City on the Inn River) at 2pm. We search for an outdoor table to have lunch only to find that they have stopped serving lunch. So we can only have a drink so we have beer and wine. We roam around the town until we find an internet cafe where we get veggie lasagna and eat while we contact our friends and family back home. We head out of Innsbruck at 5pm.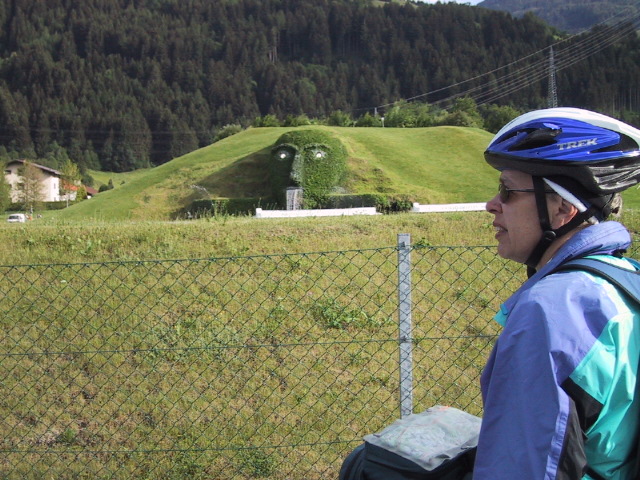 Much to my surprise, we happen upon the Swarovski factory (famous for their crystals) not too far down the path. One can take tours of the crystals displayed in a cave, but it has just closed for the day. We do get to use the bathrooms with crystal fixtures, which was impressive enough for me. We also get to see a huge head sculptured out of the hillside with grass on it and two crystal eyes and a huge waterfall coming out of his mouth.
Just when I thought it couldnft get any better, we find a gcastleh to stay in for the night. Words cannot describe this place. I never thought I would actually get to be a gqueenh for a day, But---! After a feast of cheese dumplings, spinach balls and spinach ravioli, we remove our gcrownsh and sleep and dream of the perfect day of biking that we just had.