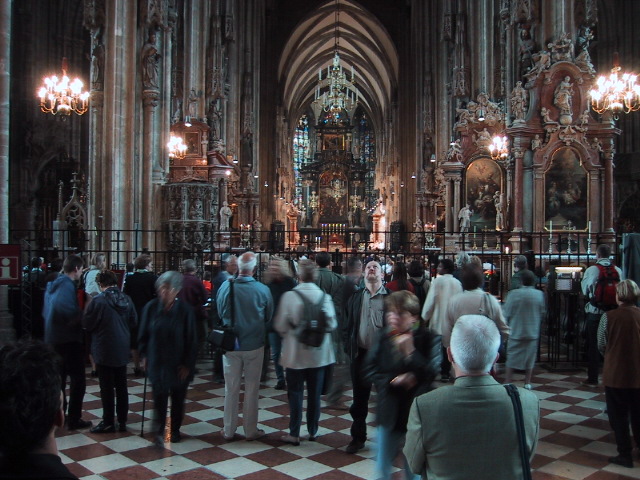 The convent we are staying in is pretty basic but spotless. After a good nights rest we head down for breakfast. It consists of the usual-bread, cheese, cake-like bread, strawberry preserves, but the coffee is premium since it is served with frothed-warm milk. So we savor the moment until the lights start flashing. A stern guy is flashing them to make us aware that breakfast is over. He is quite serious about this so we decide to exit the dining hall. Yuka, Aaronfs girlfriend, bids us farewell as she is headed to Budapest. Aaron will meet up with her along the next leg of his trip to Poland.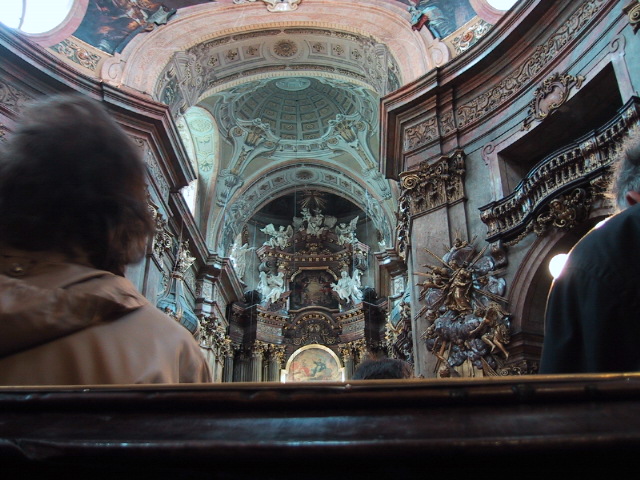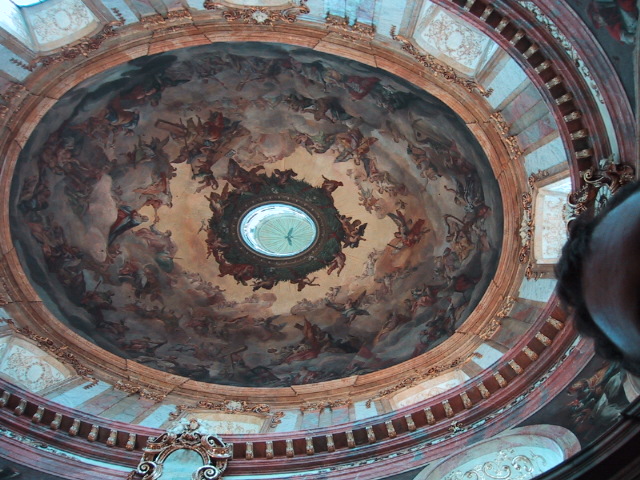 Aaron and I are off for a day of sightseeing of Vienna (or Wein.) We arrive at St. Stephenfs Church to attend a portion of the Mass--what a massive church this is. There is nothing I can compare it to back in the US. I just stand there in awe at the beauty of it all-the structure and the Mass! We then go a short distance to St Peterfs and stay till the Mass begins. Aaron has had enough of churches, but I go into St. Michaelfs and view a lot of museum pieces that are throughout the church. We next walk the grounds of the palace. This is just like a dream or a movie to me.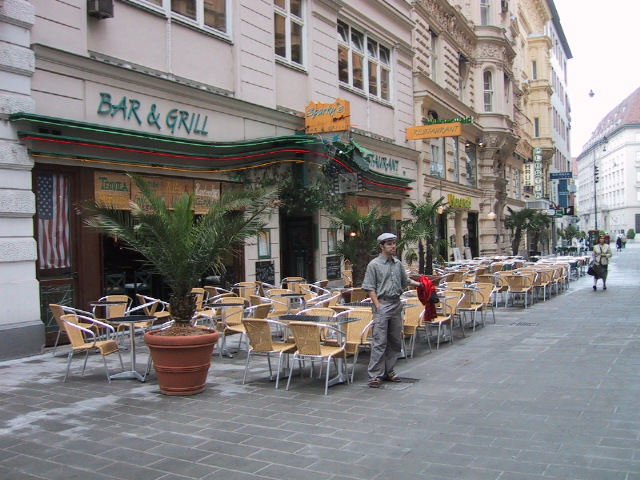 We finally get in touch with Patrick from Vienna, a cousin of a guy who works with me. He is going to meet us later as he is just getting home from being away for the weekend. We find a nice area to enjoy an outdoor lunch of pizza and beer. As we are shopping and taking in the sights, we both become very tired. I think our trip is catching up with us. We decide to have a refreshing strawberry drink at Sparkyfs. Aaron wanted to stop at this place since some of his friends have nicknamed him Sparky. It feels good just to sit and relax.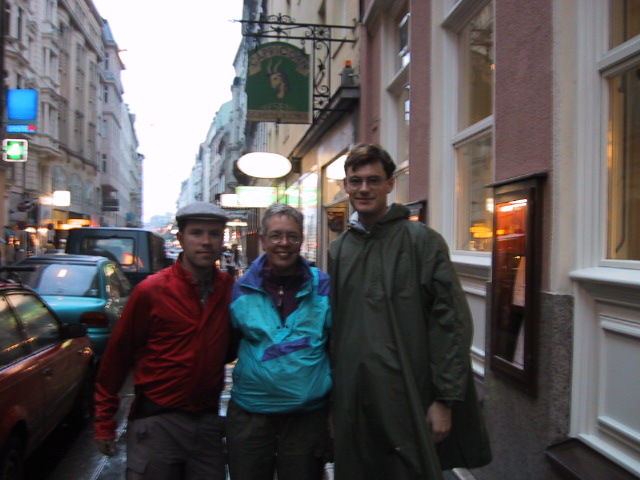 Patrick takes us on a walking tour of the highlights of Vienna. What a treat to have a personal guide that can tell us many interesting things about Vienna! He is so knowledgeable about the city. He tells us all about the royalty, the formal balls, the churches and much more. We go to see where the Vienna Choir Boys perform which is special to me since I love their Christmas caroling. Patrick is better than any guide that we could hire and he is FREE! He wonft even let us pay for the delicious pastries and coffee that we have at his favorite gcakeh place. We take a picture of him and us so I can prove to his cousin that I actually saw him.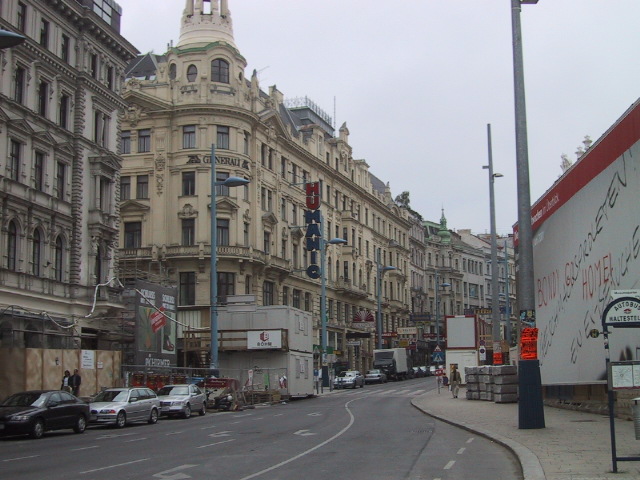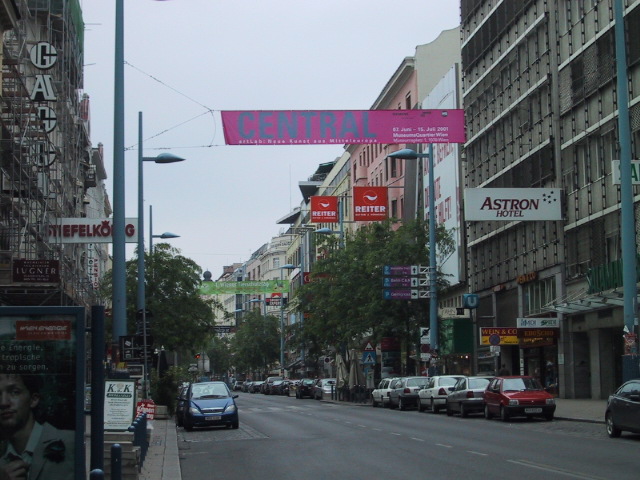 Meanwhile back at the convent, we gTRYh to pack my bicycle in its box to fly home in tomorrow-easier said than done. It seems as though we cannot remove the pedals with the tools we have. So I find the NON-English speaking nun to see if she has a bigger (GROSS) wrench than our itty-bitty one. After 3 tries I finally get a wrench that works even though she seems quite upset with me by now. She is overweight and had to go to the basement 2 times, however, the second time she had me go along and choose my own gweaponh! Lucky for me ggrossh was one of the few words I learned in German. It came in handy each night, as I was ordering my bier as to whether I wanted ggrossh or gkleinh. Now that we finally have the bike and most of my clothes packed in the box and taped up, it is getting quite late.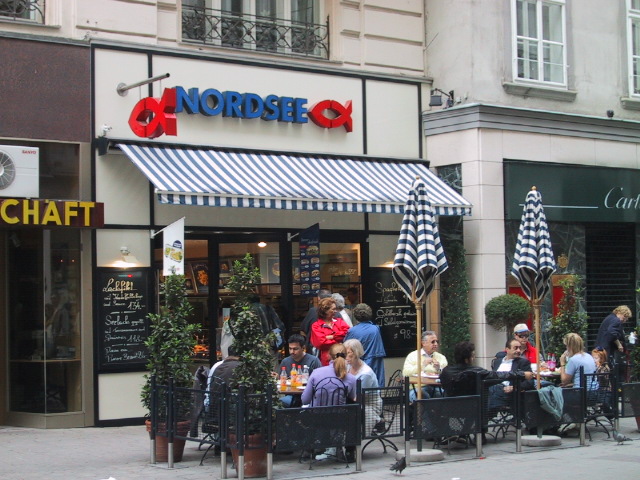 We are to meet a couple for supper tonight. The girl, Anya, is from Poland and is a friend of Aaronfs roommate back in the states. Her boyfriend, James, is a schoolteacher from England. We meet them at 9:30 and they take us to a college pub, Centimeters. Of course I have to have a gcentimeterh of beer! We have a most enjoyable time with them and go to bed at midnight.
Tomorrow I will be heading back home as Aaron continues his trek to Poland. If I had known what kind of bicycling I would have had to do throughout our trip prior to the start, I would have said that there is no way I could do it. BUT now that I was able to do it, I would turn right around and do it all over again!! It has truly been a remarkable, memorable, exciting, educational and enjoyable trip. It was a chance of a lifetime to be able to share this experience with my son. Even though Aaron almost lost patience with me a couple times along the way when he would say, gfor the love of God, Mom.......h instead of swearing at me, we are both still friends and we both said we would do it again.