La Quema
La Quema is a small village located about four hours east of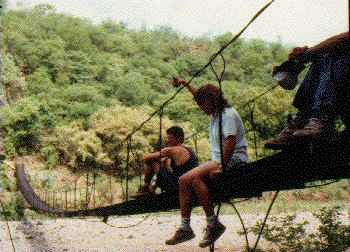 Hermosillo in the foothills of the Sierra Madre Occidental. There is a paved road that one can take most of the way there. However, the last couple miles are on a rough unpaved road that follows a creek at one point. When the creek is too high, no vehicles can get in or out of the village. A bridge was constructed a few years back to allow foot traffic in and out during these times. La Quema has about forty houses, a store, a primary school, and of course a Catholic Church.
Our house in La Quema
We settled into a house that was previously unoccupied. The house had two bedrooms that we used for guys and girls, a kitchen and an entry/porch. In the rear, there was a shed and an outhouse which consisted of a wooden box sitting on top of a big hole. Out front was a little garden area which we left completely unkept. This area had a waist-high water basin which we used to collect water for washing. Since the house was small, we often did our laundry and dishes out front. At night we would set up our cots in the space in front of the house. Life was pretty simple, but we all adapted quickly.
Chores
We had a detailed list of all the things that we had to do to keep the house running. It was important that the group work together and accomplish a few key things. Possessing no special skill, I seemed to get stuck on dish washing duty a lot. Other tasks included making tortillas and other food, cleaning up, coordinating work with the locals, etc. Not all of the work was fun, but we seemed to get along. Every day we assigned two people to work around the house with cooking and cleaning while the others went out to work.
Food
We had brought in a ton of simple food supplies like flour, outmeal, salsa, dried milk, cereal, etc. We bought some supplies from the little village store. Once a week, the produce truck would come in selling fresh fruits, vegetables, and cheese. Since there was only one refrigerator in the whole town, items like these could only be had as a treat. I remember one time our leader had a little run-in with the fruit truck guy. He was an outsider, probably from some city, who just came in to sell his stuff and get out. Well, he was making funs of the kids by calling them Indians instead of Indigenous. It is a fine line, but he knew that he was being derogatory and he was just laughing about it. We put down all the fruit we had picked up, and told him we would wait for another truck. Everyone was mad that we didn't get any mangos and whatnot, but perhaps it made the guy think a bit. Perhaps not.

Most of the food we made was simple. It doesn't take much to make some tacos and maybe a salad now and then. We tried to improvise with what we had, though. I remember one valiant effort to make pizza (yes, we are Americans). I also wasted the last of our oatmeal, sugar, etc on some really good cookies that I made in a pan on the stove. Even I was impressed with these.