Jubilation
Well, we are off. Despite all of the naysayers and my own personal doubts, our first day went quite well. It was a real scorcher of a day and Gene and I are both out of shape, but we still managed to put in a good fifty miles.

Packing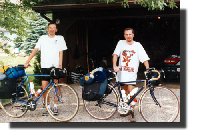 The thing I was most worried about was how to get all of my stuff onto my bike. I was also moving out of my apartment this past weekend, and it was crazy to see how many carloads of STUFF I had around. How was I ever going to get all the essentials onto a bike? Gene had bought special panniers and a front bag for his bike, but I just used a regular backpack which I cleverly strapped to my rear rack. The tent and fleece sleepsack fit on top of that and seemed to make a pretty stable load. But boy did the bike sway and flex.

Forty Miles
The first few miles it felt like we were riding tandems. The extra weight on the back was pretty noticeable. However, luckily those first forty miles were really flat. We made it to LeRoy without any problem.

LeRoy
Since I want to visit a lot of small towns on this trip, LeRoy seemed like a good place to start. LeRoy is my hometown. Mom was in the bank working when we got in at noon. Stopped in to say hello. Then Gene took a break at my house while I went to my old high school to say hi to a few of my old teachers.

LeRoy High
You might think that I went home a lot during college since it is only forty minutes away, but that wasn't really the case. I hadn't been into my high school in quite a while either. I went in sporting this "Illinois Graduate" t-shirt that a friend had given me. I caught a couple of my teachers who were not in class and thanked them for preparing me for life. LeRoy truly was a good place to grow up and I want to move back to a small town myself if I ever have kids.

Evening
So after our first small-town lunch at the local Dairy Queen (Mom's treat) we headed up the road a ways to local state park. Gene and I set up our new tents for the first time and were happy to find that everything was in working order. Gene got out his stove and proceeded to boil some water for ramen. However, halfway into the second pot of water a huge storm came in and blew out the flame. We retreated to the tents and hid out till it died down. Later we snuck out to get a shower. And so ended the first day. Not quite perfect, but a good start. Tomorrow we will head west and try to put in some more miles.