National Bike-to-Work Week
Michael and many of his friends ride into work pretty regularly in the summer. I guess it makes sense- they work at a bike company. It is a good 18 miles out to the Trek Bicycle Company in the small town of Waterloo, Wisconsin. This morning I rode out with Michael and Brian and we met up with Dave along the way. It was quite a refreshing way to start off the morning.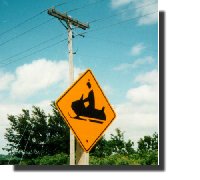 The guys are lucky that they work at a company that encourages bike commuting. There is a shower at work where they can get cleaned up. Being engineers, though, they don't have to don suits or anything silly like that. Trek is trying to encourage all of its employees to ride in this week. Just by chance, Michael won a Trek wristwatch for being the bike commuter of the day or something.

Tour
I took a tour of the factory a few years back, but Michael gave me the personal tour. They have shifted production around a bit since they built their new factory in nearby Whitewater. It is nice to see such a prosperous world-class company, which grew-up here in the Midwest. Michael showed me some of the future top-secret projects :) that he is working on. The company gives tours to anyone who wants to stop by their facility in Waterloo.

More Rest
It was good to get out and ride a little today. Of course it was quite an easy ride without any of the bags and whatnot strapped on. I will make a couple adjustments to the bike today before I head out tomorrow.