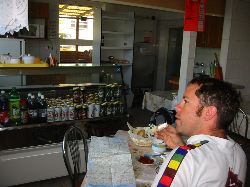 Since this is Sunday, everyone is headed to church in every type of transportation-horse-drawn wagons, tractors, buses and BMW's. About 30K out of town we passed by a huge church where the Mass was being heard by the many people outside over the loud speakers, so we did attend church today. While sitting on the curb eating an ice cream bar, the Mass got over and caused quite the "traffic jamb."

Our "shortcut" got us on another stretch of cobblestone which caused me to lose a screw on my shoe, but fortunately I had another one. While we were stopped a very old man caught up to us and started mumbling to us. He reminded us of someone with Alzheimers, but unfortunately we couldn't tell him how to get home. That is when you wish you could speak their language. After eating some strawberry cake we had energy to go on down the "cobblestone road" to Augustov.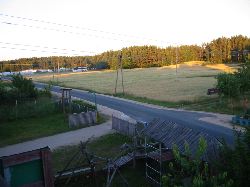 This town is a resort town on a lake where people come to boat and swim. We had a fish dinner on the square where a festival was going on and sat on a "swing" picnic table-now that's a first! The girl at the info center booked an agrotour room for us and gave us free stamps to mail our postcards-now that is service! We finally get a lody (ice cream) cone before we head out of town in search of our room in a farmhouse!
However, Aaron has flat #3 and uses my tape to line his rim. He is not making fun of me anymore for buying that white tape. Our room is very LARGE with Sleepy, the dwarf, on the lace curtains and Pope John Paul hanging above our bed. Since my husband are into Disney and Poland is into Pope John Paul, this is the perfect way to spend our last night in Poland. Well, not quite perfect, as the only restaurant is closed. But we have our leftover cake and cookies for supper. YUM!

---

Previous | Equipment | Top | Photos | Next
World Wide Shoes

This page created on a Macintosh using PhotoPage by John A. Vink.