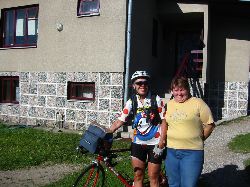 We knew today would be a bit longer than average, so I promised mom we would take tomorrow off and look around the town of Kaunas. Today is our ninth straight day of riding and we finally made it through Poland. If we had more time, there is definitely more to se in Poland, but we do need to move on. The countryside was beautiful wooded land right up to the border with Lithuania. We stopped a few hundred meters short of the immigration booth and made a phone call to dad. It was about 1am back in Colorado, but he was awake painting some room in his house. Mom talked to him while I exchanged our last zlotys for litas.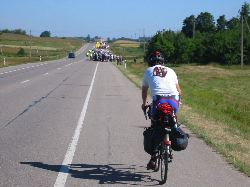 I had joked with mom about whether things would look completely different on the other side. After all, we were leaving a rather western country and entering the former USSR. But the joke was just supposed to be a joke. The border lines have usually been redrawn so many times that everything blends together a bit. However, at this border, there was a rather marked change. First, the houses were mostly made of a small white brick and not finished over with siding or stucko. They also lacked the flowers and other niceties that were common in Poland. Next, we stopped into a shop in the first decent town. The shelves were rather bare compared to the other side. Luckily, we had some bananas and cookies that I had been carrying. There were, of course, the requisite drunken men hanging around and telling stories about the people who walk by.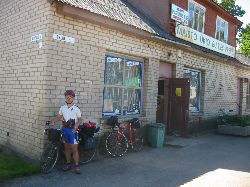 One positive change was that there weren't as many cars. And at least at first, the people seemed more apt to acknowledge us and even offer help. One guy spotted us studying our map and asked where we were headed. Later I realized that he might have thought that we were with this religious group that seemed to be staging a walk from Suwalki Poland to Vilnius Lithuani. This was the strangest thing I had ever seen along the roads of a foreign country. Maybe five or six groups of almost a hundred people each that were walking in the right lane of this highway, singing religious songs, and carrying signs baring their message. Their message was lost on me, but they must have been pretty serious to walk all that way. Luckily they had an ambulance from Poland that was accompanying them, because it must have been pretty hot walking along that highway.
We had to do some creative navigation through the backroads to get to the next big city. The map I have for the Baltics is not as detailed as the three maps that we used in Poland. However, we realized that this map seems to include all of the paved roads, plus many unpaved ones. We had a few rough roads this morning, but we saved some distance and made it into Balbieriskis.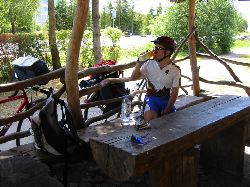 We looked around a bit and found mostly stores selling what looked like used clothes. We also found an at symbol which indicated internet access at the local technical school. The best place we could find for lunch was a little bar. I opened the Lonely Planet and started pointing at different words for things we would like to eat: potatoes, soup, cabbage. The woman was very helpful and promised a couple things that we would enjoy. Later I went back and ordered this smelly fried bread with garlic which was highly recommended in the book. Since this is a favorite bar snack, the woman was happy to serve some for us. It was a little too oily and a little too salty, but it did go good with the beer and it felt nice to be in a new country trying something new.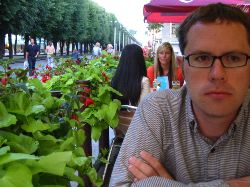 In the afternoon we took a slightly bigger road toward Kaunas and when we got close to the city we accidentally ended up on the four lane bypass road that passes around to the left. After riding on that shoulder for a few kilometers, we took a small dirt road for a backdoor entrance to the city suburbs. We passed by some huge superstores enroute to the city center. Just when we thought we were lost, we descended a steep hill to the river and suddenly found ourselves in the old town.
This was a city. We found a long pedestrian high street lined with cute cafes, hotels, and shops. According to the book, the Hotel Kaunas seemed within our budget, but the prices have gone up and only the delux room was available, so it was a bit over our budget. We decided to stay anyway because we had cycled so far and just wanted to checkin and have a shower. We got one of the fifth floor rooms with glass windows down to the floor. It was a nice way to see the sunset over the city and the high street. Tomorrow we will explore more.
---

Previous | Equipment | Top | Photos | Next
World Wide Shoes

This page created on a Macintosh using PhotoPage by John A. Vink.