Day 12: Relaxing in Kaunas
---
---
---
Snapshot
Today's Stats: 7km to laundry, 24C showers
Today's Route: Kaunas
Favorite Sign: funky pedestrian (lost photo)
Favorite Food: 2dollar sparkling wine
Expenses
Costs are per person in local currency, 1USD=2.737LTL (Lithuanian Litas).
| | | |
| --- | --- | --- |
| Kavos Klubas | Spanish coffee | 4 |
| Internet Cafe | 2.5hrs, apple cider | 16 |
| Valvarones | apple strudel, coconut coffee | 10 |
| Kalinpilis | salmon starters, veggie lasagna, 3 glasses wine | 25 |
| Kaunas Hotel | std room w breakfast | 200 |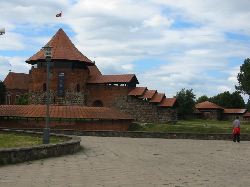 After a delicious buffet breakfast in the "cellar" of the hotel we spent the day sightseeing in Kaunas. It was a little rainy as we started off so we decided to stop for a cup of coffee at a cute little outdoor coffee shop I wanted to see.

We walked to the far west of this super long main street that is just below our hotel to Old Town where we found Kaunas Castle. We climbed the stairs there to get a great view of the surroundings. We toured St Peter and Paul Cathedral which is being repaired and St George Church which is in shambles. The churches are not kept up as well as those in Poland.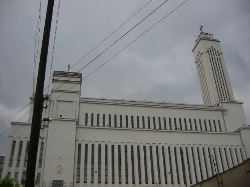 At the far east end of this street in New Town is St Michael the Archangel Church which is not as popular as the nude Man statue next to it. We ascended 250 steps to see Resurrection Church which was quite "white" and plain. We walked up there in hopes of getting a great view of the city which was also a disappointment. We had hopes of riding funicular (incline rail) to see get a great view, but it was closed so we struck out to ever get a great view of the city.
We rode our bikes about 4K to do our laundry, only to find that it is closed on Tuesdays. Aaron took in a short swim in the hotel pool while I did our biking laundry in our room. It has worked well for me to wash out our biking clothes each night and hang them around the room to dry. If they are not dry by morn, Aaron straps them on his bag on the back of his bike to serve as the clothes dryer.

---

Previous | Equipment | Top | Photos | Next
World Wide Shoes

This page created on a Macintosh using PhotoPage by John A. Vink.