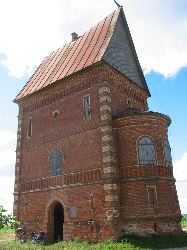 I wasn't sure what time to wake up today. Lithuania is the only country in the region which does not observe daylight savings or summer time. Since we are here only a couple days, it seems easier to ignore the one hour difference, but my body wanted to wake up a little early for some reason. After another fine breakfast at the cellar restaurant, we were off by 8am, or 9am local time.

We knew the route out of town because we asked about it at the tourisht info yesterday and found it was the same as direction as the laundry place we tried to go yesterday. The road was a bit busy as we headed west, but when we found our river and turned north, the conditions could not have been more ideal. The next 20km were along the river Nevezim over a hilly wooded road. There were not many cars, so mom told me more about my uncles and cousins that I don't see so often.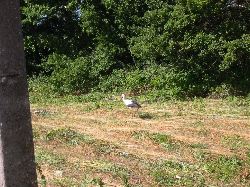 After passing through a town and then over the expressway that leads to the coast, our road opened up so we could see the scenery a bit more. Unfortunately, we could also feel the wind a bit more, but the next 30km went by pretty fast. The highlight was a funny structure just off the road which was announced by a funny roadsign. Since the structure was topped with a funny crescent moon symbol, I suggested that it was an old pagan worship site. We couldn't read the plaque on the outside, so we can only guess what it really was.
For lunch, we pulled into the town of Kedainiai. It just happened to be halfway between here and there and sitting right on the river, but it was the perfect location for our break, as we road in at 12noon. The whole old town has been fixed up to be a great place for pedestrian shopping. After a stroll around and a peak in the sweet shop and the old wooden church, we settled down to Just Pizza for lunch. Good eating.
After lunch things were not quite as smooth. There were two roads heading up the river, one on either side. Before we realized it, we were on the eastern side and riding up the smaller of the two roads. It didn't seem important at first, but soon a strong headwind started up and we realized that our road was much more exposed to the wind. Then, the road turned to gravel, so we started to search for a small bridge which showed-up on a couple of the maps. After riding across a field and through a farmer's backyard, we gave up the search. What looked like an easy ride, turned into a tough afternoon.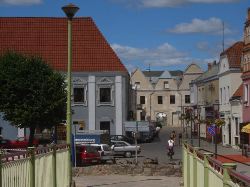 When we finally joined with the bigger road, we stopped in for a drink and a snack before finishing the last stretch into Panevezys. It was easy to find the square, actually a triangle, in Panevezys but the BandB that we were looking for seemed to be gone. While we were contemplating our next move, a guy walked up to offer us help. He said he lived in New York, but was back visiting his family. Although he could not recommend any restaurants, he did introduce us to a nice hotel. The Romantic was built in a converted windmill and offered four stay service to peope with extra money.
After a shower, we felt like new, as always. We headed out for a walk and a bite to eat. We found a cool pub that was open late, and the waitress helped us read the menu. I finally tried one of the pancakes that have been on the menus. It was more like a hot crepe with mushrooms. Quite good. Another good night of sleep.