Castles and Beaches
It was funny to wake up in the ruins of a castle. We were happy that nobody found us in the night, but now that it was daylight, we realized that we were quite visible from the water and from a couple houses below. Ate a little of the bread and whatnot that we had with us and rolled the bikes down the stairs to the beach. There was a huge group of Britons forming for a windsurfing lesson or something. We filled up our water bottles at the beach shower and sat down for a quick ice cream.
Scenery
Jens is quite fanatical about a number of things, one of them is maps. He is carrying a bunch of military maps with him because he says my road map for cars is no good for cycling. I agree with him some, but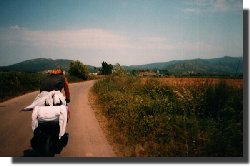 I can't carry all the detailed maps that I would need to get from here to Hamburg. Anyway, with Jens navigating, we can take some pretty cool small roads. We have now gotten out of the dessert area of central Spain. The area of Catalunya around Barcelona and further north is very rich. Jens thinks they have too much: mountains, beaches, fields, rivers, plains, everything. We road through some beautiful green areas that were quite a contrast from a few days ago.
Miguel
We have seen a lot of older cyclists, especially on weekends and holidays (yesterday was the summer solstice-a couple days late in Catalunya). However, we have not seen many people carrying anything on their bikes. In the middle of nowhere today, we ran into Miguel of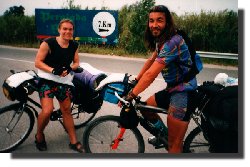 Madrid. He was on his way home from a trip of more than one month through Spain, France, Switzerland and Germany. He was very excited to talk to us. At first he wanted to use the English that he had picked up on his journey, but we ended up speaking in Spanish. He said he had met lots of helpful people in France, despite the fact that he couldn't speak the language well. He raved about the Black Forest and the mountains he climbed in Switzerland "just to see a girl." He was quite an animated character, even after a few thousand kilometers of riding. We were burning up out in the sun, so we exchanged addresses and moved on.
Coast into Spain
We took more or less the route that I had planned. Riding along the Mediterranean in order to avoid the high mountains. There were some good climbs and winds around the seaside mountains, but nothing over a couple hundred meters or more. We reached the city of Cebere, where I was stranded three years ago trying to switch trains to Paris. There was a similar border town on the French side too. It does some tourist business, but I imagine that the train station and customs offices are quieter now with the European Union.
France
There was a good climb over a pass, and then the sign for France. A little anti-climatic. I think Jens expected some miraculous change, but the biggest difference were that the prices were higher (Jens was cussing about the bread and cheese) and nobody seemed to speak Spanish. The mountains were still the same, and the roads not much better. One thing we did notice was the grape vines.
Bed of Vines
I guess it is fitting that even the mountains of France would be carved up for vines for wine (I had never noticed the connection between vino and vino before). We gave up on finding a quiet beach, and instead road into a field off the main highway. There was one terrace that was not in use, so we set up shop there. We had taken another long siesta in the afternoon at the beach, so it was another late night. More tomato and tuna sandwiches with yogurt and other good stuff. Then into the tent before the mosquitoes ate us up.