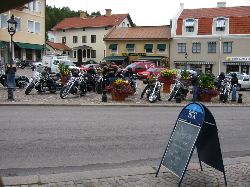 A typical European breakfast consists of breads, cheeses, meats, museli, corn flakes, yogurt (drinkable and usual), fresh fruit, juices (many kinds), coffee, tea, milk (room temp in Poland), sour milk, tomatoes, cucumbers, etc. We couldn't figure out what milk soup was, only to find out it was cereal with milk. After breakfast in Hotell Viken's cute cafˇ, we got our bikes out of the shed, where the motorcyclists still had their bikes so we were ahead of them. After riding 50K we ate our leftover pizza and half of a delicious coffee cake I bought at the bakery. Swedish pastries are to "die for!"The town we stopped for lunch had a most fun playground toy. It was like a teacup that you sat in, and it spun around with very little effort. We had a local fish dinner with coffee for $8 along with the many motorcyclists that rolled into town.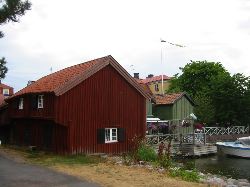 What fun we had riding another 20K over rolling hills, partial sunshine and a side wind. Their flowers are unbelievably beautiful in the towns and countryside. They have some unique fences in Sweden-small tree trunks wedged sideways and 2' thick piled rocks. This is quite different from Poland who had strings, ropes or none with a cow tied to a stake! There are also fields of large white, round bales. As we rode into Vastervik we saw that this is where the hundreds of motorcyclists that passed us were going. There was a 4-day rally for Northern Europe there which was comparable to the Harley rally in Sturgis. What a great town to hang out in especially since it sits on the Baltic Sea. Since there was "no room in the inn" we contemplated lying at the waterfront for the night but decided that might not be the best. We ate supper (I drank a "stout" beer even though the waitress wanted to make sure I really wanted it) and headed out to a hostel which was further than we anticipated-59K. We didn't get out of town until 8pm only to find that a lot of the road was gravel so it was slow going. Luckily the sun doesn't set until 9pm and we finally found the hostel at 10pm. There were no linens or towels but we didn't care as long as it had running water and a place for us to lie our weary bods, but not until after we polished off the rest of the coffee cake from the bakery!
---
---
---

-- Previous | Equipment | Top | Photos | Next--
--Sweden's Southern Shoreline--
World Wide Shoes

This page created on a Macintosh using PhotoPage by John A. Vink.