The phone rang just before ten. I assumed it was the front desk reminding us that breakfast ends at ten. It was the desk, but they were calling with the info about our train tickets for the night. The price was something like fifteen dollars for the ten-hour sleeper. Merry agreed and hang-up the phone. Breakfast on the 7th floor was filling. We were ready for a big day.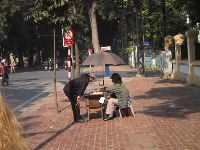 Out on the street, a number of commercial opportunities presented themselves. First I replenished my stock of contact cleaner with the perfect little travel size bottle. Next there was the squared-off army hat to keep the sun off my face. We walked through neighborhoods selling all sunglasses, then sports equipment, then hardware supplies. When we hit the oil painting shop row we knew we were close to the gaijin district and also just south of Uncle Ho's museum, mausoleum, and stilted house.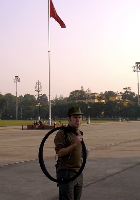 Everything was closed of course because it is Monday, but we had fun walking around the complex looking for a secret entrance to Ho's house, which was not explicitly listed as being closed on Monday's. We did happen upon an outdoor cafeteria where we sat down for some lunch.

Up to this point, we found plenty of people who speak English. Or, as was the case with the bicycle people, we just pointed out what we wanted and bargained for prices on paper. However, lunch was the first time when we were presented with a Vietnamese menu and a waitress who didn't really follow our requests for vegetables, noodles, etc. After passing the dictionary back and forth for a while we ended up ordering some fried rice, veggies, and beer. We decided to commit to memory some simple things like chicken, rice, veggies, etc...
We were a bit disappointed that we could not get into any of the Ho Chi Minh places. The picture the guidebooks, museum, others seem to paint of him makes him seem like a decent guy. They tell how he refused to move into the Presidential Palace after kicking the French out. After the US came to fight the French war, they say that Ho lived in a little hut surrounded by the ten advisors who lead the war with him. Considering the sleepy atmosphere of Hanoi it is hard to imagine how anyone could get into such a big war over a place like this.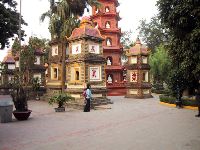 Speaking of reminiscing about the war, there was supposed to be a statue of John McCain, US presidential candidate, who was captured during the war and held captive for five years. I am not sure why the locals would leave a statue of this guy after he was attempting to kill them, but we failed to locate the statue anyway. Further up the road, we came upon a temple on the West Lake which is supposed to be the oldest in Hanoi.

By this point, we had walked maybe 10km and the sun was starting to set already. We headed east and south, back toward Hoan Kiem Lake. The rush hour traffic was pretty nuts. We had already agreed that dodging scooters here was more challenging here than in any other city we had seen, but when rush hour combined with the sunset, the competition took on a whole new level of difficulty. Our skills had definitely improved since our arrival yesterday, but there were still some near-misses.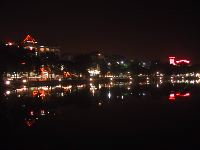 After a quick dinner on the lake, we were back at the hotel. I immediately tried to install the new tire I had purchased and quickly found that it was just a bit too big. I put the original 25mm gumwall back on and gave the unused tire to one of the bellman at the hotel. I am still not sure if this cheap tire will hold the weight and withstand the bumpy roads we are likely to see in the country, but we were able to ride our bike 1km or so over to the train station.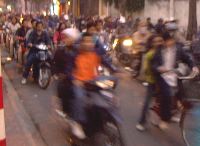 We were told that we would just have to buy an extra ticket to the train station in order to transport our bikes. After going into the wrong entrance and getting lost here and there someone finally took us out back to the shack where oversized luggage is accepted. However, there was a problem. This boy who was helping us seemed to be saying that we could not take our bikes. And then that we could not take our bikes on this train. But maybe if we took a different train, we could get into the luggage car at Lao Cai. It seems the hotel had booked us on a Sa Pa bound train that passed through Lao Cai but did not stay long enough to allow access to our baggage. So, I ran with this boy over to another shack (okay it was the outback ticket desk) and paid for a whole new set of tickets. With these, we were on the Lao Cai train and asleep by 10pm.