We woke up around 6am while the train was at some stop just short of Lao Cai. After watching the last hour of winding track through the wooded landscape, we arrived at Lao Cai. We unloaded the bikes and fended off a couple mini bus drivers wanting to take us to Sa Pa. Basically all of the foreign tourists around were headed for Sa Pa. It is a resort up in the mountains above Lao Cai which was built buy the French long ago. It also happens to be in the middle of some pretty fascinating hill tribe areas, so there are evidently a number of tour operators who will take you out and show you a bit of the local flavor. We wanted to stick the low route, and somehow I expected would we see our own share of ethnic groups by taking the road back along the Red River.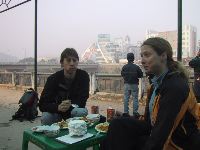 Merry had chosen a restaurant in the book which had an English menu and was likely to have a decent toilet, we headed there for breakfast. Being that it was only about 8am, the place did not quite look open yet, but the added bonus was that we could see China just across the river from here. We were able to order a couple omelettes, and I began setting up my bike for the journey ahead. After a half hour or so, a number of kids had gathered and our trip preparations had turned into a major show. I really wasn't convinced that this bike was going to make it out of the lot, but I strapped everything on and said my prayers. By 9:30 we were off.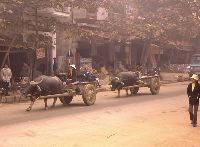 The roads were a bit bumpy with a number of trucks in both directions, but after getting out of town, everything seemed fine. I was trying to dodge every little bump for a while, just waiting for my skinny gumwall tires to burst. Then there was the challenge of keeping the bike in gear as we went up and down the rolling hills. I remembered how much a godsend the indexed shifting can be. Next there was the issue of my front bag weighing down the front fender and causing some harsh noises on the bumps. But despite all my worries, we just kept rolling and after 10-20km, I realized that everything was still intact.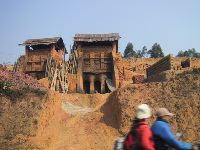 We passed by a major brick firing operation, and marveled at all kinds of agriculture. The road traffic thinned out to a mix of bikes and scooters, with only an occasional truck, and even fewer cars. After pushing pretty hard for a while, Scott and Merry finally pulled over for a break.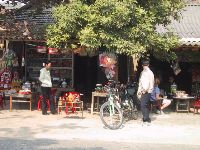 It was just a random village with maybe twenty houses and a couple dry goods shops facing the road. The sight of the tandem got the whole place into an uproar (though you can't really see it in this photo). Just when Scott and Merry got off, two local guys got on and wanted to try out this crazy double-bike. Then they all tried on our helmets, then sunglasses. Finally, they tried every button, lever, bell, etc. It was a real hoot for them, but we were at least mildly worried that someone was going to make-off with a critical piece of our equipment. After snacking on apples, oranges, crackers, and tea, we got back on and continued.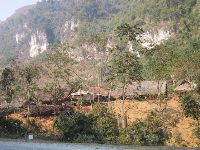 Further on, the road got hillier and hillier. It was pretty warm too in the noontime sun, so I was sweating a bit. I realized that even though I probably would not need any of the cold weather clothing I had brought, I would still have to carry it up and down these steep hills. It looked like Scott and Merry combined were carrying less than I was, and that was after taking out some of my stuff at the last minute. At any rate I had trouble keeping up with their pace and found the prospect of a few more hilly days to be a bit discouraging. But with hills, you get so-called hill tribes. We passed by so many villages of people in brightly colored clothing yelling out HELLO HELLO. The road was perfect for cycling really. The route was easy to follow, even if it did not match the straight down-the-river road shown on the map.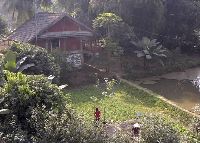 Since we had started a bit late in the morning, and had also started on the wrong side of the river, it was already mid-afternoon when we pulled into Pho Rang. We had only seen one guesthouse all day long, so we were a bit concerned about finding a place to stay in this town of 5000 people or so. One man informed us that there was a khach san about 1.5km up the road. Sure enough, right in the middle of town was a big new hotel with clean rooms and cheap cheap prices.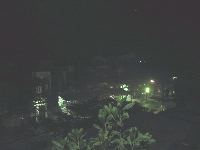 After a stroll around town, we settled on a restaurant that was offering com and pho (rice and noodles). There were three young mothers standing and eating while rocking their babies strapped to their backs. Nobody approached our table with a menu or anything. After thumbing through our dictionaries for a bit we had just decided to get up an leave when an older woman emerged from the kitchen smiling ear-to-ear. We showed her the phrase for ""I am a vegetarian"" and then started reading off the list of vegetables. It took a while before the idea sunk in, but eventually she prepared us a plate of tomato and bean sprouts, another of cabbage, and a third with potatoes. Combined with rice and some beer, it was better than any meal we could have imagined.

The town was pretty dead by 8pm. After checking out the map and logging this travelogue, I went to sleep by 10pm.