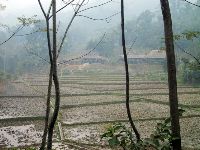 We were up and on the road by 8:15 today. Today's itinerary called for about the same number of kilometers as yesterday, but on the map it looked a bit hillier, perhaps going over 200m a couple times. The route was definitely hilly, but the hills were never too long. Still, I had trouble keeping up with Merry and Scott. Partway through the day, I raised my seat a bit, mostly just to keep my rear-mounted pump from poking me in the butt. This seemed to help me put a bit more power into my pedal. I remembered issues I had on my first bike trip: adjusting my clipless pedals and seat height, wishing I had less baggage and more air pressure. Anyway, I was happy to be rolling along. The weather was perfect and the scenery beautiful.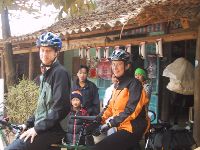 We attract so much attention, and people want to get on the tandem everywhere we stop. At the morning snack stop, about a dozen kids gathered round to watch us drink Sting (the latest sports drink) and eat cookies. They even tried to suggest that I marry the girl running the shop. For lunch, we picked a lone restaurant that would only be seen as a simple truck stop. There were only a couple other customers around because it was past lunch time. After explaining that we were vegetarians just looking for a plate full of cabbage, the man in-charge brought out a package of ramen and suggested that we might try it with a raw egg dropped in the soup. We ordered three bowls, and cabbage. There was a really cute kid at this restaurant who was looking over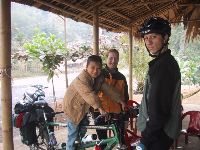 Merry's shoulder the whole time as we tried to communicate our order. When we finished with food, she turned to the smalltalk section of the phrasebook and started pointing at random phrases. Since I was carrying the phrasebook for all of Southeast Asia, smalltalk in my book amounted to asking about what you do in your free time. Merry, on the other hand, was able to have a fifteen conversation with this kid without even talking: just point and shoot.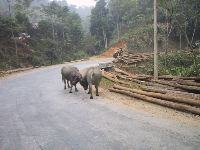 Our spirits renewed, we were back on the road and wrapped up the rest of the day's riding by 3pm. We arrived in Yen Binh and found a new five storey hotel right on the outskirts of town. The hotel had a (dirty) swimming pool, extensive gardens, and a big banquet room which, judging from the decorations, seemed to recently host a meeting of the local chapter of the communist party.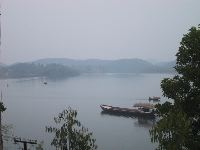 I still had some extra energy and was curious to see the huge lake a couple kilometers down from the town. We got back on our bikes (after removing the gear) and pedaled across town and down the hill to Thac Ba Lake. The first glimpse of the lake was not that exciting, but we road on a little further looking for that postcard-perfect view. At the end of a small road we happened upon a resort hotel that had seriously run into disrepair. There were a few people hanging around the grounds of this place, but the pool looked like it had not been cleaned in more than a few seasons. We snapped our pictures, and as we were walking back to the bikes, three gentleman came walking up and each shook our hands in turn as if we had just beat them in some sporting event. Merry greeted each of them with "Good game, good game" Day two on the road and we are having fun.