Northern Vietnam Day Five

---
Yen Binh- Vinh Yen
22, sunny
115km
Hotel
bread and eggs, coffee
1.00
AAA guy
super glue
0.33
flower shop
bread, beer
0.60
roadside shop
ramen w egg, Coke
0.50
another shop
red and blue sunglasses
3.33
Com Pho place
fish, cabbage, potato soup, rice, beer
1.33
Internet Club
30min on the net
0.20
VinaCard mobile prepaid
two calls to the US
20.00
Trung Nguyen Cafe
bottle of red wine
0.66
Hotel
single room, hot shower, nice balcony
10.00
All prices in USD. As of Dec 03 1USD=16,000VND.
---
---
---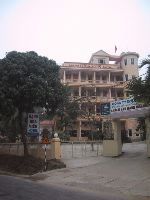 We spent Christmas day cycling out of the hills of northwest Vietnam. Based on the trusty map, today was to be the day we hit flat ground. Last night, we had agreed to alter the route and head straight for Ha Long Bay and all the activities on offer there. So, we might only have a couple more days of cycling, if we survive.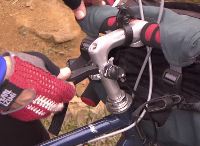 Despite some rolling hills, I was doing a better job of keeping up with the tandem so far this morning. However, on a steep uphill, I reached for the gearshift and it broke off in my hand. It was a clean break of the plastic lever for the rear gears. Not good. We looked at the situation for a minute and decided that glue or melting was the only way to get this thing back on. Just then, a man from a house we had just passed came out and offered to help. He sent his daughter across the street in search of some kelm and eventually rode his scooter into town to get us some Super Glue. I set it up as carefully as I could and even poured a little more glue on just for good measure. After then ungluing the lever and the metal case as well as my fingers, we moved up the road. I didn't touch the thing for miles.
---

-- Previous | Equipment | Photos | Bikes | Signs | Next --
-- Northern Vietnam | Asia | World Wide Shoes --