March 31: Junbesi to Jubing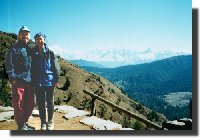 Probably the best thing that you can do on a trek like this is wake up early in the morning and get a start on the trail. When lights an evening entertainment are hard to come by, it would seem easy to turn in early and wake up early, but the latter is always difficult. However, on this day, we were blessed with our first view of the big mountains. Just up out of town and around the bend, the snow-capped wonders came into view offering us our first glimpse at Mt. Everest and countless other peaks higher than anything we'd ever seen before. Even at this distance, it was quite a site, so we were encouraged to push on. We were almost glad that we didn't have the luxury of a rest-day like our friends, because we may not have seen the mountains this morning.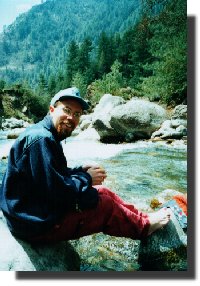 We stopped at a river crossing and attempted to clean our clothes and bathe a bit. It had been a few days since our last warm shower, but the river was too cold to do us much good. It was refreshing for the toes and face, but not good for bathing. Somehow, the creature comforts don't mean as much after a while. We have now been living on a steady diet of lemon tea, boiled potatoes, rice and lentils since we set out from Kathmandu. The uncomfortable beds and lack of heat would be hard to put up with anywhere else too, but after a day of hiking, anything is appreciated.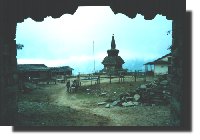 We were happy to cross our last major pass around 1:30 today. There is a small town and monastery at the top of Tragshindho Pass (3071m). The cookies and snacks always seem to cost more at the higher places, but we broke down and bought a Fanta here for about 100Rs. We felt refreshed and invigorated as we once again descended the backside of a pass in the company of friends. We had come upon some children on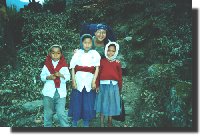 their way home from school for the day. We tried out every last word and phrase of Nepali that we could possibly pull out of our travel books. Mostly we just got a kick out of them calling Brica "didi" or big sister. At the end of our descent we crossed the Dudh Kosi and entered the town of Jubing.
Jubing 1676m (5500ft)
Although we have been climbing (and descending) for the last four days straight, we are actually lower than when we started in Jiri. From here, however, the trail continues slightly more steadily on the upside. It follows the Dudh Kosi river which is fed by melted snow from Everest and the rest of the big mountains. The trail continues to follow this streams all the way up into the base camps where the real mountaineering begins. It is possible to make it all the way up to the Everest Base Camp with some warm equipment, about three weeks time, and a regular trekking permit. From there, the stakes get a little higher.
April 1: Jubing to Poiyan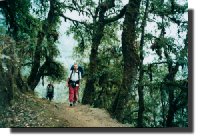 This was probably the quitest day of the trip. It was quite foggy and overcast most of the day giving the place a secluded feeling. We had outwalked most of the people that we had met along the way, and we didn't seem to meet many new people today. Even though we thought we had finished with passes, we managed to climb to 3078m again today before descending into Poiyan. In addition to Sherpas, there are also Rai and Magar people in this area, but they all seem the same to our untrained eye. They all speak the same brand of unintelligible speech that we have become accustomed to. Fortunately, the language of a smile and a few useful gestures seem to go a long way around here.
Poiyan 2796m (9175ft)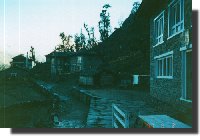 The people do know how to please around here. Just as we entered the village (which is made up of no more than ten buildings) we spotted the Apple Pie Guesthouse. Although we did not sample any of the pie, we did enjoy our time spent with the proprietor. There was one other traveler there in the evening. He spoke enough Nepali to have translate a bit of conversation between all of us. We all huddled near the stove while the woman prepared our usual dinner. Upstairs there were only a few rooms for rent and only three of them seemed occupied. We could here the main nextdoor through the thin wall, but it didn't matter. It was so cool at this altitude without any heat that we huddled up and slept right away.
April 2: Poiyan to Phakding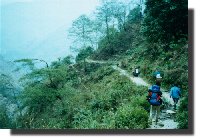 In the morning it was clear and we were ready for another day on the trail. Not far up the road, we passed the turnoff for Lukla. We would be returned here in a few days for our own flight out of the region. Just past Lukla the whole scenery changed. Teahouse menus seemed to become more elaborate including yak cheese and meat. The trail up the Dudh Kosi to Namche is probably one of the most heavily traveled in Nepal. Now we were passing people quite often.
Phakding 2652m (8700ft)
We decided to pull in at 2pm. It was a little far to continue on to Namche and it looked like a rain was setting in. The heated dining room of the International Trekkers Guest House was full of jolly Australians and various other foreign travelers. We caught up on some of our reading and writing and exchanged stories with other trekkers. At six days from Jiri we had made it significantly faster than some of the other groups. In retrospect, the walk was more than tiring, but a typical day was only about 8:30am till 4 or so. The usual workday. We always had plenty of breaks to take in the scenery, eat, etc. but we also had a timeframe in mind. We should arrive in Namche Bazaar, our "goal," by around noon tomorrow. Seven days of hiking to reach a village in the middle of nowhere. What a trip.