Getting In
Unfortunately, when I arrived in Laos via bus from China, the film was not properly loaded in my camera and I missed a number of good shots around the border. Overland border crossings are always fun and this has to be one of the most remote ones I've ever seen. The road leading up from the Chinese side was paved up until the gate where you check-out of China. I changed some money with a random teenage girl who operates a fruitstand/exchange counter on a card table about 100m from the checkpoint. Then I shared a blue truck with a couple British blokes heading for Laos. The truck took us up to the Laotian authority buildings a couple kilometers up the road. From here, the roads are unpaved and the buses become trucks. The immigration counter is staffed by two or three guys who faithfully compare the information on your passport, visa, and entry card and ask a couple questions just to make it look official. I would not want to be sent home from this place-forever stuck between the Lao and Chinese borders, neither side letting me enter without a pre-arranged visa. We got in. And we waited.
First Look
The truck ride into Luang Namtha was one of the most beautiful rides I have ever taken. The dirt road was bordered on both sides by some pretty lush forest. While the "forests" were all perfectly planted and groomed rubber planations on the Chinese side, things in Laos are quite untouched. One could get off the truck, walk in any direction, and not see sign of man for days on end.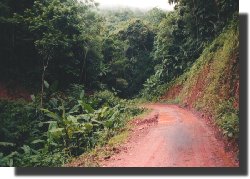 We shared the truck with a hodge-podge of immigrants, visitors, and locals. I sat atop a pile of bags in the middle of the cargobed singing songs and observing all the people sharing our crowded quarters. I took a particular interest in a Chinese family of two parents and two young kids sitting next to the cab of the truck. The kids tried their best to put up with the unusual conditions, but after an hour of waiting at the border and then a couple hours ride, they were pretty worn out. When we arrived in Luang Namtha, we found that this family runs a little shop right on the main street of town.
Around Town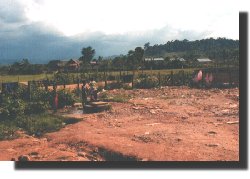 The bus pulled into what looked like a relatively civlized town minus the paved roads. There were a couple other backpacker guys who got out of the truck with me, and we had seen a few other European traveler types wandering around the street on the way in. We didn't have a decent map of the town, but we surmised that this was as main as the main street should be. It was a broad street lined by random one and two-story buildings, the former being simple shops and restaurants and the latter looking like boarding houses. My pals had found a room to share in one of these wooden-plank floored two-story joints. I decided to explore town a bit more.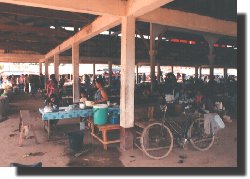 Among the things I found were the bus/truck station/ground (where we had not been left off for some reason) and few more side shops, some official looking buildings and a covered market. The place was pretty lively for the size of the town. It seemed like Luang Namtha couldn't be home to more than a few thousand people including some outlying farms and all. However, there were plenty of stalls selling all kinds of goods including dried fruit, bread, and meats. I tried a bit of the bread in hopes that the remains of master French cuisine are as ever present as the guidebooks suggest. Not quite "Au Bon Pain" but a refreshing lot of baguettes nonetheless. After taking a few photos, I decided to move on and pick my accomodations before nightfall set in.

View this QTVR Panorama Image of the Covered Market Area(363K)


Swampy Bungalow Night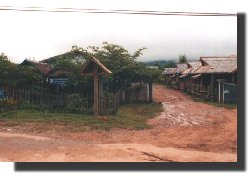 I decided to go with one of the more imaginative places in town. It was a little bungalow type place on the edge of twon that offered private rooms overlooking some paddys. The place was only US$3.25 and its touristy nature seemed acceptable for one night. Of course, soon after, the rain set in, I realized that the surrounding paddys could also been perceived as swamps and may be home to many frogs, mice, and other vermen that might creep up through the wooden floor (covered in light linoleum of course)in the night. I locked the airtight room to my door and headed up the street under my umbrella. I found Steven and Ronan, the traveling blokes I had met on the truck, and shared a beer and a game of cards at their guesthouse/restaurant/entertainment center. Took a few walks up the muddy road, and then headed for bed.