Arrival
We arrived in Seoul in the afternoon and expected to have plenty of time to find a place to stay and get settled in. As we do everything the cheap way, we seldom make reservations, but following the directions from our favorite guide book to the nearest hostel. Actually, Brica arrived a little later than I did, and then we spent some time looking around the airport and exchanging money. By the time we got to downtown Seoul, it was already dark.
We had planned to stay at a cheap yogwan near city hall and all of the tourist attractions. However, from we had a little trouble finding the place. I thought maybe I was reading the map wrong. Brica tried her hand at it too. One nice man asked us if we needed help. He ended up making us more confused, but was a nice man nonetheless. We had finally come to the conclusion that the place we were searching for had been torn down, when we ran into two guys from the US.
They were both teaching English in Seoul and knew their way around. They took us to a cheap place a bit away from the city center near Hongik University. It was about US$24 with a nice bath and extremely nice lady working at the front. She didn't speak a word of English and our Korean isn't too impressive, so we had a lot of laughs trying to tell her things. We spent for nights there in all as we looked around Seoul.
That night we went out to a coffee shop known as Java. The coffee shops in Seoul have to be some of the best in the world. They often have big comfy couches and telephones at every table so friends can page their buddies and invite them over. We had learned how to read Hangul script in one days time, but it wasn't much help when we looked at the menu. Sure we could read the sounds, but we didn't know the meaning. Luckily "ice coffee" and "cocoa" are about the same in many languages. We also managed to get some toast and write some postcards before heading back to the yogwan.
March 2nd
Sunday we didn't wake up particularly early. Brica was still trying to repack things in her bag because she had brought way too much. We finally ventured out into daylight for brunch at, where else? Pizza Hut. Now, generally I would feel a little silly about eating at Pizza Hut in a foreign country, but I had not been to one for a long time. I have never seen Pizza Hut in Tokyo, although I hear they are around. Anyway, there was an English menu, so we were able to order and ease into the culture shock.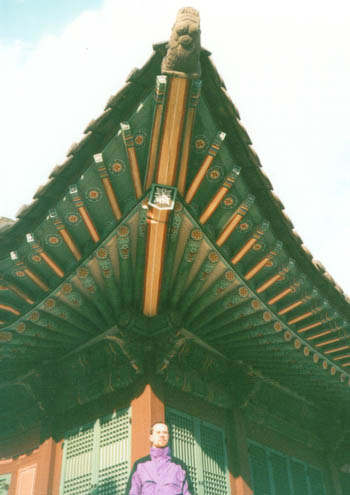 We took the subway back down to the City Hall stop. All of the subway stops were written in English, or at least in Roman script, so we could get around quite easily. There is even an English announcement if you listen really closely, "Next stop, City Hall. City Hall. You can transfer to the Blue Line."
We spent the afternoon walking around the grounds of Toksugung Palace. It was originally a villa for the royalty 5-600 years ago. Then it was used as a ceremony hall. There are actually a bunch of buildings there built in different periods. I believe the Western style ones were built by the Japanese during their occupation of Korea up until WWII. Anyway, we enjoyed looking around in the museum there and taking in the atmosphere of a Saturday in Seoul. There were lots of newlyweds out getting wedding photos taken around these traditional buildings.
In the evening we went to Lotte Department store for dinner. Downtown was actually pretty quiet compared to Tokyo on a weekend. We found that few places were open on Sunday except for this huge store owned by a Korean businessman who lives in Japan half of the year and sells lots of candy. Sort of the Wrigley of Asia. Anyway, we had Japanese food for dinner, managing to avoid Korean food yet a little longer.
March 3rd
Monday morning we got brave and wondered into some local restaurant near our yogwan. We had trouble with the menu once again, but one nice woman (a regular at the restaurant) recommended the rice omelette. We also ordered kimbab (kinda like Japanese maki-sushi without the raw fish) because that was the only other thing that we knew. The food was pretty good, so we were feeling proud of ourselves.
Went to another palace and the Royal Shrine in the afternoon. There was nothing much going on at either place. The architecture is not so different from that in Japan because most of the art in Japan came from China through Korea. We enjoyed looking around nonetheless. It was interesting that the palace and shrine were separated by a large road built by the Japanese occupation. It was supposedly done to spite the royalty by separating the residence from the ancestral graves. At any rate, nobody lives there now, and the whole area is rather quiet on March Monday.
There is a rather large US military base right in the middle of Seoul still. One might think that with the land prices as they are, someone would have offered to move the base elsewhere, but anyway, the military presence makes for a strange atmosphere in that area. Aside from Pizza Hut, there are many other US stores and restaurants and lots of street vendors selling cheap souvenirs for visiting military personnel and good ole tourists like me and Brica. We ate dinner there and turned in for the night.