Small Details
The plan was to make it to Jinghong tonight. Therefore, I only paid for the room through 6pm (half-day rate), and planned to take a shower after biking and then head to the airport. Well, despite assurances from the local travel agent, many of the flights to Jinghong did fill-up overnight and I was left with only one choice for today: 6:40pm. Since this would cut my biking tour short a bit, I decided to wait further, and take the chance of missing all flights today.
Bike Rental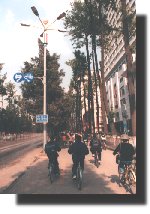 This decided, I went to the guard at the Camelia and arranged for a bike for the day. I had to make a deposit of 300 yuan for my ""new"" bicycle. When I tried to ask the guard for directions to the Bamboo Temple, he got all excited and started to explain the limitations of the weak old bicycle I had just rented. From his pantomimes and random Chinese writings on scrath paper, I learned that the bicycle's brakes suck and that the road to the temple was too hilly. He wrote out a note that I was supposed to take to the front desk for translation, but I decided that I had already gotten the idea. I assured him that I would be safe and promised to be back by dark.
Around Town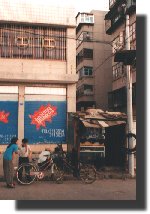 As always, the start of a bike ride is very exhilliarating for me, especially in another country. The road in front of the hotel is lined with trees, a beautiful way to start off. All of the main roads have lanes for bicycles which are separated by a median. At major intersections there are separate lanes for bikers going straight or right versus those turning left. Those going left get to go with the cars as they turn left. It sounds very simple, but it is such an improvement over confused traffic situations for bikers in other countries. Not that biking in Kunming isn't confusing...
I tend to bike pretty aggressively, not giving up space to cars or other distractions, but that does not always work in China. There doesn't seem to be any particular hierarchy of vehicles here. It is almost a matter of the first one in wins. Generally, cars win over bikes and bikes over people though, which is kind of unfortunate. Even a car cutting into the bike lane or onto the sidewalk, pretty much expects everyone to yield when he honks his horn. I tried to ignore them a few times, but I got the impression that they really would hit me if I didn't give up. Anyway...
Into the Country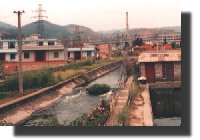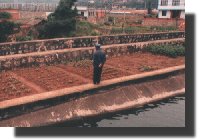 Since I didn't have any better map than the rudimentary one in the guidebook, I was pretty much just guessing where to head. I took a long boulevard until I felt like I hit the edge of town. There was a rim road that passed through areas decidedly less modern than the impressive downtown areas I had seen the day before. I made another turn and I was on the main highway headed out of town to the southwest. It soon led to a steep uphill pass over the mountains surrounding town. By this point the bicycle traffic had thined out to me and one other guy, but the wide shoulder on the road continued. It was not easy with my rickety one-speed, but I made it up over the pass.
Attractions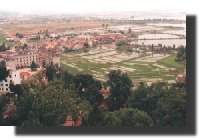 Before deciding to go to Laos, my plan was to bike extensively around the southern Kunming area, circling Lake Dian. The area is definitely scenic, but my ride over the pass only led me to a grand set of gas stations. Checkng the map, I realized that the guidebook does not recommend the touristed Anning Hot Springs, but the Western Hills seemed worth a look. Back over the pass, I took a different road leading to the Hills park. The park, quite recommendable, is home to a couple cool temples, some random tourist places, and some great views of the city and the lake. Again, there were only a couple other people actually trying to bike up the insane incline. Otherwise, the road was frequented by small buses and a few older people hiking and making some kind of pilgrimage. Pretty cool.
Back in Town
It took me a while to get back to the city center, because I took a whole different route back. I made it to the CITS office by about 3:30 where, as expected, they told me that all flights were full for the day. The next flight not being available until the tomorrow afternoon, I shifted into low gear. I went for dinner at Mama Fu's, one of the local places frequented by foreigners. I was able to try some of the local goat cheese and the lemonade tang? Not bad stuff.
Night
I had some illusions of finding a hip night club and dancing the night away, but the combination of jet lag, the bike ride, and a bit of a sunburn, made me pretty tired. I went out for another bike ride in the evening, looking for some more souvenir tea and perhaps some malaria pills. I wish I had taken my camera, because the city center looks really beautiful lit up at night. It may all be a show, but it is a nice show. One park was alight with electirc fireworks, and the entire river was ablaze in white lights. If then intention is to make people excited about the promise of progress, the sight is definitely effective.