In Search of Malaria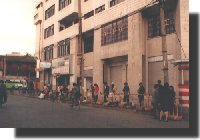 I had a few hours in the morning before heading off on my flight to Jinghong. As Jinghong would mark the beginning of my entry into Southeast Asia, I started to get a bit concerned about the whole Malaria thing. I had made a couple pathetic attempts to pick up some malaria pills, thinking it would be as easy as in Indonesia last year. Well, if there is malaria in Chinese, it definitely is not pronounced in any derivation of the English version of the word. And since I didn't know how to act out any particular symptons for the pharmacists, I thought I needed some more help. I walked down to a hospital that was supposed to have an "English clinic" where I thought I might find an ally. I did run into some random guy who wanted to practice his English and show me around the rundown hospital campus, but I found no English speaking pharmacist or doctor or anyone else who might appreciate malaria. So I went to plan C.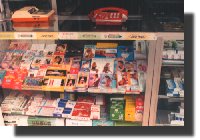 I browsed through a local book store until I found the dictionary section and then looked up the word in a bilingual dictionary. I carefully copied down the Chinese characters that represent the word and then carried it around to my favorite pharmacist again. Luckily Kunming has a ton of pharmacys (and a lot of bookstores), so I could try out my gig at a variety of venues. However, the answer was still the same: blank stairs. I retreated to the English neighborhood and wallowed in my sorrows at Camel Restaurant, surrounded by people who COULD read the words on the menu that I was pointing at and even bring out the right item nine times out of ten.
City Bus
I quickly redeemed myself by taking the local city bus in leu of a taxi or China Air shuttle to the airport. It was definitely the cheaper alternative and pretty straightforward as well (usually a little leary of buses, but I figured I couldn't miss the airport) PLUS you get to commune with the locals. Concealing my camera and my excitement for soaking up the "local flavor" I sat near a window and breathed it all in. A guy in front of my struck up a conversation amounting to "Where do you go?" "What is your name?" etc. I was pretty excited. It seems he works at the airport loading luggage or something, he still managed to pick up English somewhere. Nice guy. Always take the local bus.
Delayed Plane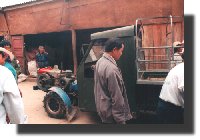 In trying to fly south, I found myself in the middle of some kind of saturday rush of middle-upper class people trying to get to Jinghong Banna for the weekend. I realized while waiting around at the airport that I was somehow in the wrong crowd. But, the bus from Kunming to Banna takes at least a full day, sometimes two days, and even the hardcore handbooks say it is not really worth it. So I am on the plane with all these Chinese tourists and basically no like-minded people, until we arrive at Banna airport and I go looking for a way into town. A girl comes up out of nowhere and asks me in her finest British English if I would like to share a cab. I abandoned the idea of walking or bussing-it into the town and got on board with my new friend.
Secret Friend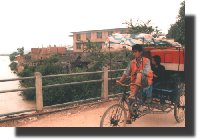 It turns out this friend was quite an interesting character. She is secret partly becuase she requested to remain anonymous in my travel story and partly because of the mystery that she evoked. I don't like to ask outright where people are from or what they do, but I quickly gathered that she was from Hong Kong. There was something unusual about her attitude and I wasn't sure if I should be scared or intrigued. Anyway, she spoke a bit of the local Mandarin (yes, the Cantonese spoken in HK is significantly different), which is better than just guessing stuff and pointing at scribbles on my journal pad, as I had been doing, so I figured I should stick with this girl. We agreed to look for lodging together and each threw-in a couple suggestions from our respective travel guides and advice we had heard.
Cool Dai Bungalow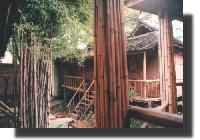 After an extensive search and a lot of trudging around in the muggy weather with too much weight on the back, we decided that she was more suited to the AC/TV set-up at the Mekong View Hotel (or something like that) whereas I preferred the rustic romanticism of the bamboo-built Dai Building place. I was willing to entertain the prospect of sharing a room, quite common among backpackers, but she was pretty set on separate quarters. However, we agreed to meet-up later for dinner that night. I settled into my little bungalow and picked out the best bed, just in case someone else did happen to show up while I was gone and trid to corner the better mosquito net or something (I ended up getting the "sharing" room all to myself-slow night). Next I went for the shower which was an ingenious version of the solar-heated wonder. Each guest is entitled to one five-minute shot at the shower. If you don't wash fast, the sun-heated water runs out and you are faced with rinsing in some pretty chilling waters. I timed it just right.
Mekong Cafe
At dinner, my friend revealed part of her mystery: she is married. I wasn't sure if this stole my chance of a travel romance or if it made the prospects more interesting; besides, what was this girl doing traveling all the way out here, alone. Anyway, we dined on the side street where all of the backpackers hang out. But since this is the off season, there were hardly any backpackers around. We almost felt like we were imposing a bit on the cafe we chose, so my friend politely asked the waitress how late the Mekong Cafe stays open. She replied that the cafe had no particular hours; then the waitress offered to teach us how to play a local version of chess (yet not "Chinese" chess). We gathered plenty of travel advice from the her and agreed to meet early in the morning to check out the market in a nearby village.