Early Morning Meeting
In order to get out and see the sights, my friend and I woke up before seven and boarded a bus heading for Menghai. The village of Menghai does not rank too high on the list of tourist spots in the area, and many would argue that it doesn't warrant such an early rising. But, we had heard that today was market day, and, eager to see what rural China had to offer, we happily boarded the bus for the ride west.
Sunday Market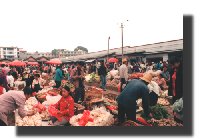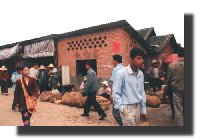 The market was no disappointment. Although it was still early morning when we arrived, the open ground was bustling with activity when we pulled in. And it wasn't just the farmers come in to sell their produce. There were others who had trucked-in all kinds of farm animals and there was a whole building set aside for the immediate slaughter and cleaning of the animals people picked-up. The streets were literally filled with so many people, it was hard to tell who was buying and who was selling. And this was a small town...
Sunday Drive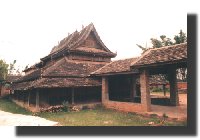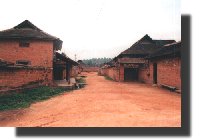 The real highlight of the day was a rickshaw/cycloped ride which my companion arranged with one of the cyclo drivers hanging out around the market. Usually, these guys do a pretty good business carrying passengers, and their goods, back home from the market. However, thanks to the language and bargaining skills of my partner, we arranged to have a one-hour tour of the village at a flat-rate price of about one dollar. Not really knowing where to go, we just asked the man to head up the main street, but before long we found ourselves crossing a river and heading out of town (see picture two pages back). We happened on a little neighborhood/commune of well-constructed brick buildings. The driver warned us not to poke around too much in these private neighborhoods, but we wondered in far enough to take the two photos posted here. Again, notice how the style of the meeting house is more reminiscent of southeast Asia than of anything you would expect in China.
From there we headed out to the countryside through some fields and rice paddy's. At one point I asked if I might make a run at pedaling the cyclo. We had just entered a particularly muddy section of the road, so the driver was happy to oblige. I consider myself an avid cyclist, and I had even tried the cyclo thing out once before in Nepal, but these things are tough. After a few hundred meters, I was feeling pretty sorry for the driver. We asked about the income os a good cyclo rider and the man proceeded to tell us how the bigger part of his earnings went to the people who actually own the rickshaw. This guy was lucky if he was getting half a dollar an hour out of our little ride. And if that wasn't bad enough, he offered to take us by his house and serve us a drink.
Home Visit

His home was in an old three-story building with a dirt courtyard. The neighbors didn't seem to think much of a couple foreigners strolling in and taking a tour of the room on the ground floor in the right coner. The tour, however, was a little depressing, especially for my partner. The driver introduced us to his wife, who had been busy preparing meals or cleaning or something, and his baby who was lying quietly in a basket on the floor. This one-room abode consisted of a 4m X 2m dirt-floored space with a small wood-fire kitchen area and a door out the back. Furniture in the home amounted to the basket on the floor, a couple stumps of wood and a pile of sticks. We took our tea and asked a few polite questions, but that was about all my partner could manage.
Farewell Jinghong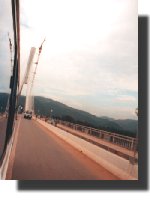 Another couple hours on the bus and we were back in Jinghong Banna, but not for long. I invited my mystery friend in for a drink before checking out of the Dai Bungalows. She saw me off at the cab to the bus station. I made it just in time for the last bus out of town in the direction of Laos. Not long after heading across the Mekong and into the forest, it felt like I had already entered southeast Asia. Somewhere along the ride, I changed the film in my camera and failed to feed the next roll properly. Thus, I missed out on pictures of some of the greatest sights in China. The villages in Zishuabanna Province are just amazing. I have always loved the stilted homes with the thatched roofs and all, but I have not found a lot of them left in Southeast Asia. I remember a few villages in the north of Thailand when I was trekking there as well as some of the more traditional meeting houses and historical buildings of Indonesia. Anyway, this area of China has more of a Southeast Asian flavor than much of SEA.
Flat Tire
We had the pleasure of stopping at one of these villages around 10 o'clock that night. After hours on the merciless road, one tire on the bus had given-up. We were all loaded off and told to take a break while the driver repaired. I whipped out the camera and took some unforgetable photos of the moonlit village just below. Then I pulled out my phrasebook and tried to strike-up a conversation with some of the fellow passengers. Actually, no, I think I was so scared (to be in such a dark place in the middle of nowhere without a soul who speaks English) that I am sure they spoke to me first; and I probably jumped or something. I found that rather than try to pronounce any phrases, it was almost faster to just point at the appropriate spot in the book. But, through a few giggles and winks, they seemed to understand my attempt at explaining my name, where I was from, etc. If only my Hong Kong friend were with me now...
Quick Night
The bus arrived in Mengla, of course, quite late in the night. I walked around a bit before deciding on the dingy hotel near where the bus had thrown us out. I was surprised to find one lone Japanese man staying in the same hotel. He said he was headed in the same direction, but I didn't find him the next morning, when I woke up early (again) in order to catch the first train out of town toward Boten and Laos.