Harmless Enough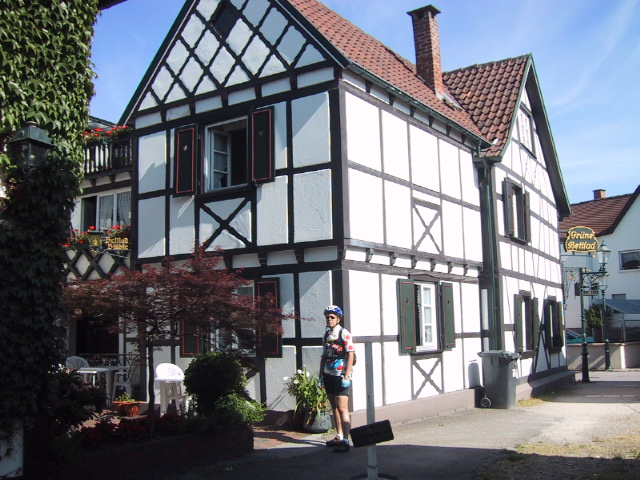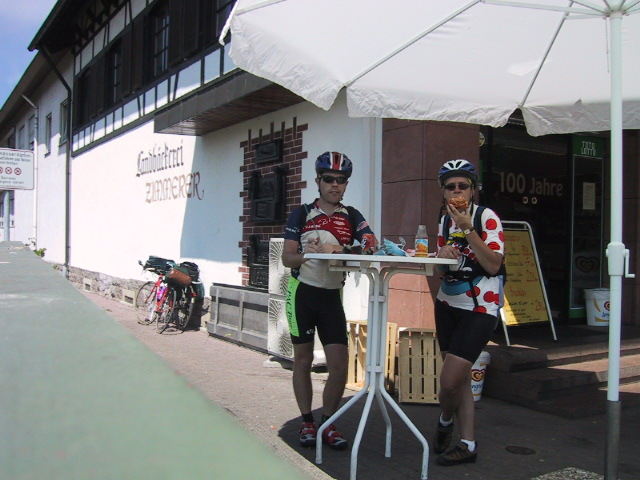 The day started out easy enough. We spent a little time in front of the hotel making some random adjustments to Ma's bike. We were off down the road in no time and with no major navigation delays. I was trying to take a somewhat loose approach to navigation again today. I knew generally the direction we wanted to go and the map would show whether we should be on this side of the road or that side, depending on where they trail wants to go. I don't even know where we were when we made our first stop. Twas a cute little town, though, and there was another biker bellied up to the umbrella-covered table out front. We had a nice relaxing break as we heard the local church run its chimes, and then we finished out the rest of our flat terrain for a while. Saw a nice castle along the way as well.
Into the Black Forest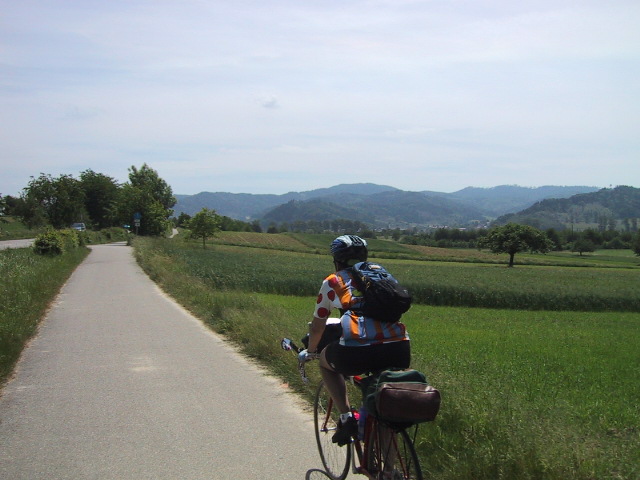 The Black Forest was definitely one of the more anticipated parts of the trip for me, so much so, that I wanted to do it at the end of the ride. It is one of those places, like the jungles of Borneo, that have some kind of image in your mind. And I must admit, the first thirty kilometers or so really did not fit the image I had dreamt up. We entered at the large town of Gengenbach without actually going into Gengenbach. That is, that is the point when we left the Rhine valley and started heading more eastward. However, the path was still fairly flat, and the cleared land was wide enough, that I wouldn't even say we were in a forest, per se. The town of Gengenbach was a nice beginning maybe of our fabled Black Forest experience.
Gengenbach and Haslach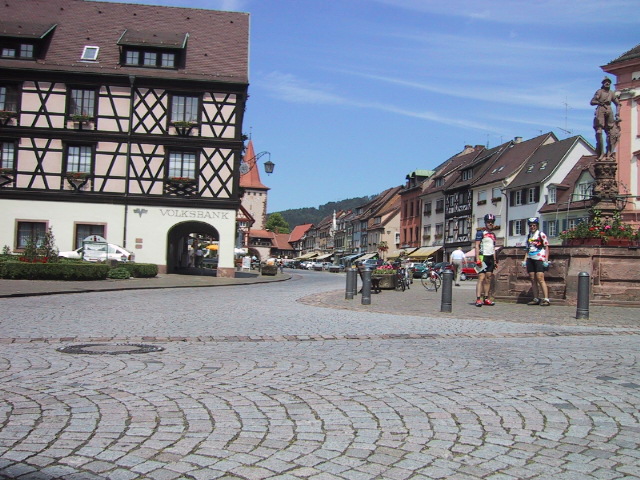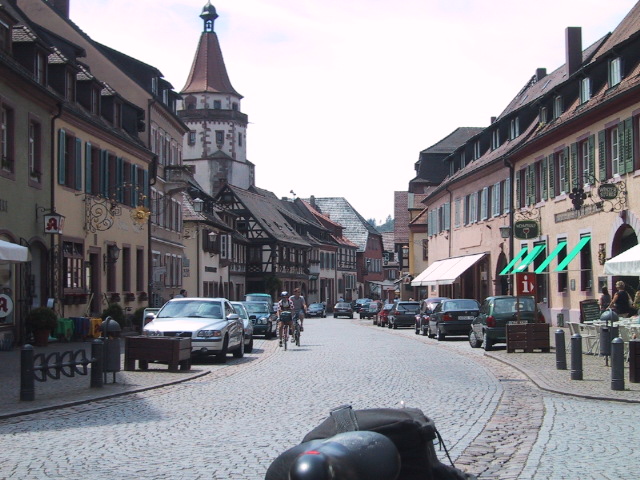 Gengenbach is probably the first touristy quaint town that we went through. The approach into the town square is almost picture-perfect (see photo), leading you into a lively old town area full of restaurants, bakeries, and small shops. We paused long enough to take some pictures and use the facilities, but I was getting concerned about the climb ahead of us for the day. I wanted to get right up to the foot of the climb before breaking for lunch. So we bypassed a number of gastronomical treats and moved on to Haslach. The weather was still in our favor as it had been for most of the trip so far. The roads were still flat, too, so we rolled into Haslach by 1pm or. As luck would have it, the town had chosen this Wednesday afternoon to shut down all the downtown shops and make some kind of forced holiday for the workers. I am sure they enjoyed it, but we had a really tough time buying a new bike map and finding a bite to eat. Eventually we found a place serving pre-made baguette sandwiches, which evidently do not fall under the rule of selling food on this afternoon. We were able to lounge long enough to stay out of the afternoon heat and also recharge our energy a bit.
Up Up and Up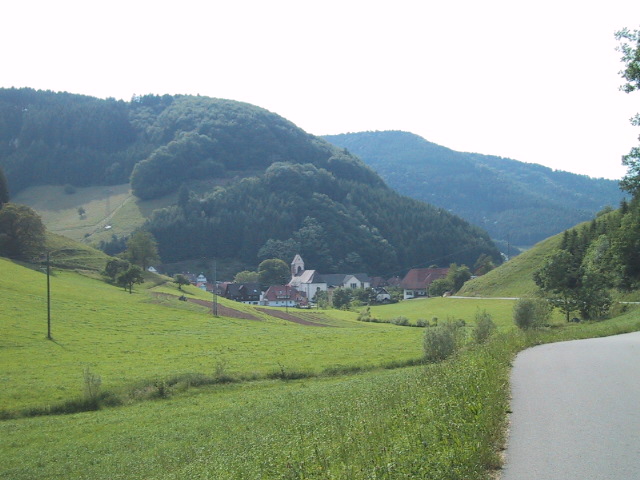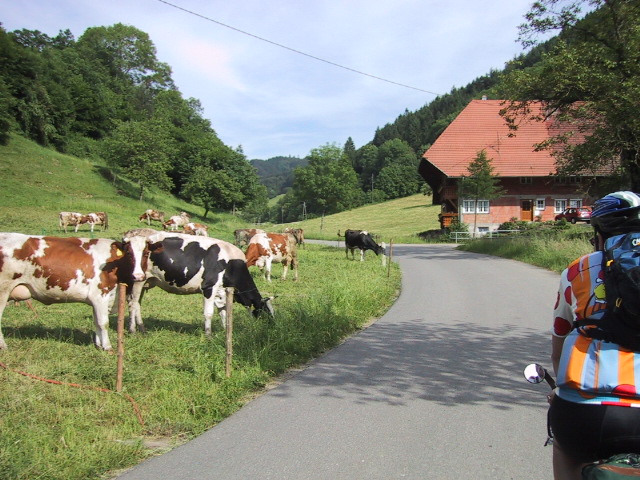 As expected, the afternoon was made up of one solid climb, practically from the moment we left Haslach and headed out to the back road that we would take deeper into the forest. The views were rewarding, so we did not complain much at first. We left a little village behind and headed into pure hillside farm country. Presumably the entire area used to be forest, but pastures had been cleared on the less steep parts of the hills to allow for growing hay and grazing cattle. The homes in this area were huge, as a result of most of them being a combo home AND barn for tractors, cows, pigs, etc. Even so, some of these farmhouses seemed to big for even a couple big families.
The Climb One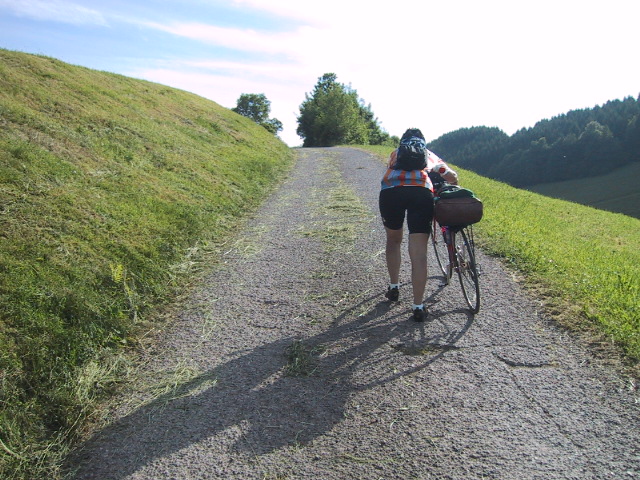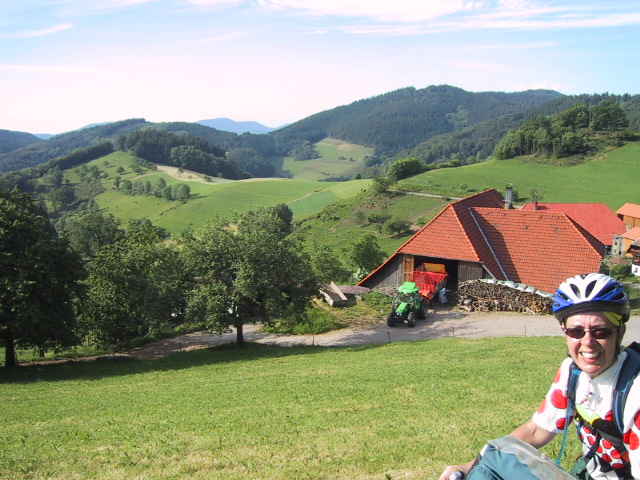 The first few kilometers of climbing took us from 200m or so at the start of the day, up to around 800m or more. Most of this was a steady climb under a light breeze. The main problem was overheating so much as just tiring of the constant rhythm of the uphill. There were enough curves to convince us that we were only another turn from the top, but after studying the map a bit more (something I should have done earlier in the day) I realized we had a long way to go. Just when we thought it couldn't get any worse, our road basically ended at someone's barn. I thought we must be lost when I saw the dirt road we were supposed to continue up. It started behind the farmhouse and went straight up the remaining hillside. And so did we, walking. After that stretch, the road flattened out and quickly spilled into a more major road that we had been avoiding all afternoon. From there, we had a brief reprieve from our constant climb, but we were still long from our destination.
Challenge Climb 2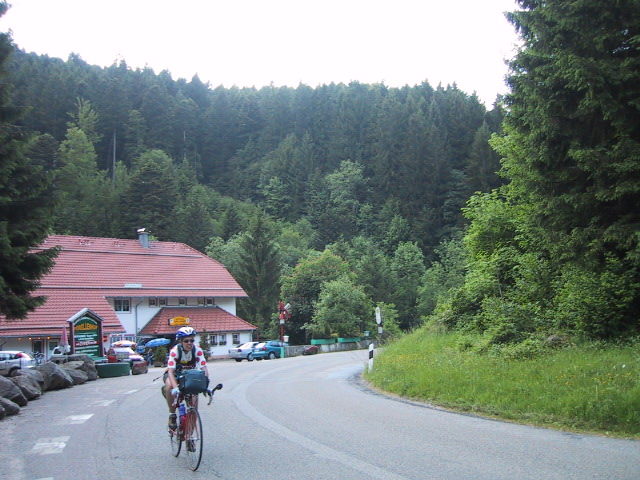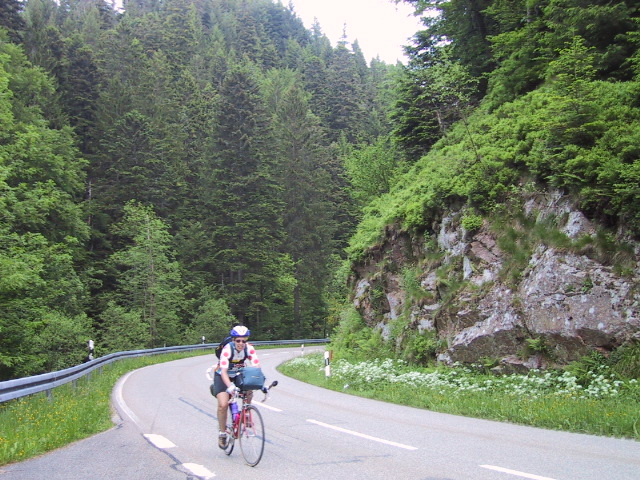 After a quick descent into a nearby village, we turned off this larger road and again headed up the ridge to our left, knowing that our hotel and all the action, was lying on the other side of this ridge. There was no problem with shortness of breath, and not much traffic, but the second climb again beat us down by being completely unrelenting. Steep enough to put you in your low gear (BTW, we had triple cranks in front, and it was still a challenge) but just enough give so that you could continue at a decent pace- maybe a 10% grade. Incidentally, one reason we were caught so unprepared, our bike maps indicate when there is a significant climb, and only a small section of this was noted as 6% grade, but we know better now. One good thing about this stretch is that I was able to stop and take a lot of photos while I waited for mom or we took a breat together. Finally around 8pm we crossed the pass of the ridge at a sign noting 946m altitude. Not as high or as long as I had climbed in the Pyrennes previously, but a tough challenge overall.
Onto House Dorer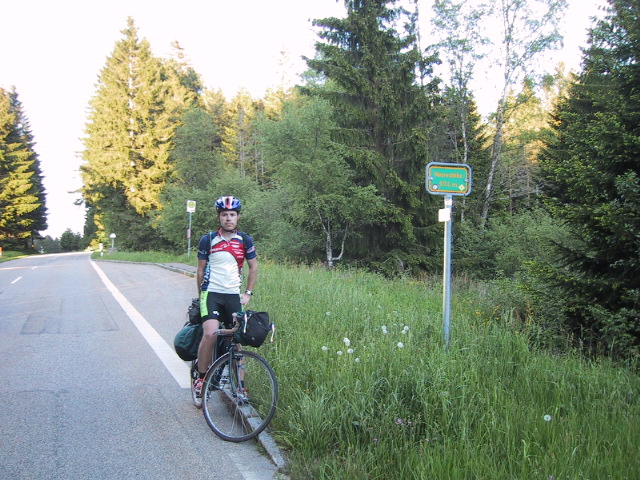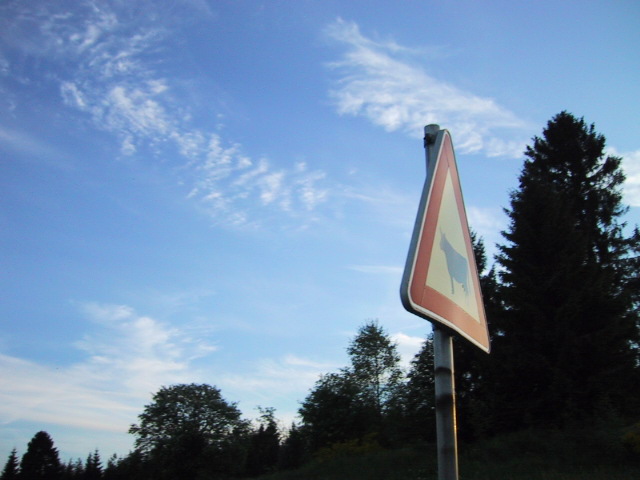 And just to really pound the point in, we had to ascend yet again in order to make our way from the Triberg area up to Schonwald, the little village where we had a reservation waiting. We passed a couple mountain bikers on their way home, and saw a massive ski-jump tower as we made our way across the side of the ridge. We pulled into House Dorer at exactly 9pm as the day's last light was fading. We were greeted at this homey B&B and convinced them to serve us some soup, bread and cheese, and plenty to drink. Two nights here followed by a nice long decent down the east side of the Black Forest should be enough to restore our egos. For now, we are completely wiped out and due for a long night of sleep. Is this a vacation?