Cool Morning
I slept in a little because I was still tired. When the alarm went off at 6:30, it was chilly, and I felt like I was catching a cold. After a bit I ventured out to the bathroom and started tearing down the tent. My French friends were also breaking camp in order to head on to their next destination. They seemed surprised that I was up on a Sunday morning- the rest of the campground was quiet. One stroller walked up to me and started a short conversation in Spanish. I hoped that I would have so many friendly people in all of France.
Most of the morning was overcast, so it was quite cool. Not many people out on the road. Despite my cheap automobile map (Jens:), I was able to find a quiet country road. Very green. A little like Wisconsin. Nice rolling hills filled with houses, corn, hay, creeks, etc. A tranquil morning with only a bit of a headwind. Many other bikers out enjoying the same road. Definitely a weekend.
Entering the City
The roads got more and more crowded as I approached Toulouse. When my road turned into a four-laner, I wondered if I would be able to enter. Twice I suddenly came upon signs that said "No Bikes Allowed." With some creative navigation, I finally made it into the center of the fourth largest city in Spain. The home of Airbus, World Cup matches, and some beautiful old buildings.
Wandering Around
I stopped in the tourist office to get a better map and to ask about internet cafes (my reason for entering the big city in the first place). I road around to three different internet places and found that all of them were closed on Sundays. A bit disappointed, I retreated to Place de Wilson and the local McDonald's.
Classic Park
There were lots of other people doing musical chairs in the park with me, trying to avoid the sun. I ate my McBagel sandwich and tried not to stick out too much with my biking clothes and palmtop computer. A rather relaxing siesta, only interrupted by the horns and shouting of soccer fans parading around the plaza. I found out that tomorrow Toulouse would be the site of one of the second round World Cup matches. Not wanting to bother with the high-priced tickets and hotels, nor the traffic problems, I headed out of town to the north.
Paradise
I had just kind of picked a random road out, but this was the right one. I soon found myself in the middle of rolling hills of alternating sunflower and wheat fields. The effect was quite breathtaking and almost made me forget that I was climbing over some big hills.
Gaillac
After a couple hours of similar scenery, I rolled across a grand bridge and into the town of Gaillac. I had no trouble finding the campground which was just down the hill next to the Tarn River. It is amazing how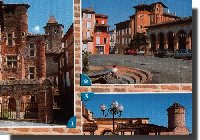 every little town like this has its own tourism office and plenty of maps and brochures to help you get around. I don't think my trip would be so easy without it.
Camping Le Lido
I was also a little worried about checking in at the campground too, but everything went great. These people are used to seeing many foreign tourists (though not many Americans), so they don't mind communicating without words. After settling into my site, I even managed to get some ice cream and Orangina out of the couple running the place. The woman was more than happy to teach me a few new words of French as well as assure me that the showers here are warm (unlike last night). Everything turned out great, and I was asleep in no time.