Rough Morning
I had a little trouble getting up again. It seemed a little cold inside the tent, but when I finally peaked my head out, it was sunny. The couple next to me were just waking up for their morning breakfast. They had their little table set up in front of the tent. A way of life, that is the way someone explained the campground atmosphere to me. I had a glimpse at the ledger book last night: people from Holland, Britain, and Germany outnumber the French. These campgrounds are something.
Anyway, so I got on the road late. Still cool with a warm sun. I had a little trouble working up speed. I couldn't figure out if it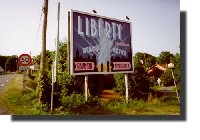 was the headwind, the hills, my legs, or my bike. I couldn't get any speed up. It took me forever to get from town to town. The only consolation was that the scenery was nice. I think I figured out why the map says this is a scenic route: lots of hills and curves. I was thoroughly worn out when I got to VilleFranche.
Notre Dame Plaza
After a quick nap on some random bench, I rode into the middle of town to a big plaza. There was not a lot of action. A lot of places seem to be closed on Monday. The most noise in the plaza was from some half-drunk men sitting around the edge. I bought myself a newspaper and some food to munch on. I tried to catch up on a little of the news of the world. The Herald Tribune is just a branch of the New York Times, it seems, so it supplies the world with news of the States. I read about Clinton's current visit to China and his speeches about human rights. Then there was the World Cup news. I was right about the game today in Toulouse: Holland versus some other team. Japan and the States are already out. News about the riots caused by the British and German fans.
Change of Route
After looking at a relief map in Villefranche, I realized why my morning was so rough. I was heading for some big mountains in the southeast of France. I decided to take a detour to the northwest in search of flatter land. It looks like France is pretty hilly everywhere, but I need to move somehow. And so I headed out of town, north and west. Still lots of hills. I raised my saddle up a bit. I think that was causing the sore quadriceps. Just like Japan.
Aynac
After a bit of a search, I found a campground a bit short of my planned destination for the day. A man in the little village of Aynac pointed me toward the Municipal Campground where I was supposed to be pay a couple dollars for a spot. It turned out that I was the only person around to enjoy the services that night, and nobody ever bothered to charge me anything, a rather informal campground. Nevertheless, I managed to get a good warm shower and even wash out some of my cycling clothes. You see, all of the campgrounds in Spain and France have the coolest sinks that are specially made for washing clothes. Very convenient.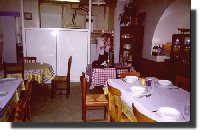 I also went out to the only restaurant that was open. Nobody spoke anything but French, so I just asked for the Plat du Jour. The woman in charge there was the owner, cook, waitress, and everything else. I watched as she fried up my fish in her little home-style kitchen. We managed to communicate a bit during the meal, and afterwards she gave me a couple postcards. A very nice place. This little town with its free camping and fabulous food, almost made up for my long, hard day.