Breakfast at the Butchery
I was invited to breakfast at the butchery next door in the morning. Ferdi would not be in to work until the afternoon, so I breakfast with Ferdinand Sr. His younger son Andreas was in for work at the butchery, so he did a little translation for me. I was a little embarrassed to tell them that I don't eat meat, but they were more than happy to present me with some coffee and bread. Mr. Kopf seemed to be very busy managing the activities of all the butchery personnel, but he was more than eager to show me a good time. He gave me a full tour of all the workrooms and freezers, as well as the shop out front where his wife sells the goods to the public. Very interesting.
Sold my Bike
When Ferdi came in, he was a little surprised to see me still around. I had told him that I might take off for Frankfurt in the morning. However, I decided it would be good to sell him my bike. I used the money to arrange a bus ticket to Rome where I would meet my old roommate, Josh. The bus isn't until Saturday, so I also arranged to stay at the apartment for three more nights. Everything seems to be cool.
Hanging Out
So I had some time to enjoy Landau. It is a town of about 50,000 people in the Rhein valley just south of Frankfurt and Heidelberg. I am staying above a shop which is just off the main square. It has been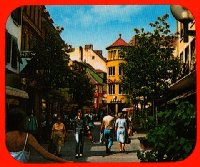 cold and rainy since I got here, but there are always people out shopping at the little shops around the downtown area. I bought two new pairs of Birkenstocks at about half the price I would pay in the States. I have also blown tons of money at the many bread shops. Not only is the pretzel (invented here?) amazing, but there are breads of every type here. I can get vegetarian pizza, cinnamon raisin bread, chocolate bars, anything. It is the best.
Cosmopolitan City
One day on the street I met some American kids who are here on an exchange. I guess some kids come ever two years to live with host families. The woman at the shoe store spoke great English too. She used to live in America a bit. There are also Turks, Vietnamese, Greeks, and others living here. It is a cool little place. There is a little historical tour that I walked about, but it is nice just to hang out somewhere for a while.
History I: Hambach Castle
For those who want to study a little while they travel, there is the Hambacher Schlosse. Mr. Kopf took me up there for the tour. It seems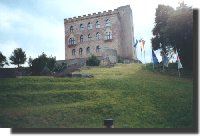 after the American and French Revolutions, the lay people in Germany started to get antsy too. Hambach was one of the first places that a large group of people gathered to rise against the aristocrats. They burned the castle and started the revolution for liberty, equality and fraternity. More on Hambach
History II: Frank Loeb House
The town of Landau was the home of Anne Frank's grandfather, as well as many other Jews. There were up to 500 Jews before the Nazis came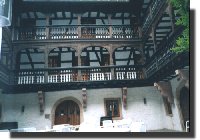 and started messing around. The Frank Loeb House is now a museum which tells the sad story of the local history. I was amazed at the size of the synagogue which used to be here before it was destroyed by local wackos. I found the whole story to be quite long and sad. I will print the timeline here just to give you an idea.