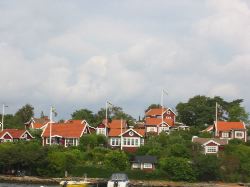 We slept a bit late since the sunlight didn't shine into this room and we knew that we weren't headed out for an early morning ride anyway. There was no activity in the shopping mall outside our window. We had a fine breakfast and checked out, leaving our bikes in the hotel lobby. We walked up to the tourist office and found that today's tour of the nearby naval isle was leaving shortly. We bought some cookies at the bakery and headed for the marina.
The upper deck of the boat was full of tourists hoping to get some sun along with a good tour. As we headed toward the naval fortress there was a recorded narration in Swedish, English, and German. It explained about some of the other islands around Karlskrona including the one with a campground and the one where only patriotic Swedes were allowed to live. It was a sunny morning, so it was an enjoyable alternative to our usual biking routine.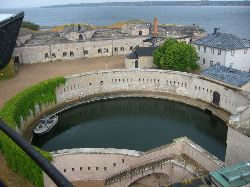 The weather took a turn for the worse when we reached Kungsholms island. This is the first rain people have seen in weeks, so nobody was complaining, but the tour guide did not change his routine at all. He was an older man who had been stationed here when he was in the navy, so he was proud to tell every detail about the construction and history of the island. His long Swedish explanations were interspersed with just enough English sentences to keep us informed of what was going. The highlight was definitely the circular harbor that could be closed off and defended in an enemy attack. Supposedly the fortifications here were so good that nobody ever even tried to attack. Upstairs in the old officers building there was some cool equipment that had been collecting dust for awhile. With these, the navy could easily calculate the distance of a ship and listen for sounds and conversations from far away.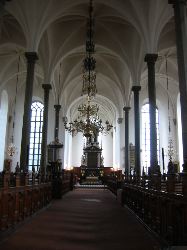 The rain continued on the return boatride, so everyone sat inside this time. In the afternoon, we had planned to take the train to Kristianstad to make up some time from our morning rest. We were told that the train tracks were being repaired, so there would be no trains until next year. The bus does not allow bikes, normally, but we were able to convince yet another bus driver to let us on. Good thing we did, because the rain picked up again in the afternoon and reached monsoon strength. But, consistent with all the other good luck we have had on this trip, the rain stopped when we arrived. We checked our mail at the library and printed a map for the farm we stayed at in the evening. Then we had a classy dinner in downtown Kristianstad before getting on our bikes around 7pm.
A couple days before when we set off late in the evening, we ran into 20km of gravel roads and didn't arrive at the hostel until 10pm. Today was almost the same except we this gravel road was actually a bike path with finely crushed gravel, perfect for cycling. It was an old train trestle that had been converted as a rail trail from Kristianstad to Maglehem. Based on the map for the farm, I thought we could get there by 9pm or so. However, things always take a little longer than expected. At least the scenery was nice and we were never really lost, just behind schedule.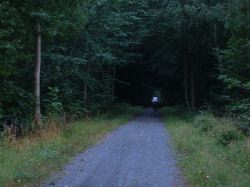 Just as the map said, we had to ride 1.5km off highway 19, then take a really small road for about 3km. By this time it was 10min to 10pm and getting quite dark. Luckily the last 2.5km down the farm driveway was on light colored crushed gravel, otherwise we would have had trouble seeing the way at all. Actually it was also downhill, so we were pretty lucky overall. We arrived just after 10pm just as the owners were about ready to give up hope for us.
They quickly showed us to our private cabin which on first sight looked like the best place we have stayed yet. There was even a private sauna in the room, but we were happy with a hot shower and some hot tea. Since we made a little extra distance today, tomorrow should be a breeze. I wouldn't mind sticking around this farm a bit in the morning. What a perfect place to spend our last night in Sweden.