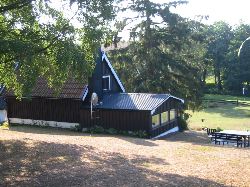 We had a most interesting breakfast, at the farm where we stayed, with a couple from Germany and a young couple and their son from Holland. They were staying for a couple weeks at this farm to enjoy this beautiful area by the sea. The farm had a windsock-like Swedish flag like most homes have.

We lucked out with another fun up and down hills ride and it decided to rain just as we pulled up to a bakery for lunch-perfect timing. Many cars are equipped with 2 or 3 huge lights in the middle of their front bumper which we assume are for fog, which seems to be around the sea areas.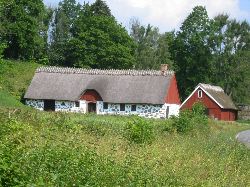 Lots of the barns and houses are made out of stone in this area. The churches have taken on a Spanish-like architect, which is the Danish influence. We reached the end of our bicycling tour in Trelleborg, Sweden at 4:30pm. What an interesting and enjoyable trip it has been since we started July 9 and 1,328 miles pedaled!!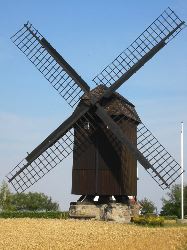 After walking around the sites of Trelleborg we got a bite to eat. We had a lot of time to kill before we had to board the ferry so we spent the next 2 hours in an internet cafˇ. It was like a hurricane when we left to get our bikes and get to the ferry. It was thundering and lightning with the rain going parallel to the ground. As we stood outside a huge locked gate at the ferry we had our doubts that anyone would see us there on the camera. But a bus driver finally opened the gate so we could wait in line with the semis to board the ferry. The only thing that saved us were the ponchos we were wearing, but my feet were floating in my shoes. We spent our last Euros at the duty-free shop on board. After a nice warm shower in our cabin I watched the awesome lightning out our window!