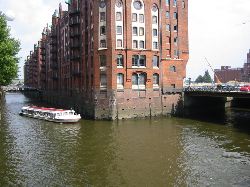 After another great breakfast we packed my bicycle in the basement of the hotel. The guy gave us tape to seal it-everyone has been so nice and helpful during our entire trip! We shopped for Birkenstock sandals and each of us bought a pair.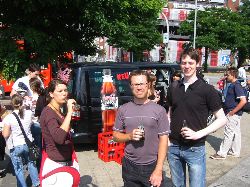 We were a little late meeting Aaron's friend, Toby, and his girlfriend from just south of Hamburg. They were our guides for 3 hours. We got to see so much with them that we never would have seen otherwise. We walked from the train station to the Elbe River where we boarded a boat. We then got on another boat which let us off close to the bus stop we needed. We rode the bus back to downtown Hamburg where we went on our own. I bought 2 more pairs of Birks and a cuckoo clock.
We took the subway to a college part of town that Toby told us about and had a delicious "Last Supper" of fish. We had a full day of sightseeing and fun on our last day of our 30-day trip.
I told Aaron he would have to find another biking partner for his next trip as I would be too old! He asked, "Are you planning on dying?" So that has had me thinking that I would love to join him on his next trek wherever it may be.
---
---
---

-- Previous | Equipment | Top | Photos | Next--
--Sweden's Southern Shoreline--
World Wide Shoes

This page created on a Macintosh using PhotoPage by John A. Vink.