Express Service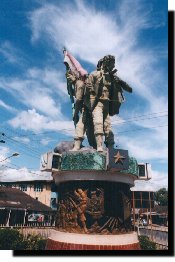 Following days of late buses and missed opportunities, I was a little concerned about my plan to just fly down to Batam and then take a quick ferry over to Bintan. Well, the plane was right on time and my luggage came right out. I walked outside and took the first taxi I saw. Batam has become the industrial park of Singapore complete with big four-lane roads, warehouses, and factories all over. Unfortunately there is almost no public transport and things are not walkable, so the steep price I paid for the taxi was necessary. Upon arriving at the ferry town of Telaga Punggur, there were many eager travel agents and boat owners wanting to sell me a ticket. I got a one-way to nearby Bintan for only a couple bucks. As promised, this was the fastest boat ride I had ever had. The boat was full of local business people and island hoppers who must make this trip all the time. They weren't so interested in the interesting view or the exhilliaration of the ride. One man offered me some rambutan fruit to pass the time. Upon arriving in Bintan, I was greeted with even more touts ready to shuttle me to my next destination.
A Tout is a Tout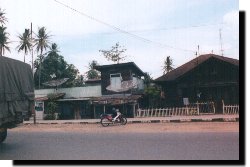 I intended to catch a bus or taxi to quiet Trikora Beach on the opposite side of the island. Some of the guys at the dock offered this service to me, but I ignored them, preferring to search out my transport rather than being searched out. There was one guy who was particularly persistent who seemed relatively harmless. He gave me some information about the area including the bogus story about buses to Trikora only leaving early in the morning. Anyway, I told him that I was going to have some lunch, so he could wait around if he wanted. Over a bowl of gado-gado, I asked him about the famous sex trade on the island. I guess it has become quite popular for Singaporean businessmen to come over here for their pleasures ever since the AIDS scare hit Bangkok and other nearby red light districts. I had never really seen much of this stuff in my travels (despite trips to Amsterdam, Bangkok, Tokyo, etc.) so I was curious to check it out firsthand. And hey, there was a place just on the way to my beach destination. My new travel guide ordered up a taxi and we were on our way.
Meeting with Mama-san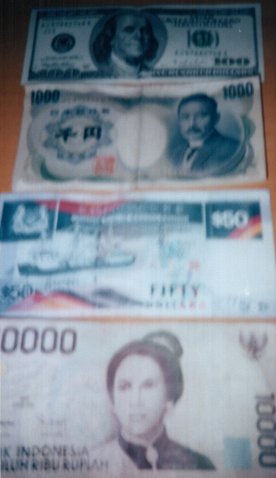 I can't say exactly what my intention was or what I expected to see in this place, but I am glad that I went. Different sources say that this island is populated by about 1000 prostitutes who come in from western Java to fulfill the demand of the nearby Singapore clientele. These girls range in age from probably fifteen to twenty-five and they live in little brothels in the small villages on the inner part of Bintan island. From the outside, these villages, and even the brothels look like nothing more than a regular neighborhood of houses. The younger children of the area may be particularly persistent about asking for handouts, but otherwise, nothing odd. Past the entryway of the house, though, there was a long hallway leading downhill to the back of the house. Along this sloping corridor were the rooms of the more than twenty girls who work in the place I visited. Everyone filed out to the back of the house where there is a patio lined with chairs and a television.
It is a regular lounge atmosphere where the clents can become acquainted with the ladies. Before I even took my seat in the corner of this dreamworld pow-wow room, I could not stop laughing. These girls looked young; and I am probably younger than the average man who shows up here. But they are young. And they are all giggling, watching tv, and looking generally un-sexy in their jeans and t-shirts. Supposedly the girls get to keep like 90% of the money they earn, but even so, none of them seemed particularly eager to do business. Aside from being just plain absurd, the scene confused me when I tried to think of the motivations of everyone in the room. I told my guide that I appreciated the drive, but I wouldn't be choosing any of the girls to take back to the hotel with me. He seemed disappointed. The mama-san of the house didn't speak any english, but she seemed disappointed. However, the girls and I seemed almost indifferent to the passing of the commercial opportunity. I headed for the taxi and for Trikora Beach.
Trikora Beach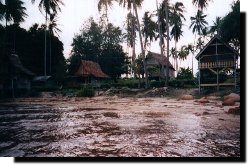 At some point, the guidebooks stopped recommending Bintan Island as a destination for shoestring travelers because the sex trade and the overpriced Singapore-operated resorts on the north of the island have ruined the island's appeal. However, Yasin Guesthouse on Trikora Beach is one of the last holdouts of cheap backpackers looking for some solitude. Upon arrival, I had a really hard time finding anyone to even come out and show me a room. Eventually I got set-up in a cute bungalow right on the beach. I grabbed my pen and paper and headed out for a walk. Perhaps part of the reason the beach is unpopular here is because the water is quite shallow at least a kilometer out. There was a little island a ways out that I was able to walk to without the water rising above my belly button. I spent most of the afternoon out there, chomping on a bunch of rambutan that I had bought on the way here. I was experience my first upset stomach of the trip, so it was good that I was out of local cash and couldn't afford to eat more than water and fruit.

View this QTVR Panorama Image of Trikora Beach(205K)


Ponderous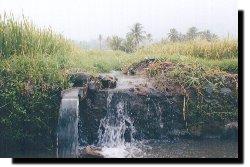 That night when the sunlight had run out, I walked up to the gathering area/breakfast table for Yasin. The only other people who had been in all week were a Scottish couple. They were on the typical long-haul trip through Nepal, India, Thailand, Indonesia, Australia, etc. However, they seemed a little less self-righteous than others I have met. After months on the road, one starts to think that he/she has some unique insight to life. In a way this is true, but traveling cannot be and end in itself for most of us (although I have often contemplated the never-ending tour). Therefore, we must always return to reality, work, home, family, whatever. Among the concerned backpackers of the world, there develops some desire to right all the wrong that one has seen on the road: the local beaches overrun by foreigners, the ugly factories that supply goods to the West, and the dirt-poor people who work in them. Anyway, among these concerned people, there is a loathing of anything too mainstream. I have gotten a lot of grimmaces and grunts when I mention that I am an auditor or accountant, or gainfully employed in general. However, this Scottish couple seemed to be more realistic about life.
Back to Civilization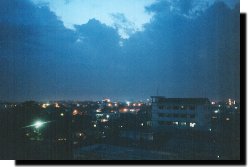 Finding myself back in Tanjung Pinang was a little overwhelming. Even the busride back was full of kind countryfolk who were relatively indifferent to the money-making potential of a foreign tourist. However, in town, this changes to touts... The nice part about the end of a trip, is that it is when you are finally comfortable with a country's people and language and feel at least a bit in control of what you buy and how much you pay. I bartered for some fruit for breakfast as well as a couple postcards. However, I was a little frustrated by my attempts to find a deal on a ferry to Singapore. I was having some price shock because the boat operates halfway on Singapore prices and I had become used to Indonesia. Finally I found a place that I thought was cheap and got myself a ticket onto the Falcon 7. However, after going through the simple immigration check and boarding the boat, I realized that I was holding a used ticket. Yes, all that remained in the sleave was the ticket stub which was for a different boat which had arrived that morning. The boarding pass was all that got me on the boat, but I figured the ticket would earn me a quick exit from the boat as soon as I was discovered. That was a tense ride, but nobody ever did come around to check my ticket. However, the lesson is that you can never be too careful about what you pay for. Maybe it was normal practice to use old ticket to save paper (?) but I was kinda glad to be back in Singapore and in the "West" and in the land where a ticket is a ticket and the hotels have hot water. Until next time...