Introduction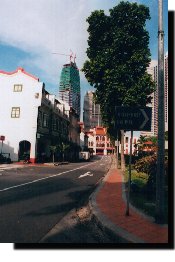 Indonesia is a popular travel spot for Australians and others in the area, but getting there from the States is not easy. Unless you are headed for Java or Bali, you are probably better off flying into Singapore or maybe even Kuala Lumpur. I never had much desire to visit either of these big cities, but Singapore turned out to be a quite pleasant transit point for our adventures in Sumatra. Despite the images portrayed in the media, Singapore is not a totally Westernized, efficient, little business world with nothing to offer to the tourist. In addition to shopping, there is also a variety of eating, relaxing, and generally looking-around to be done in this city-state. In retrospect, the few days I spent there were well worth it.
Getting Around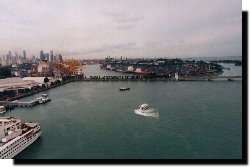 While wanting for a few more subway lines, Singapore is relatively easy to get around in. First off, the airport does not disappoint as one of the most efficient operations around. The customs folks don't even bother to ask you the standard questions upon exit. There are cheap taxis into the city that lead you along a perfectly landscaped freeway, the first sign of propaganda from the powers that be. Within the city, buses and subways will wisk you around if you can figure out the maps and whatnot. The good thing is that pretty much everyone speaks English (more later), so you are never too lost. My first morning after arrival I had to make my way down to the World Trade Center and ferry terminal to see about taking a boat into Sumatra. While everyone was pretty helpful, it seemed like most Singaporeans never venture out to Indonesia, except maybe Bintan. Singapore is truly an island nation.

View this QTVR Panorama Image from the Gondola to Sentosa(168K)


Sentosa Island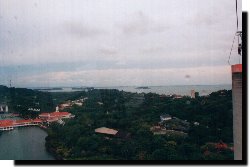 Having finished my business at the World Trade Center, I was immediately attracted by the skyway/gondola passing over the bay to a nearby island. Not knowing what to expect, I bought a ticket, thinking that the view itself was worth the return ticket price. Little did I know that I was heading into the biggest tourist trap in all of Singapore. Later my friends told me that this was a totally failed attempt at a Disneyland park for Singapore. It came complete with a deserted Asian Village, the remains of some fort, and a couple "resort."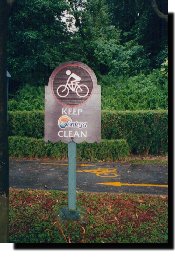 The monorail is a bit depressing, but a good way to see all that the island doesn't have to offer. Seriously, it IS a nice place to get away from the city and take a stroll along the beach, but it just makes you wish you were even farther away from the powers that be and their attempts to control every aspect of life here.
Strolling About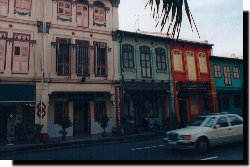 After the contrived make-believe of Sentosa, I decided to set out and see the real city a bit. I just took some random bus and accidentally landed in the Chinatown area. I later realized that this is one of the places recommended in the guidebooks (which I failed to bring), so maybe it isn't such an authentic area. At any rate, I think you could take just about any bus and end up in a unique part of town. This area is quite close to the business district, so it seems to be turning into a hip yuppie/beatnik area with all kinds of cafes and quaint shops. Unfortunately, some of the older residences are being torn down to make way for new developments. Overall, though, it is a nice place to sample the ethnic diversity of the city by seeing the architecture, foods, and lifestyles of the Chinese, Malays, and Indians that mix around here.
Diversity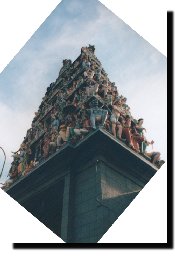 The most amazing thing about this place is the mix of people. I am told (by my Chinese host) that the city is more than 80% Chinese, though he could not explain how or why all these Chinamen immigrated so far from home. There are some Malays who could be considered the more native people here, I guess. Then there is this Indian population that you find in Indonesia as well. And finally there are some British and American business people/diplomat types, though they were much fewer than I had imagined.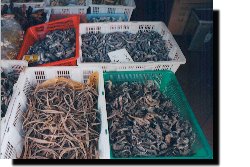 The result is that many official signs are written in four languages and most food courts have the craziest variety of cuisine. Overall though, the place has more of a Chinese nature than a Cosmopolitan one. And English is not as well-spoken as the business language as people would have you believe. Still, through economic prosperity, everyone seems to get along and Singapore is just as successful a hodge-podge as L.A. or London.
My Friends, the Business People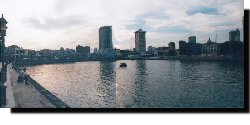 No trip would be complete without a looking around the Raffles business area or the Orchard Road shopping district. This is where all of the energy of the economic engine in concentrated. A stroll up the river from Raffles to the City Hall area is highly recommended, as is the ice blended coffee at The Coffee Bean and Tea Leaf chain coffee shops. Both of my friends in Singapore are part of the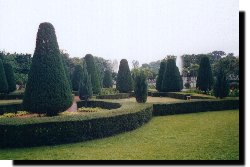 twenty-something crowd that went to the right college and got jobs with multinational firms who work them to death but pay them for it. They live at home, as most people do when they are starting out. They save their fun times for the weekends, because Monday through Friday they are saving for the five C's: cash, credit card, car, condo, and country club, probably in that order. It seems like a strange pursuit, but there seem to be few dissenters from the "powers" master plan. I saw much fewer people with wacky hairstyles and torn-up clothes than I would in say Tokyo, Paris, or wherever. The plan is working.
Overall
Generally I was quite pleased with my time in S'pore. I was able to see friends whom I hadn't seen for a year or two. I spent a couple hours at the karaoke box with one of them. Lots of good food. Relatively cheap prices compared to Tokyo or Chicago. I can't really recommend any particular tourist spots, though I hear that the "night safari" at the zoo is nice. Anyway, on June 30th I rendezvoused with Eugene from Tokyo, and we headed into Sumatra the following morning. Let the games begin!