Nightbus to Where?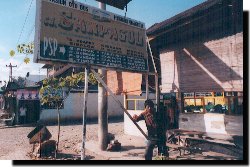 After waiting a good three or four hours at a practically deserted bus station in Bukittinggi, Euge and I were ready to head for a hotel. We thought we could cash in our tickets and try again in the morning. Just then, the agent for "Shady Bus Services" found a bus from an unrelated bus company that was kinda going our way. He negotiated our way onto what we would be the biggest mistake of the trip. The bus had come over twenty hours from Jakarta (via ferry across the water) and therefore looked like a killing field shortly after a ground war including ominous smoke rising from various points and random people strewn about apparently writhing in pain. We again contemplated giving up on these six dollar tickets and finding a good hotel to sleep it off in. However, we were pushed by our time and money constraints to press on for Lake Toba and the paradise that lies at the end of the bus ride. Bad idea. I quickly fell asleep despite the conditions, but I vaguely remember the bus stopping throughout the night for flat tires and other mechanical problems. In the morning, just when we thought we were to arrive in Lake Toba (remember, we have no idea what is where) the bus lets us off in the middle of nowhere.
Tanjung Serempuah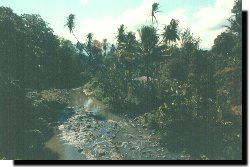 T. Serempuah is actually the middle of the Bukittinggi-Medan road, but it may as well have been the middle of nowhere. Again we were assigned to an agent who would negotiate our passage on another unrelated bus arriving any minute from JAKARTA to Lake Toba. I thought it was quite nice that we could still somehow get there on the ticket we had purchased, but obviously these people have no concept of time. After a couple hours of cooling down, I was finally able to convince myself to make the best of the situation. This is Indonesia. This is what we came to see. Time is different here. Our "agent"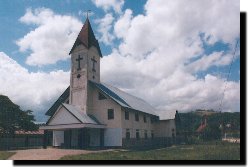 obviously had nothing better to do than to sit around this little bus station all day, so why should we? We order up two bowls of Super Mie instant ramen and some tea. But we were running low on local currency. After a couple hours of waiting we set off to see the town a bit and maybe find a bank. We didn't find anyone willing to offer a decent rate for dollars around here. Evidently not much foreign commerce or foreign tourists in this area. We did find a lot of cool churches built by the local Christian Batak people. I personally enjoyed seeing this town, even though it is not in the big tourist books as a destination. If you really want to see an area, you have to see something that the tourguide and tourbook don't point at, eh?
Semarak International Hotel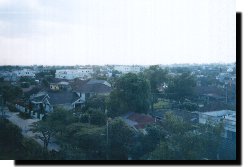 After a second long night on another questionable highway bus from a third-party company, we rolled into Medan (ran out of time for Lake Toba and the tourist wonders that lie there) about 7am. Wednesday morning rush hour in the largest city in Sumatra. Again the bus let us off far from the bus station and the middle of town. We consulted our maps and decided to ignore the touts awaiting our arrival. We set off walking up the road in the direction of the cheap hotel district. After a few kilometers and a few degrees rise in temperature we were feeling in the mood for a good shower, a nap, and maybe a swimming pool. We decided to cave in at the first swank business hotel we saw. We asked to see a "superior" room at the Hotel Semarak. Impressed by the luxury-per-dollar margin, we asked to see the "luxury" and "suite" rooms too. There were none jacuzzis and personal servants, so we decided to go with the hot water and air conditioned comfort for only 22USD. I felt like we were somehow cheating to stay in such a fancy place after only a couple rough nights, but every traveler needs a little break, especially if he is an over-worked yuppie who just came to see the damn jungle.
Koh I Noor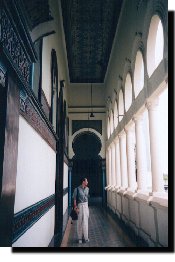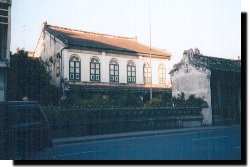 A bit of a walk around town proved that the guidebooks were wrong again. There is really a lot to see in Medan. Our hotel was situated right next to a rather nice residential neighborhood which I wondered around a few times. The streets were lined with all kinds of shopping and eating opportunities. Further up by the Royal Mosque there is even a modern shopping center with a whole amusement park built on the top floor. Then more cars, people and fun leading all the way up to the city center. The guidebooks tell about all the interesting architecture and atmosphere of downtown. They also all point to a little restaurant called Koh I Noor. It is a fine little eating establishment on a dusty backstreet west of the center. The Indian woman who has been the proprietor for years had just returned from giving some cooking demonstrations in Bali. She was more than proud to tell about all the successes and notoriety of her business. I have to admit the food was exactly the kind of healthy, tasty grub that I was looking for after many days on the road. However, I think that so many guidebooks have recommended this place that its reputation may exceed it a bit.

View this QTVR Panorama Image at the Royal Mosque in Medan(273K)


Siteseeing and Photographing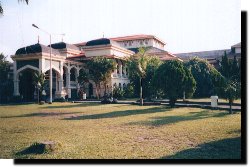 Eugene took off for the airport early the next morning. Our stint together was short in comparison with other traveling duos whom we met. Nonetheless, it was an interesting time for our relationship as an intense roadtrip can be even more trying than living with someone 24/7 back home. Since there was only limited time before my own return to the West, I decided to pass on any further adventure to Lake Toba or the Orang Utan rehab center. For the time, I was happy to just wonder around this modern Medan and think about the future of Sumatra. The old Royal Palace and Royal Mosque duo are quite impressive, but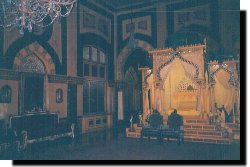 they represent an older era when the powerful horded money for their own pleasures. To be sure, the money distribution is still not equal, but now the inequity manifests itself in fantastic sky-scraping bank buildings, condominium developments, and fancy eateries in the new business district west of the old center. The whole scene of successful developments mixed with old riverside ghettos is quite challenging for the eye. While the area may not be known for its tourist spots, there is plenty of Indonesia to be seen in this city.
Shopping and Spending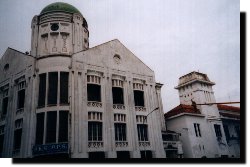 For the tourists and business people who fly out of Medan, there are some nice antique shops downtown that provide one last opportunity to take a piece of Indonesia home. Most of this stuff can be found at any number of wacky import shops found on campuses and in yuppie centers around the world, but I always figure it is better to buy it from the source. I soon found out, though, that a lot of the stuff in the stores in Medan is actually brought in from villages, islands, and peoples far away. I felt a little silly bringing home a souvenir from a land I hadn't really visited, but I could not resist the cute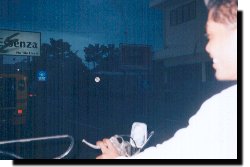 little statues and wall-hanging masks carved by some "local" people of Indonesia. And as any good bartering veteran will tell you, you can get better deals for bulk purchases, so I went overboard. The woman in the store spoke Japanese really well, though (indicating that there really are a lot of tourists through here), so I was having too much fun picking things out. By the time it came to the final tally, I was dishing out rupies, yen, and dollars in order to get everything that I wanted. It was a fun day. I hired a motorcycle sidecar to take me back to the hotel and spent the evening strolling around the neighborhood. It is different to be alone after Eugene's departure, but this area makes it exciting for anyone. On to Bintan.