Introduction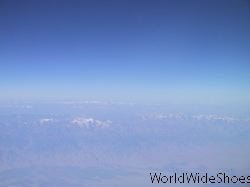 I think most of you know that I quit my job in Tokyo in June and embarked on a two-month summer vacation to kill the time (and waste some money) before starting the phd program at UC-Davis in September. Some of you read about the four-week bike trip as reported by my travel partner, my mom. After the successful completion of that 2400km journey, I then met my girlfriend Yuki for ten days in Turkey. Anyway, I plan to write a few short (?) emails about my travels here in China. If you find them a nuisance, feel free to mark my address as a spammer and/or flame me or whatever it is internet people do these days.
International Flight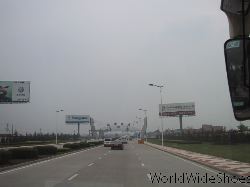 I remember when I first flew to Japan and realized that I was in Russian airspace; I thought that was pretty cool. Well, if you fly from Istanbul to Beijing on Qatar Airways, you fly really close to Lebanon, spend an hour or so over Iraq, and pass by places like Bahrain (an island?), Afghanistan, Kazakistan, etc. I find these flights to be a great way to learn geography as you find yourself paging to the back of the inflight magazine looking for a map. Actually, Qatar Airways had the best entertainment set-up I have ever seen with dozens of on-demand movies (they start when you say "jump") and a map that allows you to zoom and pan at-will. Needless to say, I did not get much sleep on these flights, but I did enjoy reading my copy of the Gulf Times which I picked-up during our stopover in Doha.
Beijing Airport
I wasn't so lucky with finding English reading materials upon arrival in China. I skipped the Starbucks and headed straight to the two bookstores in the airport hoping to pick-up a copy of the Lonely Planet or any similar travel guide (which I did not want to carry from the US). Unfortunately, the only English book I found was a China travel guide published by some expats in Beijing. It has good info about the major sites, but it assumes that you will fly everywhere and stay in expensive hotels. I was looking for more info buses, trains, and cheap hostels along the Silk Road. I was also looking for the latest copy of the Economist magazine, but heh, this is China. I was able to get some cash from the ATM (though my account is still overdrawn!) and buy an onward ticket to Xian, the starting point of the Silk Road.
Domestic Flight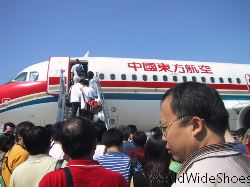 Some of you read about my brother's recent business trip to China where he lambasts China Eastern Airlines for being a second-rate show. I had good luck with them during my first trip to China (Guilin->Kunming) in 2000, and I heard they even started direct flights from Shanghai to Frankfurt. Even though I bought the ticket two hours before departure, the price was only 120USD one-way, and eveything went smoothly. I got the last seat on shuttle bus (next to the driver?) into Xian city when I arrived, and took a few pictures along the way. These roads from the airport are often too big and too quiet, so I don't know why the driver didn't go faster. It seems that the speed limit may be the only rule that drivers observe here in China.
First Hotel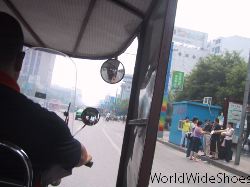 All right, so this first email is full of nuts-and-bolts details and no meat. The thing is, when you travel abroad, especially alone, half of the fun/challenge/adventure is getting there, getting a hotel, finding a bathroom, and finding food. Luckily, as soon as I got off the airport shuttle there was a travel service (scam?) waiting to help me find a room. Since my local guidebook only recommened the three most expensive places, I decided to give these people a chance. Actually, they set me up with a great place with a great location for only 20USD. Plus, the May Fair Hotel had this point-and-order Chinese fastfood place on the ground floor, so I was set. The only thing missing was a few English channels via satelite which was obviously keeping these people from getting their fourth star.
Shopping Excursion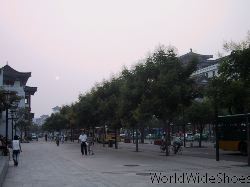 After a quick shower, I headed out to explore the town. My first impression was that it was big! On the map, it looked like this cute old town enclosed by an old fortress wall, just like Europe. The difference was that this wall must be more than 15km in perimeter making the place almost too big for an evening walk. I guess a 6.6million people, you can't expect it to be too small. Anyway, I found a market that was open, selling a lot of dried fruits. I pargained 500grams of dried figs for about 1.50USD. Originally the woman asked for 2.50 and I countered with 1.00, but since I don't know what figs cost anyway, I was just bluffing. That's the way bargaining always is overseas. You are always buying something you are unfamiliar with, so you just start with half of what they say and hope for the best. My other major purchase was from a shop that makes signs. I have some "Mno Smoking" and Mens Room" signs form Korea and Japan, but now I bought a bilingual "Person in Charge" sign that will look nice in my office at Davis. And by a stroke of luck, the guy at this hole-in-the-wall shop offers me a tired and tattered copy of the Lonely Planet for free. Evidently he found it in the garbage or something because this guy didn't speak anything other than Chinese. Unfortunately for me, the book was in French, but it is better than nothing!
Train Station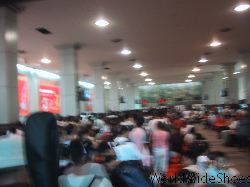 Chinese train stations are infamous for bad manners and bad service. And why not? Trains are so popular that the staff don't have any incentive to be courteous and customers don't have time to wait in line properly. There were signs, though, that things improved some since my last trip in 2003? I waited patiently in the "express lane" for trains leaving same-day only to be told that the normal line would be better for me. There were 5-6 guards in the ticket hall making sure that people didn't jump-line or cause any trouble. A couple of the young staff at the ticket counter even spoke Chinese, so I finally figured out that all the trains to Chengdu were standing room only today. I could get a seat tomorrow, or a bed the following day. I opted for a seat on the comfy air conditioned train. Only 15USD for the 17-hour trip.
Comfort Train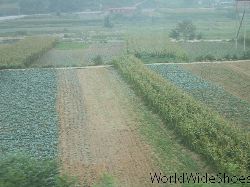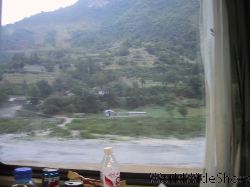 My main goal here in China is to just see some sights, relax, read, and ponder life. Anyway, trains are a good place to do some studying (I brought an econ refresher book) while enjoying the scenery. My seat was in the aisle with a set of five other young Chinese. As you might imagine, they looked a little surprised to see a loan foreigner sit down with them. The woman next to me asked (with hand gesters) how I was going to sleep in these straight-up seats. I demonstrated how comfortable the seat could be without even invading her part of the bench. Actually, it turns out that one of the group spoke some English, so we all got along all right. We all ate instant noodles together (free hot water hear each door) and shared our snacks as we went (though my figs weren't popular). After Baoji, the train turned south and meandered through some scenic valleys, so I was content. Since I didn't manage to sleep more than two hours in total, I also did a lot of studying, reading, and thinking.
By the Way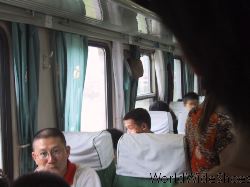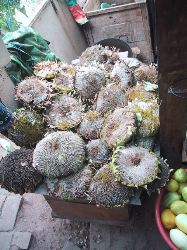 Just to demonstrate how enlightening it can be to travel alone in a land where you don't know anyone or anything, I offer the following story about sunflower seeds. Yuki and I saw fields of sunflowers growing in Turkey, but this is the first country where I have seen a whole flower (dried, without stalk) for sale at a market. One of the people on the train had some sunflower seeds (removed from the flower, but not from the shells) which I learned how to eat after 10-20 minutes of practice. The first kernel I just swallowed whole. Then, I tried to bite them open from the smaller end. After observing the others for awhile, I realized that you first bite the bigger end to crack it open. Then, you push it further in your mouth and bite the smaller end too. If you have done this right, the seed is now exposed and you can find it with your teeth by searching for the thickest piece of the shattered kernel. It takes some practice, but it is a skill worth picking-up, just in-case you are stuck on a train in China with nothing but figs and sunflower seeds.

Aaron Bishop
18 August 2006