First Impressions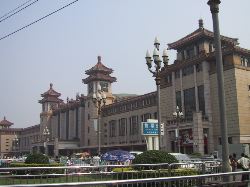 I arrived in Beijing around noon after a short flight from Wuhan. Although I have been to eight provincial capitals and many country towns through various trips to China, this is my first visit to the national capital. I try not to spend too much time in national capitals because I wouldn't want America to be judged solely by Washington or New York or even Chicago. My first impression of Beijing is that it is a proper capital city. The expressway leading from the airport is completely lined with trees until you reach about the fourth or fifth ring road where you are greeted with embassies, international hotels, and countless office buildings. I thought some of the other Chinese cities felt big, but this place is definitely too big for pedestrians. So, like any self-respecting capital, they have a proper subway system that costs about 0.40USD per ride to go around the second ring. Because of tao or zen or something, most of the mainland cities seem to be built on simple north-south grids which have been surrounded by these square ring road. Most cities have only three or four rings but Beijing has six or eight, depending on how you count.
Biking the Backstreets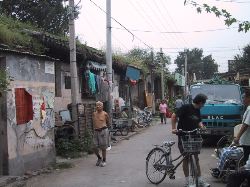 After wandering around for a bit, I found a single room in a hostel (15USD?) and rented a bike for the rest of the afternoon (2.50USD?). The price was a bit high this time, but I got a proper city bike made by Giant with a rear rack which came in handy. I road passed some of the big sites and headed for some of the backstreets of the inner city. Typically, just one block in from the high street the appearance changes completely. Old, one-story brick buildings are falling apart on top of the residents. The locals seem happy to walk or cycle over the rubble as they go about their daily lives.
2008 Makeover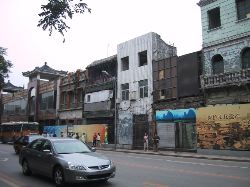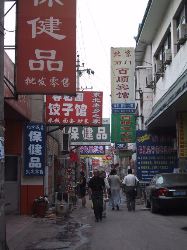 I thought that the Three Gorges Dam project could not be matched, but here in Beijing, the government has taken-on yet another project of grand scale which causes thousands of residents and shopkeepers to be displaced (temporarily?). An old shopping street that leads south from Tiananmen Square seems slated for a complete rebuild in-time for the 2008 Olympics. The street used to be lined with two-storey shops of all styles and colors, but everything is boarded-up now and the wall shows an idylic image of a proper "Chinese" shopping district filled with shoppers from around the world. They are trying to make it look like Beijing might have looked 100 years ago if ever there were a period of peace and prosperity. But if the entire area is rebuilt in one huge project, I can't see how the finished product will look much different from other suburban projects that spring-up overnight in other countries. Again I walked a few blocks into the alleyways to see how far this rehab project was going. I found that the parallel street to the west is lined with "adult" shops and cheap hotels. Perhaps the city wants to do a bit more than a facelift.
Tiananmen Square, Forbidden City, Temple of Heaven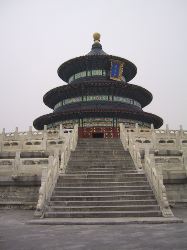 Honestly, my time in China was limited, so I just skipped the Forbidden City this time. Since the old palace has almost 1000 buildings, it seemed like a bit much for a half-day visit. Not content with the largest palace in the world, the Chinese also built the world's largest public square. Since it has no trees and no benches, I didn't find it too inviting. Although it is a public space in a country that loves "community" the government still seems to control this space. One place I kinda liked was the Temple of Heaven in a huge park south of the train station. This park actually has trees (in perfect rows), but I think I just liked it because it reminded me of the round China pavilion at Epcot in Walt Disney World!
Nightlife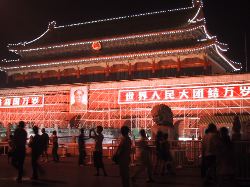 Generally the nightlife is the same in every city if you can just find the right club. Out of curiosity, I decided to see what Beijing had to offer on a Monday night. I had some extra cash in my pocket because the Chinese pizza place (Origus) that I tried to eat at closed early (9:30pm), so I headed for the Worker's Stadium on the east side of town. This area, known as Chaoyang, is home to most of the embassies, foreign businesses, and ... bars. I skipped the China Lounge and went for Coco Banana. This place was packed with 19-year-old Chinese people trying their best to look like all the movies they have seen. The bartenders were doing all the tricks they learned from Tom Cruise in Cocktail including every color and alcohol and every flaming drink I have ever heard of. This is the problem with Hollywood. In America we just laugh at all the silly things on tv or in film, but in developing countries, they think this is real and the emulate it to the T. Sometimes this is not a bad thing, but surely these kids have something better to do with their time and money on a Monday night. The new wealth of China is a little scary.
Weather and Smog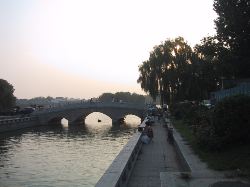 One thing all this progress has brought is smog. Throughout two months of travelling, it has been sunny and hot almost every day. But as soon as I got to China, I was happy to find overcast weather. It took me a day or two to realize that this is not due to clouds, it is the smog! Granted, there seems to be a lot of fog in the mountains, but I have only seen the sun a few times in my two weeks in China. Still, the heat of the sun gets through. I visited two of the "Four Furnace" cities of China, but I made a point of only staying in each a few hours. By spending time in the mountains, on the river, and under the trees, China has been pretty comfortable. Actually, Beijing has been one of the few places where I could see the sun a bit. I decided to make one last trip to the mountains before leaving China.
Great Wall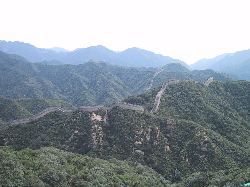 A few sections of the wall are not far from downtown, but they are in some pretty rugged mountains. I took a city bus out and paid my admission to walk the wall with thousands of other people at Badaling. Many of the backpacker guidebook encourage you to hike one of the quieter sections of the wall which have not been refurbished for tourists, but I was quite content with Badaling. It is nice to see how it looked back in its hey-day- very impressive indeed. Still, there are a few myths about the wall that I would like to dispel here. 1. It was never a contiguous wall stretching across the entire northern border. 2. It is not visible from space (the Chinese confirmed this themselves in 2003). 3. It was never really effective at deterring many enemies. The main enemy from the north supposedly just bribed the guards to get through while all of the other invades from Europe and Japan arrived by sea on the east coast. Still, the wall is definitely worth a visit if you are in the area.
--By the Way--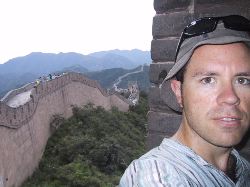 The internet is a priceless tool for the modern solo traveller, and as you can guess a spent a few hours in front of computers while in China. Luckily, China has more internt cafes than any country I have seen yet. They rarely actually say "internet" on the sign, but if you can read the Chinese characters, you will see tons of these shops all over. Inside, there are few people typing email or browsing traditional websites. Many people are doing role-playing games or dancing on a virtual stage with other internet denizens. Others are using cameras and mikes to do video chat with singles they met online. Others are watching tv or pirated movies. One shop is often made-up of many rooms each full of over fifty people playing around on state-of-the-art computers 24 hours a day for only 0.25USD per hour. It is all quite high-tech, but unfortunately two of my favorite websites (BBC News and Wikipedia) are banned in China! Evidently domestic mobile phones (even in the countryside people have the most expensive Motorolas and Nokias!) are not allowed to receive text messages from abroad either. It seems what Chinese people need is not access to computers and technology, but maybe just a bit more access to free information...

Aaron Bishop
30 August 2006