Youth For Understanding
I was the recipient of a Mitsubishi Scholarship for a homestay in Japan in the summer of 1993. The exchange program is actually run by an organization called Youth For Understanding (YFU). YFU was started after World War II to exchange high school students primarily between the U.S., Japan and Germany. The founder's hope was that this would contribute to global understanding and reduce the risk of future conflicts. Today YFU sends many high school students to countries all over the world for summer, semester and year programs.
Mitsubishi Scholarships
About half of the students pay their way on these study abroad programs while many of them receive scholarships from various corporations. For Japan, companies like Toyota, Kikkoman, and Matsushita help defray the costs of exchange programs. Luckily my father works at Diamond Star Motors in Bloomington, Illinois where he helps assemble various Mitsubishi and Chrysler cars. Through DSM and Mitsubishi, I received a scholarship for basically all of my expenses for my homestay.
Where I stayed
I spent about six weeks living with the Narita family on the east side of Tokyo. I lived in the Edogawa ward of Tokyo which is the last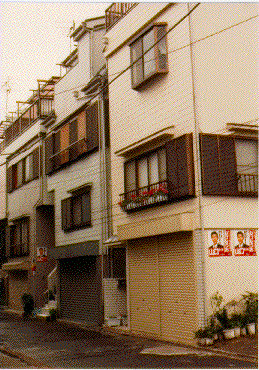 ward on the Tokyo side of the river that makes the eastern border of Tokyo. This meant that the pace of life was a little slower than downtown Tokyo, but it was an adventure nonetheless. My family had just bought a new house, so I was lucky enough to get my own room in a relatively roomy home. The house consisted of a garage on the first floor, with the bathroom (not the toilet) also on the ground floor. The second floor was the regular living space. A kitchen and a tatami-matted living room. My older host brother, my parents, and I all had bedrooms on the third floor, while my younger brother shared the fourth floor with the laundry-hanging patio. This may sound large, but the plot of land was very small and a lot of the space was wasted with stairs.