My YFU Host Counselor
Each student that travels with YFU has a host counselor to assist in any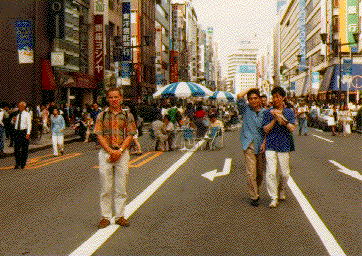 problems that may arise while abroad. Fortunately, I didn't have any problems, but my counselor did take me out on the town one day. We hit all of the famous places in downtown Tokyo. Ginza was about like a imagined: a lot like Michigan Avenue, only the shops were more expensive and the land prices are truly astronomical. The day that we visited, the main street was closed to traffic and transformed into a "pedestrian paradise." You have to go see Ginza, but you definitely don't have to buy anything there.
Imperial Visit
After eating at a fine restaurant outside the imperial palace complex, we went for a walk through the imperial gardens. I think it is nearly impossible to get anywhere near the actual imperial home. There are a couple guards that you can see at the end of the palace driveway, but otherwise the visit is uneventful. Yes, there is a "changing of the guard" occasionally if you are in to that sort of thing. One final stop on that day's tour was the main campus of Waseda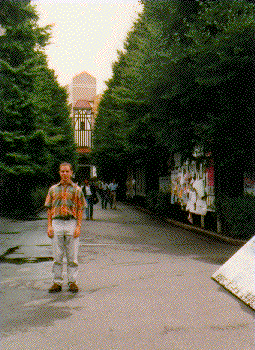 University. Waseda is not well-known in America (nothing outside of America is well-known in America), but it is one of the best private universities in Japan. I knew a friend who was preparing to study in their International Division for one year, so I thought I would stop by and see what a big-city campus looks like. Little did I know that I would study at the university three years later.