Arrival
Brica and I arrived from Korea on different flights. I was supposed to arrive nearly five hours earlier than her, so the plan was for me to search out a place to stay and then come back for her. However, my flight was delayed about three hours in Seoul. After considering the one hour or so that it takes to get into town from Don Muan International, I decided to just hang out there and wait. I stopped at the booth of the Tourist Authority of Thailand (TAT). There was a very nice college student working there who, of course, spoke perfect English. One of the first things I noticed about Thailand was the number of tourists. Whereas in the Seoul airport I was about the only non-Asian, in the Bangkok airport one might find it difficult to find a Thai tourist. The place is swarming with Caucasian tourists from Australia and Europe. Due to the volume of tourists, everything was very easy to figure out in Thailand. People on the streets there speak better English than most Japanese people I know.
So the guy at the desk helped me reserve a room at the Peachy Guest House just off Khaosan Road. Having that taken care of, I felt a little more relaxed about arriving in town about midnight. I spent the rest of the evening talking to my new friend and dining on some fine cuisine at the Pizza Hut (something else that is hard to find in Japan) in the airport. Eventually Brica arrived and we got a taxi for US$5 each to our air conditioned room just off the river.
March 10: A Walk
In order to save money, I decided to buy a Bangkok-Kathmandu roundtrip ticket in Thailand. About a month ahead, I made reservations with STA Bangkok via fax. The staff there were very helpful with everything. They informed me that I could pay by inter-bank transfer, cash or credit card, but that I would have to pick up my ticket in Bangkok. At any rate, this gave us an excuse to go for a walk on Monday.
Bangkok is a large, dirty, and hot city, but it can be fun for a long walk. There are nice wide sidewalks on most roads, and if you have a handy free map from TAT, then you should have no trouble navigating. We stopped in a MacDonalds for a Toddy Palm Sundae (?) and realized that we were just meters away from the Jim Thompson House. Mr. Thompson, an American, came to Thailand during World War II and stayed on after the war in military intelligence. He went on to enjoy a life in the silk industry before disappearing on a safari on day. His house was built in the traditional Thai style to match his interest in all things Thai. It is constructed of beautiful teak wood and elevated above the ground to protect from flooding. The English tour at about US$1.50 is well worth a visit.
After getting my ticket from some building in the business district, we headed down to Chinatown. I bought a oil painting from a street vendor near the famous Oriental Hotel. We took the commuter ferry up the river for US$0.30 back to our guest house. Overall we spent a rather cheap day just walking around and soaking up the atmosphere of Bangkok. It was a hot day, but with such a lively city and many things to see, we didn't mind. I would definitely recommend walking around in a big city for a day or so. One misses so much by taking a subway or taxi. Besides things are often closer than they look, even in Tokyo.
March 11: Dusit
We spent Tuesday afternoon in the Dusit government area. We took at "tuk tuk" taxi to save time. Anyone who has been to Thailand, India, etc, knows about the old three-wheeled taxis that swarm the streets. They are generally half the price of regular taxis if you can negotiate a good price. The taxi is only open to the fabulously clean air of Bangkok, which can't be good for the health, but it makes for a cool ride. Aside from walking, this is the only way to get around Bangkok, Chiang Mai, and other places in Thailand.
We had a nice tour of the Vimanmek Palace that used to be used by one of the kings. From there we walked to the nearby Dusit Zoo. It is not a particularly big spot with tourists, but we hadn't been to a zoo in a while. There was a rather crowded pit of crocodiles into which some visitors were throwing raw meat. We bought some chips (I recommend the paprika ones) and drinks (they have every flavor imaginable of Fanta) and sat down at the pond for a while.
Khaosan Road
We spent the evening shopping and dinning on the infamous Khaosan. Khaosan Road is the haven of nearly every backpacker who passes through Bangkok. There are many business hotels for the affluent traveler, but all others have traditionally converged on this little road near the city center. It is lined with guest houses, shops, restaurants, and foreign exchange booths just waiting to suck money out of the next tourist. Everything is definitely cheap, but even at those prices one has to wonder if he is being taken.
Most guest houses will let you in for about US$10. They also plan to make a lot of money out of you in their restaurant that is always found on the main floor. One of the most complete traveler havens, Hello Guest House has a travel agent, foreign exchange, internet cafe, and restaurant all in house.
Food
I recommend the banana shakes (US$1.00) or just about any other shake one can think of. I must have had about 35 shakes over the two weeks that we were there. The food menu is rather extensive, but does not seem to change much between any of the tourist restaurants in Thailand. Whereas I heard a lot about the spicey food in Thailand and had Thai curry rice before going, I still can't say that I know much about the country's cuisine. The menus were always in English (sometimes some German or Japanese thrown in), so I don't even know the names of any Thai food. We ate a lot of fried vegetables, noodles, etc. One day we each ordered a plate of fried peanuts (Brica had fried cashews) thinking that that was somehow Thai-like (they do use nuts in dishes a lot). However, it turned out to be a rather unsatisfying meal, and probably not so healthy either.
Shopping
I never really understood the point of going on vacation to shop, but there is a lot of stuff in Thailand that is hard to pass up. One thing that almost everyone comes away with is a pair of sandals. There are many Birkenstock style sandals available on Khaosan for only a few dollars. There are of course wacky T-shirts and silk goods as well. I picked up a few things and ended up buying even more after my bag was stolen (see Chiang Mai).
March 12
Wednesday was one of our more productive days. We got up early in order to catch a free English tour at the National Museum near our guest house. We used Let's Go Southeast Asia to navigate around Thailand. Normally I use Lonely Planet (the Thailand one is supposed to be especially thorough), but either one is fine. These guide books are very helpful for prices and times and holidays at the big sites and hostels and whatnot. We saved some money and saw some extra stuff that we may have otherwise missed. However, when it comes to finding restaurants or shopping, I think you are better off just finding your own. Anyway, the tour was very thorough, given by a Dutch woman who had lived and studied in Thailand for many years.
From there we walked down toward Wat Phra Kaew. We stopped by Silpakorn University which has been the site of many student protests. College campuses in general are fun places to visit when abroad. They are nearly always open to the public and offer wide open spaces to relax and eat. There is often a cheap cafeteria, art exhibit, or something going on. If you're lucky you can sneak into the computer lab and check your mail. Most university students in the world speak at least a little English, so you might find an interesting conversation as well.
Wat Phra Kaew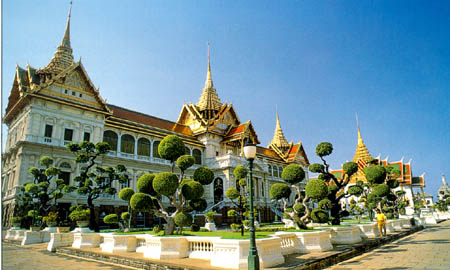 Our afternoon entertainment was the hugely impressive Temple of the Emerald Buddha. The extensive grounds of this temple combine with an imperial palace next door to make the biggest tourist trap in Bangkok. At US$5 per person, it is questionable whether it is worth going in, but it is definitely something to look at. The architecture is amazing at least. One can see stupas built in three different styles (Khumer, Thai, and ?), the main hall which houses the tiny sacred buddha statue, and the Grand Palace building built in a Western style with a Thai roof. There is also a free English tour here if you arrive at the right time. We enjoyed looking around here for a couple hours.
The thought that wouldn't leave my mind is the drastic difference in wealth between the royalty and the common people in Thailand. Nearly all of the impressive temples have been built by the kings themselves using the peoples' money. The golden palaces and temples are great for tourism, but I could not help to think about the country's economy. Thai people would never say anything bad about the king, his palaces, or Buddhism (and tourists would be wise to do the same). The Thai flag is made up of three colors for the king, the Buddha, and ? (boy, I really remember well eh?). At any rate, it seems like the people are getting the short end here, but they are told that they are not. Hmm...
March 17
That night we headed out to the south by bus. We payed only US$13 apiece, so I guess we really couldn't expect to get air conditioning, the they promised it was. After a few days down at Rai Lay we came back through Bangkok on our way to Chiang Mai. Almost all of the trains and buses run through Bangkok somehow (just like Tokyo) so we ended up spending the following Monday in Bangkok.
Our main attraction for the day was Wat Pho. It is a rather extensive Buddhist temple grounds in central Bangkok. It is know as Thailand's first university because it was built as a learning center for monks. It is famous for its "reclining Buddha" statue that is truly impressive. I don't know of any Buddha's lying down in Japan (they always sit or stand) so it was interesting somehow. The area is rather lively in general. There was some important meeting of monks on that day, so the place was swarming with skinny men in orange robes.
Outside the temple we got suckered into buying a bunch of silk screen paintings from two different street vendors. The guys gave us a big "discount" and told us "my mother makes them," so we just couldn't refuse. We are always looking for souvenirs that are light weight, useful, and good memories. I will never forget those wacky guys.
We spent the rest of the day walking around. Went to the post office and checked our email again. I felt like I had mastered Bangkok. Transportation, restaurants, etc. I have a friend who lived in Thailand for a year or so. He says that three days is plenty for Bangkok. Get out to the countryside.