Arrival
The title says it all. This place is amazing. After taking a bus to Krabi we had to board a boat for 45 minutes or so to get to Rai Lay Beach. It is not an island but a peninsula that is blocked off from the mainland by steep mountains. Thus the boat. A Thai long-tail boat that is. We met a nice Swedish couple on the boat who told us what a great choice we had made. There are many islands in southern Thailand and Malaysia, but each one has a little different atmosphere. Some are for party-goers. Some for surfers, etc. We wanted one that was relatively quiet. We also heard that there was rock climbing in the area.
We arrived in the heat of the afternoon. The boat just ran up on the shore and we hopped out with our backpacks in our arms. Where to stay? Because it is a peninsula there are beaches on both sides and rocks out at the tip. The palm forest between the two beaches is full of cute little bungalows. Some of the cheapest ones go for about US$10 a night. We decided to splurge a little and stay at Rai Lay Village for US$18. We got a great little hut with a nice bathroom and an oscillating fan above the bed. It was just like in the movies.
Having relieved ourselves of our bags we went for a swim and a little walk around the area. We found that they are two different groups offering guided climbing tours as well as equipment rental for the experienced. Brica and I had only climbed one time in-doors before, so we signed up for a guide for the next day.
March 14-15
The four hour lesson cost us US$25 each which isn't exactly cheap (500 baht is the biggest bill in Thailand), but it was well worth it. It turns out that the place is world famous among serious climbers as one of those special places that God made just for climbing. Without any experience at all we were able to climb up faces straight up, and even some that hung out over the ground a little. Because of all the holes and hand-holds naturally in the rocks, it was actually easier than climbing on an indoor wall. We had a blast. Our guide was a beautiful Thai girl who spoke English quite well. We had so much fun with her and the other people in our group that we decided to go for another day.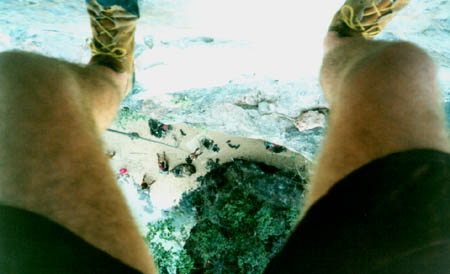 And so that was the pattern for two days. We got up relatively early (for vacation) and had some mueslix and fresh fruit for breakfast. Climbed, belayed, and repelled our hearts out from 9am till 1pm. Took a dip in the crystal clear water and lounged around in the afternoon. After the sun cooled off a little we would go for a little kayaking trip out to a little island (found some great caves) or a hike in the woods until dusk. Nighttime was spent writing postcards at one of the seaside restaurants, sipping on banana shakes. This place is truly amazing.
The Dark Side
I would recommend all of my friends to visit this heaven on earth. I plan to go back myself as soon as I can. The only problem is that I don't know how much longer it will stay the same. In the last couple years a hotel chain has moved in and built some posh two-story bungalows. The Dusit Resort takes up about a third of the land now and is very exclusive. They allow commoners like us to walk through the place to the other beaches, but they have many guards keeping an eye out for the ritzy travelers who payed at least ten times what we did for our bungalow.
Rai Lay in general has a strange feeling in the sense that all of the workers are Thai, but all of the vacationers are Caucasian. Many of the European beach bums choose to bathe in the nude which is highly taboo among the Thai culture. There is also a question about the environment concerns at Rai Lay. That beautiful palm forest is not natural but planted. All of the electricity is produced locally and waste water is presumably dumped into the sea somewhere. So far the place looks amazingly clean which shows that someone is doing something right. However, with such a beautiful place so easily enjoyed even by poor college students, it seems there must be some problem somewhere.
---
Thailand: | Bangkok | Rai Lay Beach | Chiang Mai | Expenses | Pictures | Summary
Asia Directory