Arrival
The arrival in Chiang Mai was not so impressive. All of our night buses in Thailand were arranged through travel agents on Khaosan Road. This means that they specialize in take foreign tourists where they want to go. They have special "AC" buses that go directly from Khaosan to Krabi in the south and Chiang Mai in the north, among other places. However, there is no bus station involved in this picture, so they drop you where they like. In Krabi they dropped us right at the boat dock which was nice. In Chiang Mai they dropped us at a gas station at about 6am or so. We were still quite far from the city center. We were faced with a long walk, a call to a taxi, or one of the many guest house owners who just happened to be lined up waiting for us. I was still tired and not in the mood for such a decision. Most of the other people were using the Lonely Planet guide so the picked out the recommended house and headed to town in their van. We were stuck with the last empty van that nobody wanted, Johnny Boy's Guest House. It did not sound so promising, but the people were nice enough. The promised that we could decide where to stay when we got into town.
The reason for all of the hype is that nearly everyone goes to Chiang Mai to take a trek in the hills. This means big money for the guest houses who arrange the tours. We were interested in the obligatory tour as well. When we got to Johnny B's they brought out books of pictures and recommendations from previous tourists. There, written in English, Spanish, German, and Japanese, were rave reviews of the Johnny Boy Tours. Many people specifically named Mai, a guide, who was especially thorough. It turns out that Mai was taking a group out for four days starting that day. We signed ourselves up for a US$66 tour and started preparing our stuff for the adventure that would start in only a few hours.
Trekkers
I was a little curious about what sort of people we might meet on this tour. One friend told me that people go on these treks in the hills just so they can do drugs and chill out. I was more interested in the lifestyle and scenery outside of the city. However, depending on the other members, our tour could take on a rather different atmosphere. Luckily we had a really great group of eleven trekkers including ourselves. There for four guys from our home state of Illinois. One of them studied Japanese at the same University of Illinois as me. He studied abroad in Japan for one year as well. All four of them were recently graduated from college. They all worked their butts off for about a year painting houses in Chicago suburbs in order to save up for a round-the-world trip together. Thailand was only the half-way point for them. Next they were headed to India, then a safari in Africa, etc. Great kids.
Then there was the Japanese contingent. Like myself, there were two other Americans studying abroad in Japan. March is the Japanese spring break, so we all took the opportunity to see a little more of Asia. Finally there were two Japanese girls on break from college in Tokyo. Putting all this together, it turns out that six of our eleven members were bilingual in Japanese and English, a little unusual.
Mai
Our tour guide was none other than Mr. Mai. Mai was originally from the Karen tribe of peoples that live in northern Thailand. He came to the big city when he was young in search of big things. He started working as a guide for Johnny Boy. He seemed to enjoy his work, talking about his peoples' problems and lifestyles. He often complained about his lack of freedom, so he planned to open his own tour company some day. Anyway, he taught us a lot about life in northern Thailand, and I would strongly recommend one of his tours to anyone.
Day 1: Jungle?
After picking up some supplies at the market, we drove up into the hills of a national park near Chiang Mai. At the end of the road, we ate late and headed into the woods. The beginning of the trail was pretty exciting. The vegetation was lush as the path followed a small stream up a hill. I asked Mai if we were likely to see any monkeys, snakes, or other interesting wildlife. He informed me that the local people "eat everything that moves," so we would not find much more than mosquitoes and mice.
We spent the first night in a Maew village not far into the woods. There were of course no roads leading in. The village was rather small and deserted. It turns out that most of the people were working in the fields outside the village and wouldn't be around. We saw some kids playing and met one woman who was interested in selling us drugs. I wandered into the primary school building/town hall that was put up by the Thai government. It specialized in teaching reading, writing and daily etiquette for life in Thailand. Many of the local peoples don't traditionally believe in Buddhism or speak common Thai, but these things are taught in the schools. The whole atmosphere of the town was rather comforting, but a little too quiet. We slept well.
Day 2: Elephants
There are basically three elements that are obligatory on all treks in Chiang Mai: poor villages, elephant rides, and raft rides. After an early morning walk down to the elephant camp, we had lunch and waited for the animals to be brought in by their keepers. I was not particularly interested in riding on any animal's back, but everyone seemed to think it was a good idea. Eventually the elephants came waddling in. Their feet were chained together to keep them from trampling or kicking us. They looked a little weary from the start, but we all hopped on back.
It turned out to be one of the dumbest things I have ever done. Sure elephants are famous in Thailand for helping out with work and whatnot. They are big animals, and I am sure that they are often useful for something besides their ivory. However, they are not ideal for seeing the woods. They are very slow and ornery. The elephant guides had to shoot the animals with slingshots now and then to keep them moving. Once we had taken our pictures and gotten sick of the rough ride, there was not much point to the whole thing. I strongly recommend that you talk your tour guide out of the elephant ride if you go.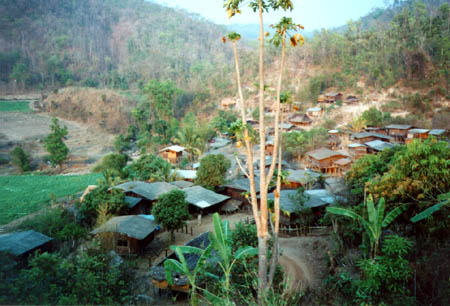 That night we stayed in a very well developed village of the Karen people. We walked through fabulously green rice fields (despite the dry season) as we entered the town. We all bathed in the irrigation system which was overflowing with water. Spent the night in a beautiful wooden house raised off the ground in the traditional southeast Asia style.
The entertainment for the night was provided by the many young children of the town. Although Johnny Boy advertises his treks as "non-touristy" these villagers see trekkers every week of the year. Most of them are used to the sight of strange foreigners wandering their streets in shorts and t-shirts. They call out to us in English and ask where we are from. At night the children all gathered around the picnic table at our house to talk and sing songs. None of them could speak much English, but they had all memorized numerous songs from every corner of the world. We spent the night singing and laughing together enjoying the one thing that we had in common. We sang in English, French, Spanish, German, and Japanese. We tried to teach the kids an extra song or two for the next group to enjoy, but sadly none of us remembered a single Thai song from the experience.
Day 3: Walking
Half of the group headed back to Chiang Mai on the third day. Those of us who wanted to see a little more continued on to the raft camp. As Mai explained, "everything is different." Each day the scenery was a little different. However, we never did get to see the "jungle" that was advertised in the beginning. There may be some greener parts of northern Thailand, but I have to say that I was hoping for something more. Judging solely from the vegetation, sometimes I could honestly imagine I was at home in Illinois or Indiana. The trees were not so tall and the underbrush not so thick. It was beautiful of course, but you may be better off hiking in your own back yard (if you are lucky enough to have mountains in your back yard).
We lunched at an abandoned hut in the middle of a dry field. Mai explained how there were people living there only a few months before. He told us how lives and crops were changing as the Thai government exerted some pressure in the area. Nearly all of the land we walked through was a national park, so many people argue that the tribes shouldn't even be allowed to stay there. The government is encouraging the people to put out cash crops. Some people get fed up with the rural life and head to school or work in the city. Many of these stories are true in other underdeveloped countries as well.
Day 4: Rafting, Diving, and Star Wars
We woke up on our final day of the trek for the big finale: bamboo rafting. Bamboo is truly one of the greater beauties of Asia. People have been able to make furniture, utensils, squirt guns, and just about anything else from this amazing plant's stalk. Our rafts consisted of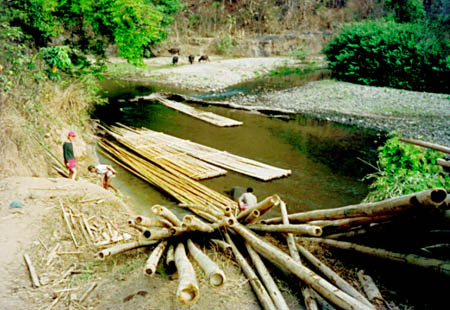 about twenty very long pieces of bamboo lined up beside each other and tied together. It was enough to hold about four people who steered with (what else?) bamboo sticks. To make things interesting we made the ride into a race between two teams. Each group would try to slow up the other while maneuvering around the rocks and whatnot. It was great fun. I highly recommend a whole morning of rafting.
From the end we were taken by truck to a beautiful secluded waterfall for lunch. We took off our shirts and enjoyed a little cliff diving into the pool. Our final stop was on top of a mountain. Supposedly the highest point in Thailand. Guess what was built up there? Two huge stupas. One for the king and one for the queen. The view was nice and it made a nice finale to a nice trek. Thanks Mai.
We made it back in town for dinner. Being the city slickers that we are, I couldn't resist going out to the local Pizza Hut for a feast. We then headed across the street for a viewing of the recently re-released Star Wars. The movie was in English with Thai subtitles and cost about one sixth of what it does in Japan. I couldn't resist. Fun was had by all. We spent one night at Johnny B's Guest House. March 22 was a lazy day of walking around Thailand. We stopped into a book store and walked around the old town. That night we boarded another night bus back to Bangkok.
Surprise
We were the last ones to get on the bus that night. The luggage compartment below the bus was full, so we were asked to put our bags in the rear of the bus. I shut my bag in right in front of the rear door and locked it from the inside. We slept well all night knowing that ours was the last and only stop in the morning, Bangkok. We arrived again around 6am only to find that my bag had disappeared in the night. We're talking about a rather big bag hear. 70 liters. 20 kilograms. Boots, clothes, a tent, a rain suit, a camp stove, souvenirs, etc (see the insurance list). Needless to say I was a little surprised. I tried to speak to the driver, who seemed like a sincere enough guy to me. Of course he was the only person in Thailand who didn't know any English. Luckily there was a tourist police woman waiting there to help me out. She took down some information and gave me a ride to the station to fill out a report. As we were leaving the next day for Nepal it seemed very unlikely that my bag might turn up. I called my parents to check on insurance, and spent most of the day buying some new clothes and stuff to prepare for the trip to Nepal.
Afterword
Everything worked out all right with respect to the lost bag incident. It would have been much more drastic had Brica's stuff been stolen. Our plane tickets, passports, and spare cash was in her bag. Plus she was headed around the world for the next five months. I had spare clothes and things waiting for me in Japan. The insurance ended up compensating me quite nicely for everything I lost. Nearly three months after the incident my parents got a strange envelope from Thailand. Inside were my drivers license, bank book, and couple other things. A model thief. I have travelled to many strange places in the world and consider myself lucky that that is all that happened. I would go back to Thailand tomorrow if I had the chance. I do strongly encourage that you watch out for your baggage both when awake and asleep. Happy travels.