Introduction
As I was saying, I heard about Dalian when I was working in Tokyo. It has become a popular high-tech outsourcing destination for many Japanese (Softbank) and American (IBM) firms. It may be no Mumbai, but many of the fancy new office buildings here are full of bilingual staff who develop software, perform basic accounting, and fill-in on other light white-collar work. This area was controlled by Russia and then Japan in the past, and the people seem comfortable with their new role in globalization. My first stop after arriving was a beachfront near the hotel. Although it was late in the afternoon and the water was rather chilly it was packed with Chinese pleasure seekers (impressive for a Thursday). But what was cool is there were a few Russian families mixed in with the locals and I seemed to be the only one who thought this was odd. Unfortunately, the beach water was much dirtier than the one I visited in Hong Kong a couple days ago, but I hear there are nicer beaches just outside of town here.
Night on the Town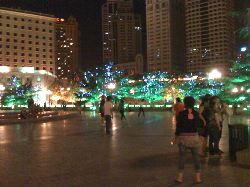 We had a delicious seafood dinner that set me back almost as much as the one I had in Hong Kong the other day, but there was a lot of food leftover which we ate two days later just before rushing off to the airport (see below). After dinner, we took a taxi to the most famous old square which is surrounded by some buildings dating back to the Japanese occupation days. Like many squares in China, it was filled with people out enjoying the night. This particular square was popular with the younger crowd. Many of them gathered in circles to play a local form of hacky sack with a "ball" that looks more like a badminton birdie. I was too intimidated to join these groups, but it does look fun. We walked to a dance club nearby that was recommended by a friend. Since this is a bit more familiar ground, I was not afraid to get up on the speakers and show the kids how we dance in the West (or at least how some rhythmically challenged people danced ten years ago). The atmosphere was very light and fun and suddenly I felt at ease after only a few hours in China.
Tourists at Tiger Park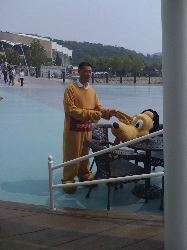 The next morning, we headed to the train station to get some tour information. The plan was to go to this old fort area which the Japanese and Russians had used in the past century or so. However, we quickly learned that no tour bus would take us there because I am clearly non-Chinese. According to some guidebooks, some Asians can get away with going because the local guards can't pick them out of a tour group. Anyway, we gave-up and started exploring other options for the day. I left the negotiations to Sinead and took the opportunity to wonder around a bit. I found that some local college had a welcome committee greeting new students arriving by train. I wondered around some shops and also struck-up a conversation with one of the other guides. He clearly was confused by my poor grammar and bad accent, but I was so happy to be able to convey a few things in Mandarin after studying for a full year. Anyway, to my surprise, we ended up getting tickets to a funny water themed park called Tiger Park. After being whisked there by a tour van, we were greeted at the entrance by non-descript characters in rather shabby costumes. One Pluto-like character seemed to be baking in the sun, so after propping the dog head up in order to breathe for a while, finally, he just took the head off altogether. Now you don't see that at Disneyland!
Some Cool Animals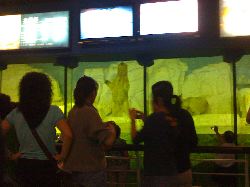 After we got past the mildly depressing entrance, I found that this park was actually pretty cool. There were so many animals from all different parts of the world. This is the great thing about China: they always manage to do things on such a grand scale. Sometimes the dˇcor or ambiance is lacking, but if they want to gather a few animals for a water park, they are not going to stop with the penguins. There were all kinds of crazy colored frogs, fish, lizards, and whatnot, but also big animals like sea elephants and even polar bears. Granted the polar bears were in pretty cramped quarters, but it was so amazing to be just feet away from such beautiful animals. And when one suddenly stood up to show-off for us, nobody could resist breaking-out the camera and trying to take photos through the thick glass. This is my first big trip using an iPhone for a camera, and I admit, it does not work so well in darker places, but it is handy to always have it around. One other highlight of the day was the crazy zip-line ride that we took across the water to the opposite side of the park. Notice that the apparatus that holds us to the cable is a bit mangled and rusting...
Public Bath
Ever since my first hot spring experience in Japan, I have made a point of finding any fun public baths, spas, or massage parlors that I can find. I didn't realize public baths were common in China, but Dalian has many of them. After an afternoon at the Tiger Park we asked the taxi driver to take us to one of the classier ones. He took us to a place decorated in a kind of Roman Empire look with a lobby meant to impress. Inside, the bath was also extravagant for China. There was a large shallow pool under a dome in the roof. This was surrounded by showers, saunas, and massage tables. It seemed similar to many hot springs I had visited in Japan, except for the fact that you have an attendant in the locker room who helps you get your clothes off and presents you with your key. Soon I noticed that, although there were sit-down showers with stools, a Japanese guy and I were the only ones using these, while all the locals were using the stand-up versions. Still, the bath was fun and the saunas were all cool. After drying-off and putting on the payama-like shorts and top, I met Sinead upstairs in the relaxation room. This was one place where the Chinese public bath differs from others I have visited. This dimly-lit room was full of rows of reclining chairs where one could take a msssage and have a beer. Judging from the skimpy clothes the all-female attendants were wearing and the price of the "Japanese-style Massage" this room is for a bit more than relaxation. There are plenty of erotic massage places in Japan, and people do often have a beer and a nap after a dip in the hot spring, but I have never seen all of this combined into one experience like it is in Dalian.
Asia's Biggest Square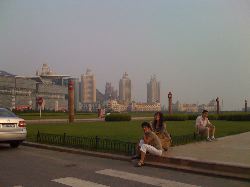 At night we had the taxi driver give us a ride to Asia's Biggest Square, the People's Square in Dalian (not to be confused with the People's Square in every other city). As mentioned above, China has more than its share of lively squares and roundabounts, but I was definitely no prepared for the scale of this expanse of land. Although we could not see it at night, the square sits at the point where the city meets the sea. There was a normal-sized park facing the sea which had a new sculture in it shaped like a giant unrolled scroll, reminiscent of the Olympic opening ceremony. Beyond the park and the scroll, the park opened into a square that must be nearly a kilomater long and severall hundred meters wide. Although it makes a great place to stroll, bike, or gather, the grassy lawns inside the square are mostly off-limits. The only comparable space in the US would be the National Mall in DC which is often used for parties, exhibits, and sporting events. Although it would be cool to live in one of the swank new condos surrounding this square, it would be better if the public space could be used by the public more. Like many massive developments in China, it was impressive, but somehow lacking in vision.
China's Most Livable City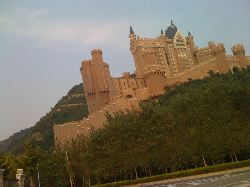 We woke-up early the next morning and had to rush to the nearest hospital for something that thankfully was easily treated in a day. Although I was pretty worried as Sinead went through some simple tests, I was impressed with the speed and quality of the service. Many people might be surprised to know that the most "communist" country in the world has absolutely no socialized medicine. We paid cash for each of the tests and consulatations at the hospital. Everything was pretty cheap, professional, and what started as a serious morning emergency was solved by noon. I guess I still like the universal healthcare that I got in Japan, but I was impressed with the system here. Anyway, even an early morning trip to the hospital for Sinead could not keep me from falling in love with this city. I have heard that this has been rated "most livable city" and I might agree. We paid another visit to the giant square and waterfront area on our way to the airport in the afternoon. The picture at right is some new museum built on the edge of all this new development. With the mild climate, relaxing hot springs, and friendly people, I could see myself living here.

Aaron Bishop
6 September 2008