Small Detour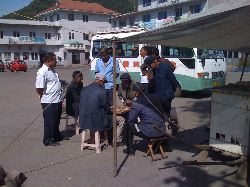 As planned, we caught a taxi in the morning to the train station. Chinese train stations are always a bit chaotic, but since this is a smaller station, the boarding process was pretty simple. We stowed our luggage above our seats and smiled at all the people packed into the car with us. They all seemed quite curious to see a white guy out here traveling with a Chinese girl who apparently speaks perfect English. I recently watched a movie about thieves on a train from Tibet who were taking advantage of migrant workers who transport all their earnings back home by carrying cash in a big fanny sack. We weren't carrying much cash, but I remember feeling a bit paranoid, especially after Sinead's lecture about the barbaric nature of the northern countrymen. We managed to forget all that and get engrossed in an argument about some important problem of the world for which we had differing solutions. Before we knew it, we had completely missed our stop. The next station was nearly an hour away and the next train heading back the other way was not going to pass any time soon. So, we found ourselves on an unplanned detour to some random town without much to see. We took a walking tour of the place, bought some snacks and took some pictures (see left) here until the return train came.
River Rafting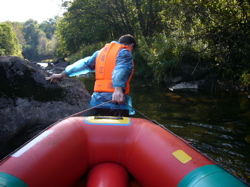 By the time we got to our original destination (which Sinead reminds me was called Song Jianghe), it was too late to get a ride up through the south gate of Changbai Park. We sat down for lunch at a hole-in-the-wall eatery and managed to overhear some interesting conversation while there. The locals (perhaps inspired by the sight of me) were complaining about the recent development around town as more tourists come to see Mt. Changbai. They say that a few business people do all the marketing and the silly Korean tourists drive up all the prices for the locals. It is a typical "boom town" lament, but interesting to hear out in these parts. Being a "tourist town, a taxi driver suggested we take a raft trip in the afternoon. So, we were off on the strangest rafting adventure of my life. We were told that there would be no guide, but the river was pretty calm. But they also strongly recommended that we where dry suits and leave cameras and other stuff behind. Once we were dressed, they handed us ONE paddle, put us in the two-man inflatable, and pushed us off from the dock like we were just going out on a swan boat. At first it was pretty calm. We had some practice navigating around rocks and branches, but the water did get faster and rougher. Still, I assumed they weren't sending us out to be killed, so I just tried to enjoy the excitement. After I got a feel for navigation, I gave the paddle over to Sinead who was not quite as successful at steering, and got us stock on some big rocks (see right). We passed one other couple who had lost their paddle and were forced to just go with the flow for the second half of their trip. We had some good laughs and didn't get hurt, so overall, this was a true highlight of the trip.
Change of Plans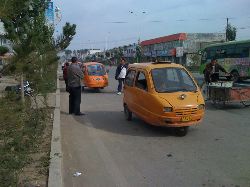 The next morning, Sinead explored all the options for our itinerary for the next couple days. Could we get into the park? Could we make a trip to the North Korean border? How were we going to get back to Yanji for our flight to Shenyang, the capital of Liaoning? For a while, it seemed like we had to take the first bus back to Yanji if we were really going to make it out of here, but after asking over and over she finally confirmed that the same airline, China Southern, also operates a little flight out of Song Jianghe (this town) directly to Changchun, the capital of Jilin. A few more phone calls to the airline and a visit to some airline admin office down the street, and she had it all arranged, but not before she had thoroughly exhausted herself. And now we had to take a 3-4 hour bus ride in each direction just to get to see North Korea for a bit and make it back for the evening flight. The bus heading for the North Korean border took one of these crazy, winding mountain roads that only buses in developing countries would try to cross. As the bus approached the high point in the pass, Sinead got sick, but there was no stopping the bus for a visit to the bathroom.
First Glimpse of North Korea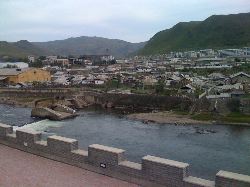 Our crazy schedule, allowed us only a few hours at this border town, so we hired a driver/guide to show us around for the afternoon. After a quick lunch, he took us down to the riverside for our first glimpse of North Korea. Now, I have been to the DMZ from the South Korea side and taken pictures of the guards and buildings that you can see from Panmunjom but this was my first chance to see a little of life on the other side. By some amazing coincidence, we arrived on North Korea's one and only holiday: September 9, National Day, so there were lots of people in the streets on down by the river. We were looking straight across at people bathing, washing clothes, and playing in the river. This was common in the small village where I volunteered in Mexico in 1994, but this is a huge city. Clearly at least some of the stories we hear about the poverty and lack of development must be true.
North Korea Stories

But it seems that the North Koreans living here at the Chinese border do have reason to want more. Many of them come across the river, which is generally unpatrolled, and look for work, go shopping, etc. Supposedly, many of them actually have mobile phone contracts from China because the signal is still strong across the river, but they would never be able to get a mobile in North Korea. Our guide told us all kinds of stories about how poor the North Koreans are and how week their soldiers are and how poor the plumbing is, etc, etc. He said that the best business on the other side of the river is owned by a Chinese businessman. I am not sure about some of his comments, but it was clear that few people had cars. There were so many out walking along the road or cycling and the few trucks that we saw were packed with people. When we moved to another position down the river we saw a train go by that looked pretty decrepit, even after yesterday's ride on the clunky Chinese rail. But still, from this vantage point too, we could see couples enjoying picnics along the riverbank and children fishing and playing. If it weren't for us and a few Chinese tourists gawking at them, it seems like these people would be pretty happy and would have no reason to think that they should expect any more.
North Korea National Day 2008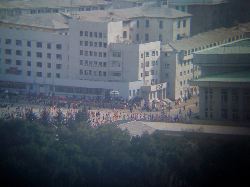 Next we went up a hill behind the Chinese town a paid some enterprising Chinese woman up top to use some super-powered binoculars. From here, we could see the whole lay of the city. There were clearly two main streets lined with 5-10 storey buildings. We could even make out portraits of Kim Il-Sung (see left) on a couple of the buildings which the woman claimed were a university and a government building. She pointed-out a theater, a jail, some distant farms, a supposed military bunker, etc. But perhaps the most interesting sight was that of the crowd that had gathered in the square to celebrate National Day (see right). I was able to take a few decent pictures by holding my camera up to these giant binoculars. If you click the photos link at the bottom you can see a few other photos which clearly show the rows of simple one-storey homes with tall chimneys above and narrow streets between. I still would like to visit North Korea and learn more about it some day, but for now, I was quite satisfied with our brief look into life there.
Aaron Bishop
9 September 2008